I don't know about you, but the below ships, made between 1887 to 1898 look like submarines. It starts to sound pretty ridiculous, when you put hundreds, and may be thousands of all of them ships, locomotives, bridges, destroyed and rebuilt buildings, and thousands of miles of the railroads together. Add multiple Exhibitions into the mix, and factor in the wars the United States participated in between 1850 and 1900. What resources did this country have to produce all of the above?
Whalebacks


A total of 44 such vessels were constructed from 1887 to 1898.
(48 according to
this Wiki page
)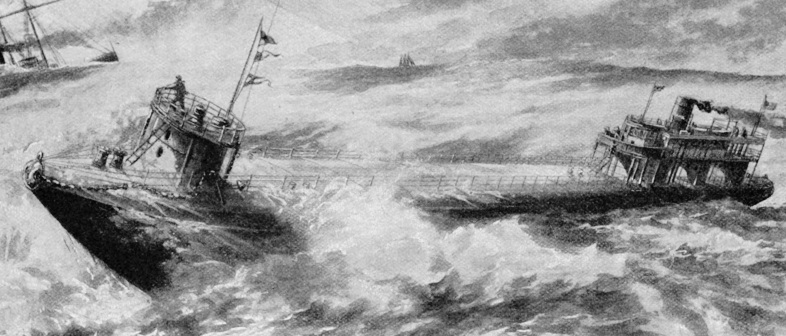 Whaleback ship in storm
​
A
whaleback
was a type of cargo steamship of unusual design, with a hull that continuously curved above the waterline from vertical to horizontal. When fully loaded, only the rounded portion of the hull (the "whaleback" proper) could be seen above the waterline. With sides curved in towards the ends, it had a spoon bow and a very convex upper deck. It was formerly used on the Great Lakes of Canada and the United States,
notably for carrying grain or ore
.
The whaleback was a design by Captain Alexander McDougall (1845–1923), a Scottish-born Great Lakes seaman and ship's master.
McDougall's design has been likened to a cigar with bent up ends. ​

McDougall was born on March 15, 1845, on the island of Islay, Scotland. He was the eldest son of parents David and Ellen McDougall. In 1854, when McDougall was ten, he emigrated with his parents to the Canadian-Scotch settlement of Nottawa, Ontario, now part of Collingwood. In 1862, at the age of seventeen,

McDougall shipped out on the Great Lakes after limited schooling.

He had time to pursue his hobby of designing ships of steel, and his experience with the violent storms of the Great Lakes prompted him to design the Whaleback.

​

When fully loaded, only the curved portion of the hull remained above the water, giving the vessel its "whaleback" appearance. Instead of crashing into the sides of the hull, waves would simply wash over the deck, meeting only the minor resistance of the rounded turrets.

Most of the whalebacks (25) were tow barges, all but one of which were identified simply by hull number. Some of these barges had no boiler (and therefore no stack); others had a small donkey boiler for operating winches and for cabin heat (often with a small stack off center).

​

The first self-powered whaleback was Colgate Hoyt, launched in 1890.​

"Colgate Hoyt" was a steel whaleback steamer built at Duluth, Minnesota in 1890. This vessel was one of the early whalebacks built by Alexander McDougall, at the American Steel Barge Co., of Duluth, Minnesota, shortly after he had secured a patent in 1887. Later, he moved his yards to Superior, Wisconsin and, in all, built about fifty whaleback steamers and barges in the course of about ten years. In 1905, "Colgate Hoyt's" name was changed to "Bay City," after it was taken over by the Boutell Steel Barge Co. of Bay City, Michigan. Some time later, the vessel was sold Canadian and renamed "Thurmond." ​
Colgate Hoyt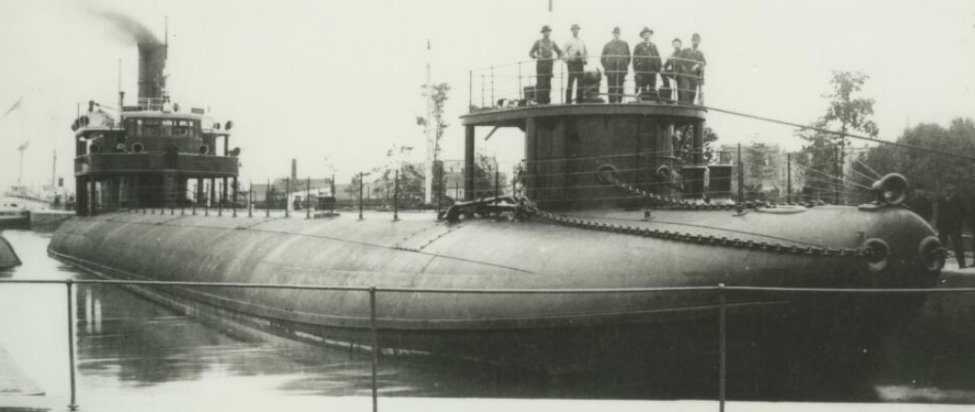 Additional Source
​
The only passenger whaleback was the gleaming white Christopher Columbus, built to ferry passengers from downtown Chicago to the Columbian Exposition in 1893. At her launch she was not only the longest whaleback launched to that date, but at 362 feet (110 m) also the longest vessel on the lakes, gaining her the unofficial title of "Queen of the Lakes". Reportedly, Christopher Columbus carried more passengers in her career than any other vessel to have sailed the Great Lakes.

​

Go figure this one out:​

Built for the 1893 Chicago Expo (one additional thing they ended up "building" for the Expo) - just read the below.

​

The World's Fair Steamship Company ordered the construction of the Columbus at an estimated cost of $360,000. The job was undertaken at McDougall's American Steel Barge Company works in Superior, Wisconsin, starting in the fall of 1892. ​

The hull framing, which included nine bulkheads, was completed on September 13, 1892. The ship's propulsion mechanisms were next installed, consisting of a single four-bladed, 14-foot (4 m) diameter, 19-foot (6 m) pitch propeller, the two reciprocating triple-expansion steam engines (with three cylinders of 26-inch (66 cm), 42-inch (107 cm) and 70-inch (178 cm) diameters in a common frame with a 42-inch (107 cm) stroke) manufactured by Samuel F. Hodge & Co. of Detroit, Michigan, and six steel tubular return Scotch boilers, (11-foot (3 m) diameter by 12-foot (4 m) long), built by Cleveland Shipbuilding Company. The rounded hull top was then added, followed by the six turrets, which were substantially larger than those employed on freighter whalebacks. The ship was launched on December 3, 1892, after which two superstructure decks were mounted on the turrets along the centerline of her hull to afford access to her two internal decks, one in the turrets and one in the hull below.
She was fitted out over the remainder of late 1892 and early 1893. Electric lighting was used, and she was elegantly furnished. Her grand saloon and skylighted promenade deck contained several fountains and a large aquarium filled with trout and other fish of the lakes. The cabins and public spaces were fitted out with oak paneling, velvet carpets, etched glass windows, leather furniture and marble. Shops and restaurants were provided for the passengers.
McDougall's American Steel Barge Company had committed in the contract that the Columbus would be built and delivered in three months, making her one of the fastest-built large ships of her time. The builders further promised rapid loading and unloading, predicting that the vessel would be able to embark 5,000 passengers in five minutes, and disembark the same passengers in even less time. The Columbus was specified to be able run the 6 miles (10 km) from the dock downtown to the fairgrounds at Jackson Park and 64th Street in 20 minutes.
Carried more Great Lakes passengers than any other vessel
Christopher Columbus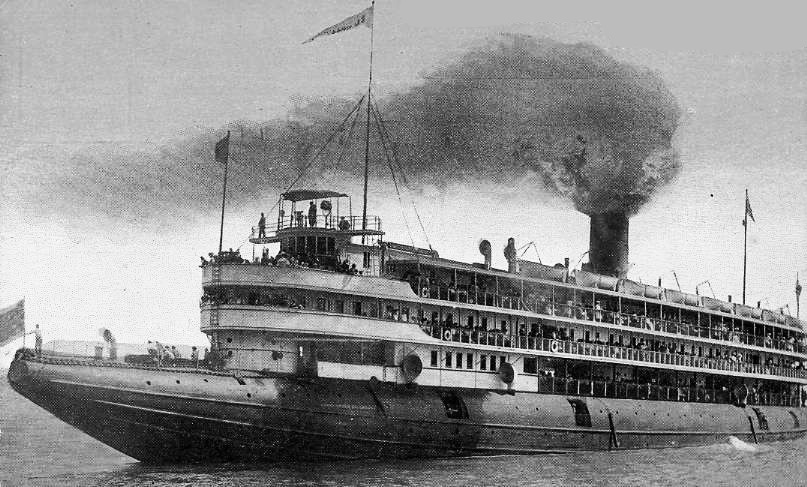 Christopher Columbus under construction, right?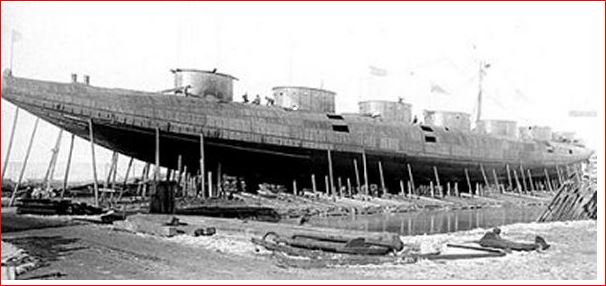 We have seen
this type of docks before
.
C. Columbus looks pretty ridiculous if you ask me...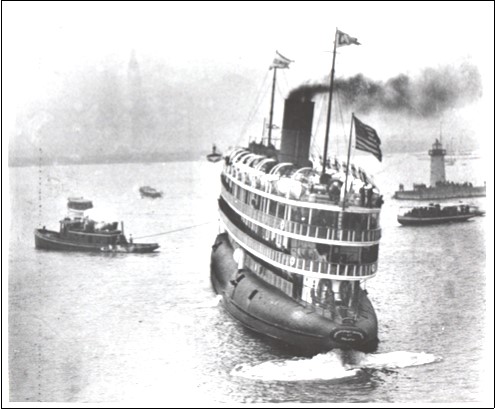 Joseph L. Colby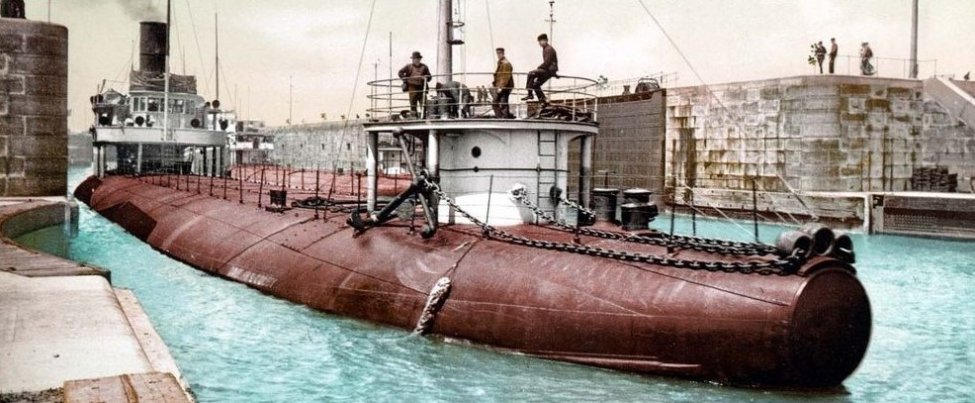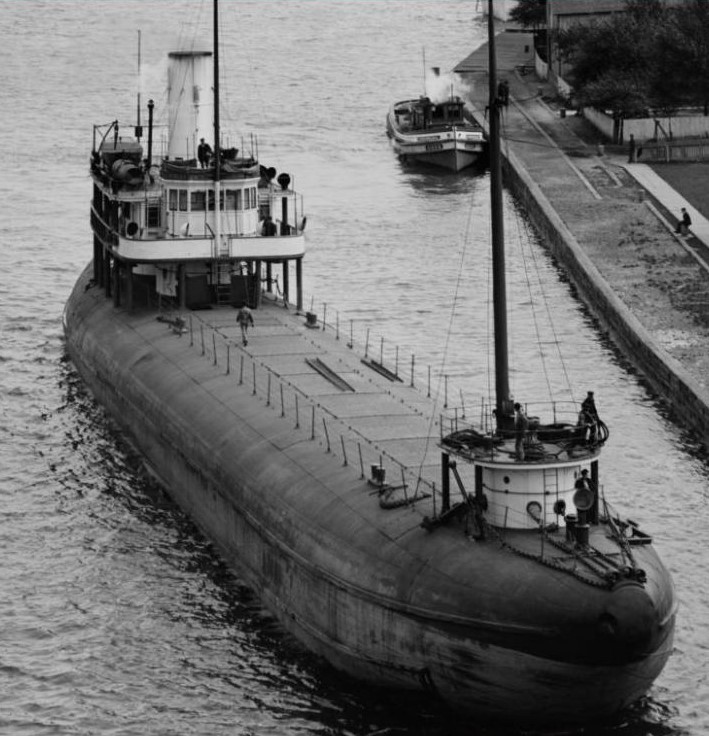 Str. Pathfinder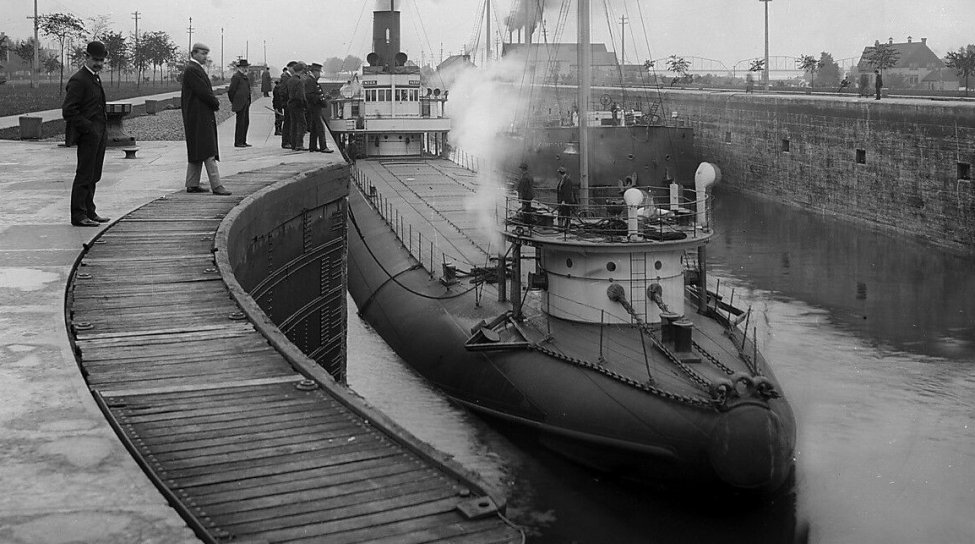 Source
Thomas Wilson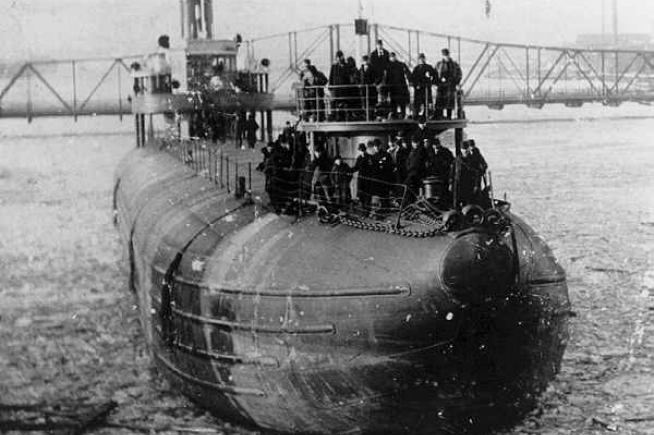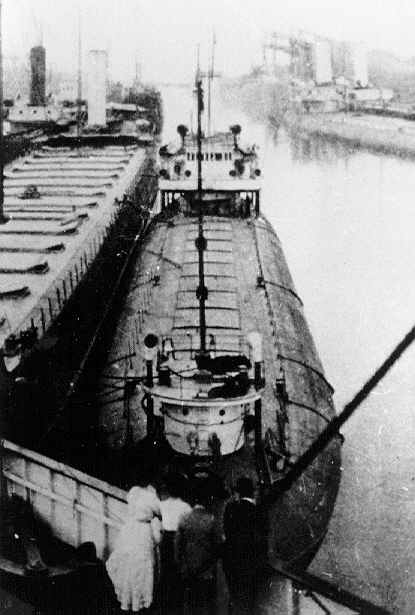 Samuel Mather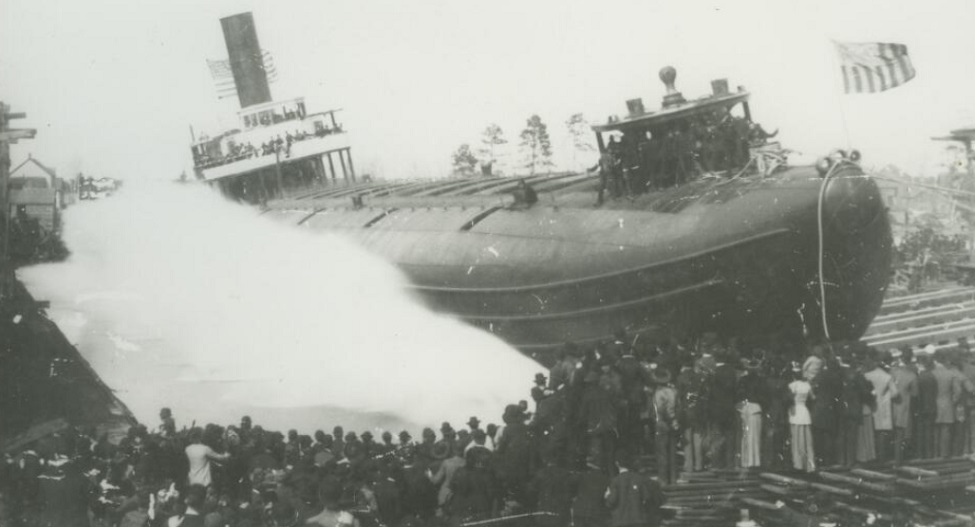 Source
City of Everett
under construction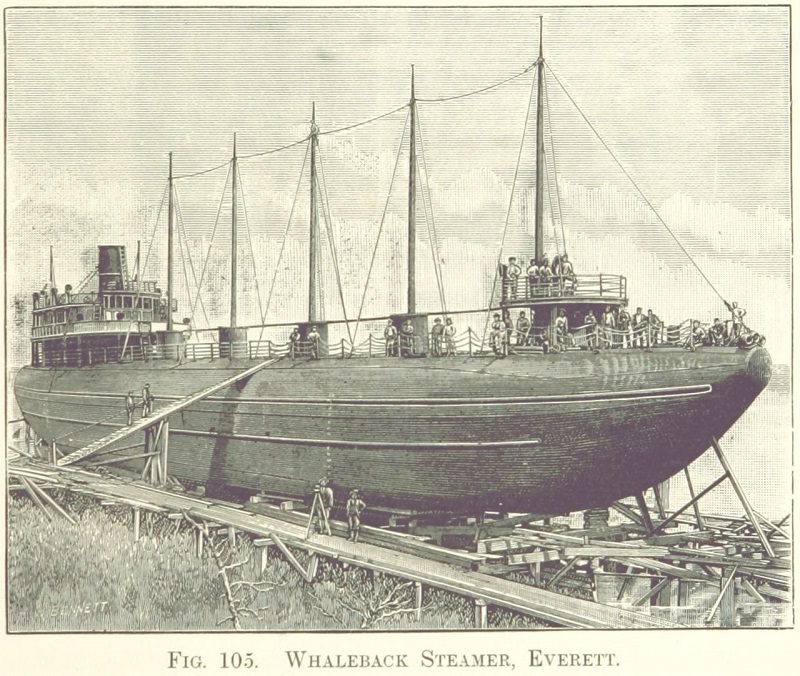 ​
NOTE:
The SS City of Everett, under construction in its namesake. Note that it never *explicitly* names the ship, but as it's talking about the first whaleback built in Everett, and there was only ever one whaleback built in Everett, I assume the two are the same.
+ about 40 more of these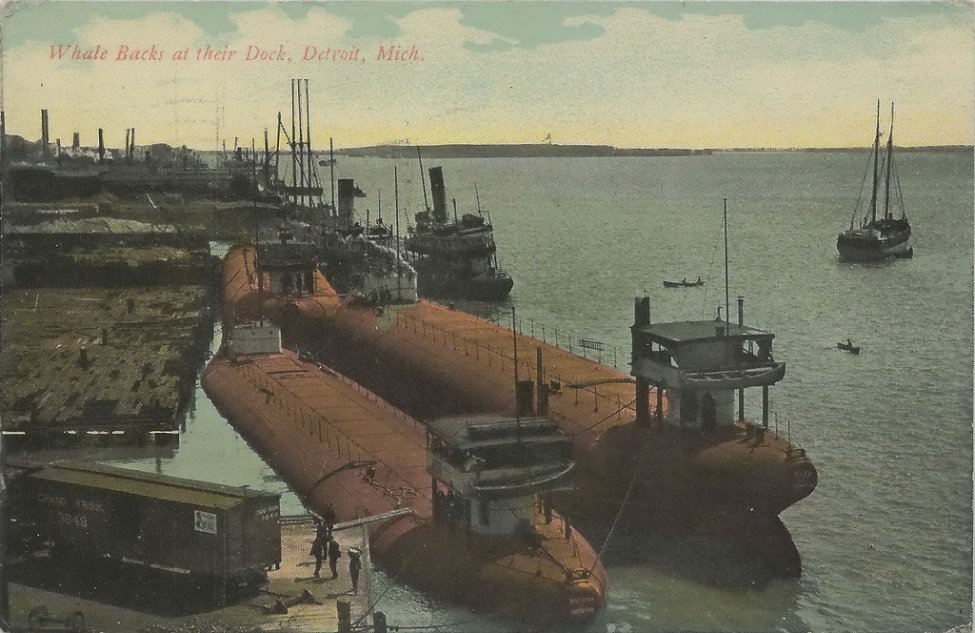 Allegedly, this is the original purpose of these ships: grain and ore transport, but...
The primary problem of the Whaleback design was its hatches. The edges of the hatch openings and their covers would get bent, destroying the watertight seal. Collisions between unloading equipment and the hatch edges also often occurred, resulting in slow loading and unloading.

KD: That's what happens when a piece of equipment is not being used in accordance with its designed purpose.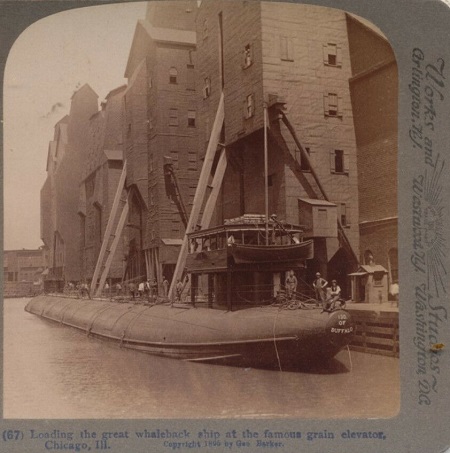 ---
KD:
I think we could have 44/48 of our Noah's type Arks here. You judge for yourself whether this design matches the time they were made. I have hard time imagining any other use for these between 1887 and 1898. These boats appear to be virtually unsinkable. Out of 44, or 48 boats there is only one surviving vessel out there. Coincidentally it is Frank Rockefellar, aka
SS Meteor
.
SS Meteor is the sole surviving ship of the unconventional "whaleback" design. ​

Meteor was built in 1896, and, with a number of modifications, sailed until 1969. ​

She is currently a museum ship in the city of her birth. ​
...upside down US Flag?...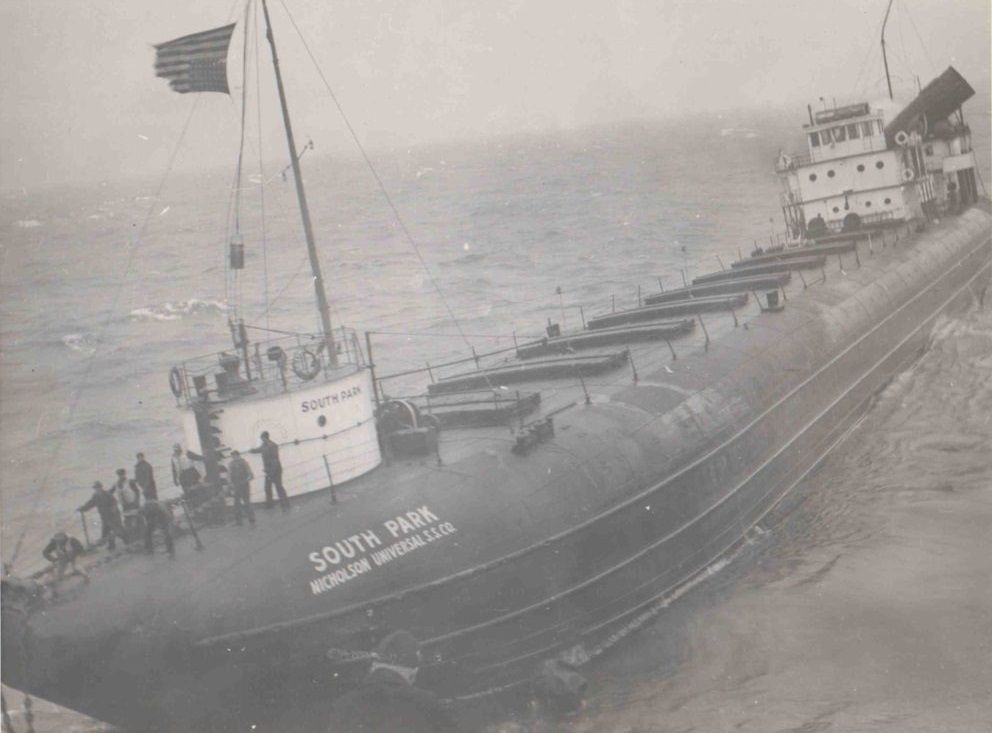 Source
​
Take a look at a few of them Ark names. Here marches your future TBPB, I would imagine:
Joseph L. Colby - (New York investment banker who was the partner of Colgate Hoyt)​
Anyways, yup, I do consider that these ships were used in a manner similar to the one observed in
the movie 2012
. A few chosen ones weathered the Storm, and went on to Rule this World.
Oh, and I did not specifically look for the construction photographs. I could be wrong, but something tells me that we simply slapped those superstructures on these fine boats. The rest was done by some other spin of our civilization.