Ever since the
Acropolis
article I knew that there was no way to avoid this crematorium related one. I think that some of the ancient industrial structures, and designs were presented to us as temples, mosques and churches. I just caught myself calling pre-1600 buildings ancient. That's because I stopped thinking in terms of "thousands of years" ago. I really struggle to see any substantiation of anything that old. It appears that everything remotely referenceable starts in 1600s.
This is not the most pleasant topic to cover, but I do want to get it out of the way. Cremation is a method of final disposition of a dead body through burning. Cremation leaves behind an average of 2.4 kg of remains, known as "ashes" or "cremains". This is not actual ash but unburnt fragments of bone mineral, which are commonly ground down into powder.
While a crematorium can be any place containing a cremator furnace, modern crematoria are designed to serve a number of purposes.
As well as being a place for the practical but dignified disposal of dead bodies, they must also serve the emotional and spiritual needs of the mourners.
Per the narrative, prior to the Industrial Revolution, cremation could only took place in an outdoor open pyre. The organized movement to instate cremation as a viable method for body disposal began in the 1870s. I am not gonna bother you with all the blah-blah-blah you can read yourself, but here is what I find really strange...
The Timing

​
Tell me that this cremation need shared by so many countries is not weird.
The organized movement to instate cremation as a viable method for body disposal began in the 1870s
In 1869 the idea was presented to the Medical International Congress of Florence by Professors Coletti and Castiglioni "

in the name of public health and civilization

".
In 1873, Professor Paolo Gorini of Lodi and Professor Lodovico Brunetti of Padua published reports or practical work they had conducted.
A model of Brunetti's cremating apparatus, together with the resulting ashes, was exhibited at the Vienna Exposition in 1873 and attracted great attention.
KD:
What exactly was happening in the world in 1870s-80s to justify this synchronicity?
Meanwhile, Sir
Charles William Siemens
had developed his regenerative furnace in the 1850s. His furnace operated at a high temperature by using regenerative preheating of fuel and air for combustion. In regenerative preheating, the exhaust gases from the furnace are pumped into a chamber containing bricks, where heat is transferred from the gases to the bricks. The flow of the furnace is then reversed so that fuel and air pass through the chamber and are heated by the bricks.
Through this method, an open-hearth furnace can reach temperatures high enough to melt steel

, and this process made cremation an efficient and practical proposal.
I found this remark important enough to overlook.
Now we can go into the actual crematorium buildings and building designs. To be honest, I would have never thought that any of these structures were cremation facilities.

1900 Source
#1:
1877 Design
​
I will begin with the one that started me on this topic. As far as I understand it was never built. It's description was provided as follows:
This will be the grand temple of cremation when it is erected - a proceeding to take place in the dim future: when or where not stated. On each side of a central chapel there is a circular memorial hall; and extending so as to inclose the garden of the establishment, on the sides of the halls are wings containing a large number of niches for the reception of funeral urns.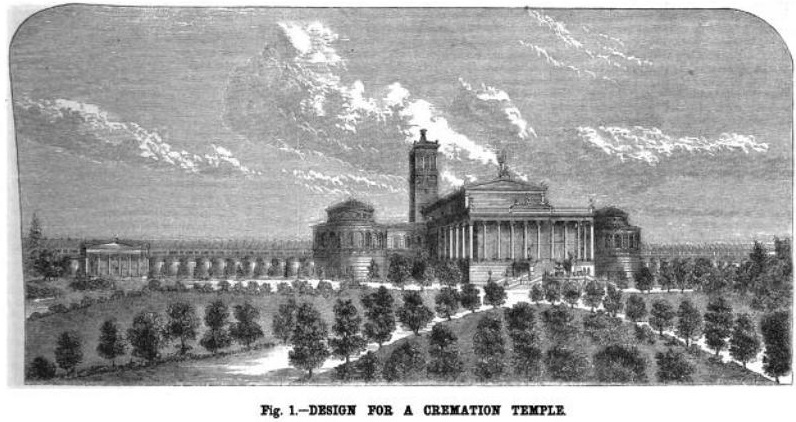 #2:
1887 Crematorium
​
At the time, the practice of incineration was not at all common in France and the newspaper explained: "Let us remember in conclusion that the crematorium oven, established so as to suffice for the incineration of all anonymous hospital debris , or about four thousand bodies per year, is located in the northeast part of the cemetery, near the Muslim cemetery. And to satisfy the curiosity of its readers, the edition of October 22 of the same year specifies: "Built in refractory bricks, the crematorium takes the form of a sarcophagus. A double and powerful draft of air, arranged above the hearth, forces the flames to completely envelop the corpse, which is thus quickly charred then reduced to an amount of ash varying from five to ten kilograms."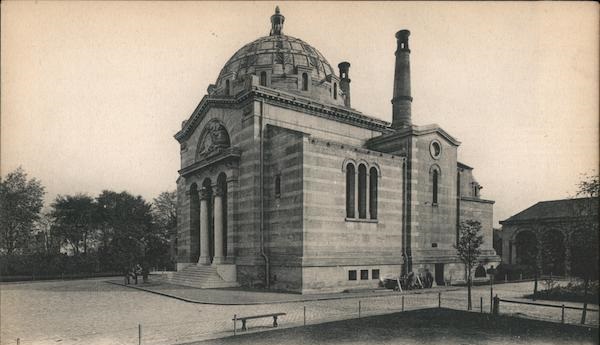 #3:
1880 Crematorium
​
The crematorium at Varese was erected in 1880, and although a small one, presents a handsome elevation. The chamber in which cremation is performed is placed in the center, just behind the room appropriated to the public, and which is approached through a roomy vestibule. A room has been provided where the relatives can be accommodated. At the sides of the temple are two columbaria for the reception of urns.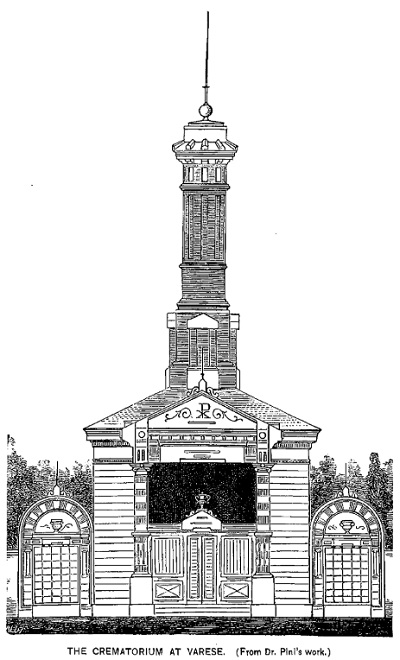 #4:
1892 Crematorium
​
The Hamburg crematorium was opened in 1892, and up to the end of 1896 there had been about 200 cremations. That's all the info I was able to find.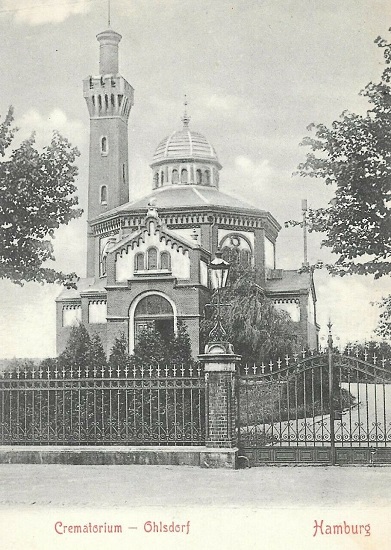 #5:
1903 Crematorium
​
Since 1903 there has also been a crematorium on the Mainz cemetery grounds, one of the first buildings of this kind in Germany, which was modernized in 1996. Due to emissions regulations, a new crematorium had to be put into operation at the Untere Zahlbacher Strasse entrance in 2010 and the old one had to be shut down after 107 years. Reuse as a columbarium is planned.
#6:
???? Crematorium
19th Century, Manchester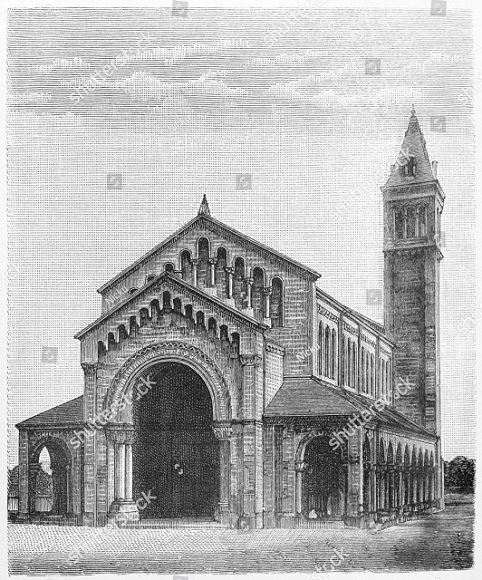 #7:
1920 Design
​
Kaplun was put in charge of the commission to build a permanent crematorium. A temporary one was hastily erected and opened in December 1920, but a variety factors led to it only operating for a few months. The primary reason it closed was practical: the crematorium oven required huge amounts of wood that simply wasn't available in frozen Petrograd. The ongoing civil war and general lack of supplies across the city further undermined justification for the crematorium's operation.
#8:
1878 Crematorium
​
In 1878, the first crematorium in Germany was taken into operation in the central cemetery. It consists of a columned building some 50 metres long, built in elegant simplicity in neo-Classicist style.

When the urn colonnade became too small, a tastefully designed semi-circular building called the Columbarium was added in the middle section in 1892.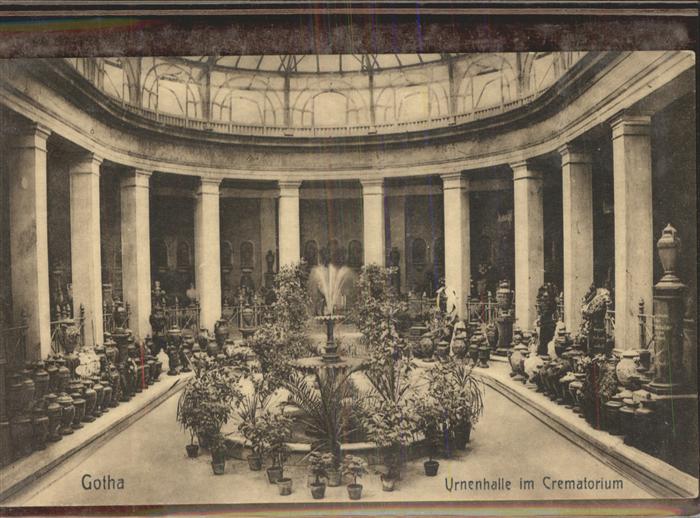 #8:
1878 Crematorium & Chapel
​
The Gardner Earl Memorial Chapel and Crematorium, a Richardsonian Romanesque structure built between 1887 and 1889 at Oakwood Cemetery in Troy, New York, United States. The building was financed by William S. Earl, a successful Troy manufacturer, as a memorial to his son who died after becoming ill on a trip to Europe in March 1887. The deceased Earl was an early promoter of cremation and was himself cremated in Buffalo.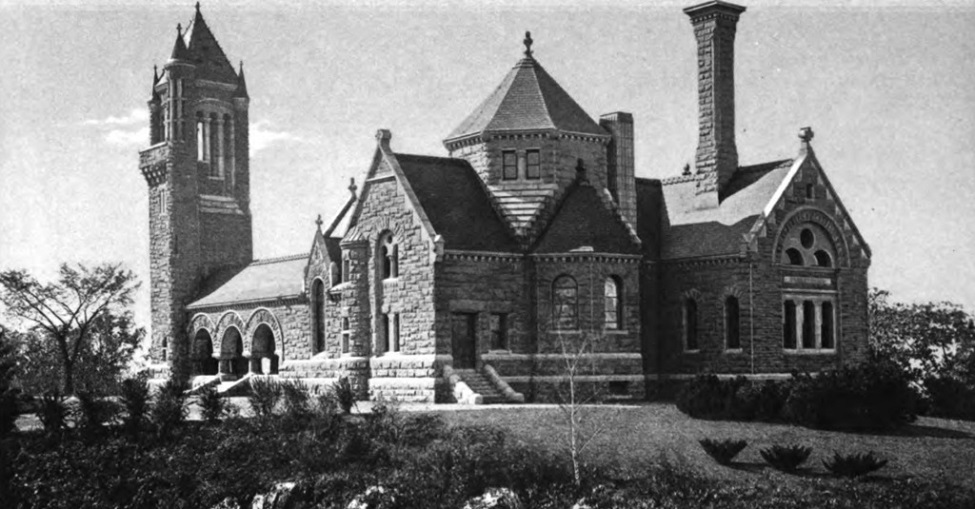 ​
---
KD:
I think I will stop at eight. If you come across any 19th century cemeteries, please share photographs in this article.
Any opinions on this "temperatures high enough to melt steel?"​

Is there a possibility we are looking at some older (possibly recreated from surviving docs) tech related structures?​