This article is not about Exposition Architecture, but rather about some phenomenal attendance numbers as they pertain to the pre-commercial flight era World Fairs (Expositions, Exhibitions, Centennials, Jubilees, etc). I will allow the reader to make any appropriate conclusions on the matter. Whether these numbers were spiked by the lack of any entertainment people had those days, or they show that we do not really understand
population numbers shenanigans,
I do not really know. It appears that today people have more options as far as sightseeing, and venue attending goes.
1893 Chicago World's Fair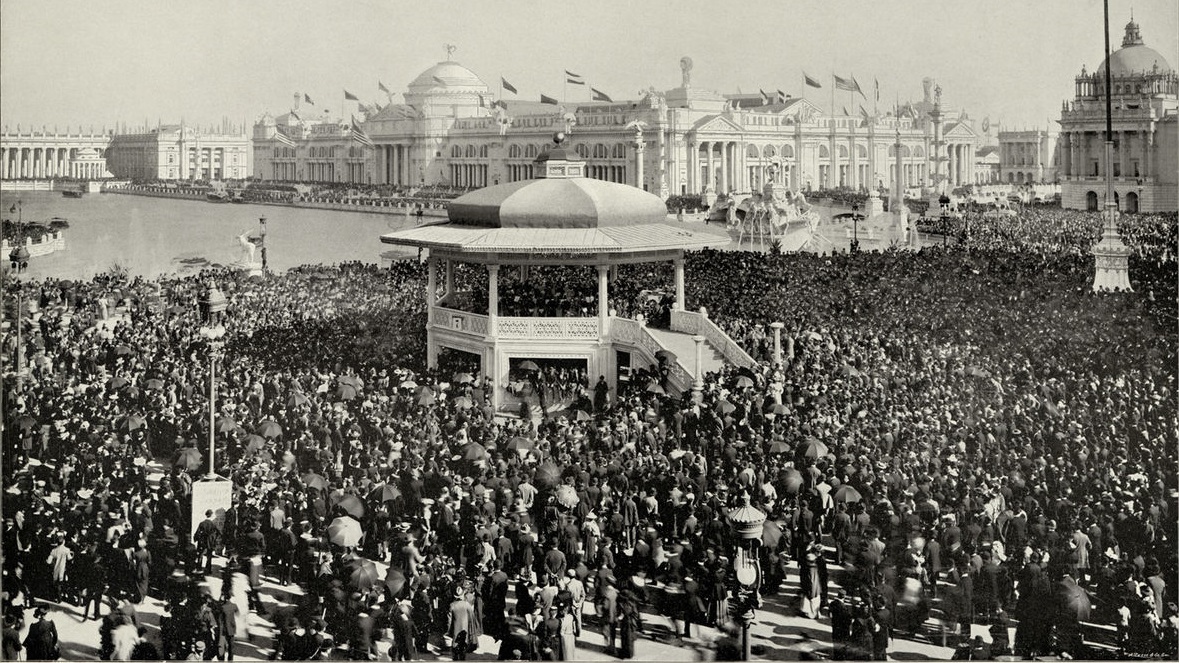 1893: World's Columbian Exposition in Chicago
​
I used the time frame, when people did not have an opportunity to hop on an airplane (at least officially), and fly across any ocean out there. Basically, we have to be real with the modes of transportation available at the time, and general population numbers, as compared to today.
First International Commercial Flight:
Interesting Transportation Facts
World Population
Numbers
(narrative version)
1800: 1 billion
1850: 1.26 billion
1900: 1.65 billion
2018:

7.5 billion
USA Population
Numbers
(narrative version)
1850: 23.19 million
1860: 31.4 million
1870: 38.55 million
1880: 50.19 million
1890: 62.98 million
1900: 76.21 million
1910: 92.23 million
1920: 106.02 million
IMPORTANT:
While I do not quite understand the significance of the 1890 US Census getting destroyed in 1921, I do see some strangeness in having barely any people in the streets in the 1860s-1870s USA (or any other place), and the ridiculous event attendance which followed. So, if you have an idea, please share.
---
The reason I used this generalized 6 months/180 days increment was due to our Expos always lasting for approximately 6 months/180 days. Our contemporary stats are based on yearly figures. For this amateur experiment, I simply divided these yearly numbers in two, to get the desired 6 months data.
These are just general numbers, and not by any means, any attempt at any sort of a scientific calculation. All numbers were obtained from public sources.​
1850-1919 Most Visited World Fairs - TOP 5
​
2018 Most Visited Cities in the World
​
Bangkok:

10.025 million - (55,694 a day)

London: 9.9 million
Paris: 8.72 million
Dubai: 7.9 million
Singapore: 6.95 million
New York: 6.56 million
Kuala Lumpur: 6.29 million
Tokyo: 5.96 million
Istanbul: 5.35 million
Seoul: 4.77 million
France:

43.45 million - (241,388 a day)

Spain: 40.9 million
USA: 38.45 million
China: 30.35 million
Italy: 29.15 million
Mexico: 19.65 million
UK: 18.85 million
Turkey: 18.8 million
Germany: 18.75 million
Thailand: 17.7 million
Magic Kingdom, Florida:

10.45 million - (58,055 a day)

Disneyland Park, California: 9.35 million
Tokyo Disneyland, Japan: 8.95 million
Tokyo DisneySea, Japan: 7.35 million
Universal Studios, Japan: 7.15 million
Disney's Animal Kingdom, Florida: 6.9 million
Epcot at Walt Disney, Florida: 6.2 million
Shanghai Disneyland, China: 5.9 million
Disney's Hollywood Studios, Florida: 5.65 million
Chimelong Ocean Kingdom, China: 5.4 million
Las Vegas Strip:

19.83 million - (110,166 a day)

NYC Times Square: 19.6 million
NYC Central Park: 18.75 million
Union Station D.C.: 16.42 million
Niagara Falls: 11.25 million
Most Visited Whatever Whenever
​
1900 Paris Expo: 48.13 million - (267,388 a day)
2018 France: 43.45 million - (241,388 a day)
---
KD:
Basically, that is what we have, a global indoctrination into the new life. Would like for the blog members to pitch in with their opinions on the attendance of the World Expos.