KD disclaimer:
this is going to be one of those "bananas" articles. I intend to offer a hypothesis that we have two humongous freezers installed within North and South polar regions. In my opinion, they could have been installed by the previous society to free the Earth of the Great Biblical Flood waters. This article requires the reader to know contents of the multiple articles published on this blog. I am not going to recite those articles, to include their substance. At the very best I will provide a link.
Global warming
is a long-term rise in the average temperature of the Earth's climate system, an aspect of climate change shown by temperature measurements and by multiple effects of the warming. The term commonly refers to the mainly human-caused observed warming since pre-industrial times and its projected continuation, though there were also much earlier periods of global warming. In the modern context the terms
global warming
and
climate change
are commonly used interchangeably, but
climate change
includes both
global warming
and its effects, such as changes to precipitation and impacts that differ by region. Many of the observed warming changes since the 1950s are unprecedented in the instrumental temperature record, and in historical and paleoclimate proxy records of climate change over thousands to millions of years.
KD:
For the longest time I have thought that the entire Global Warming Saga was a made up problem. I think I might be on the verge of changing my opinion. This change of opinion could be a byproduct of the existence of this blog. Never ever before have I scrutinized information to the point I do now.
Basically I was wondering why the authorities were bothering with something like this "Global Warming". If it was for the money, they have plenty of various ways to collect. I entertained that they might know something we do not, at the same time they could not call it for what it really was.
The only fact we do have:
the authorities appear to be freaked out that Arctic and Antarctic Ice would melt.
While we do have multiple sources of various Great Floods similar to the Genesis one, I will only mention the most common one. After all, I think those are one and the same.
Noah's Ark from Anton Koberger's German Bible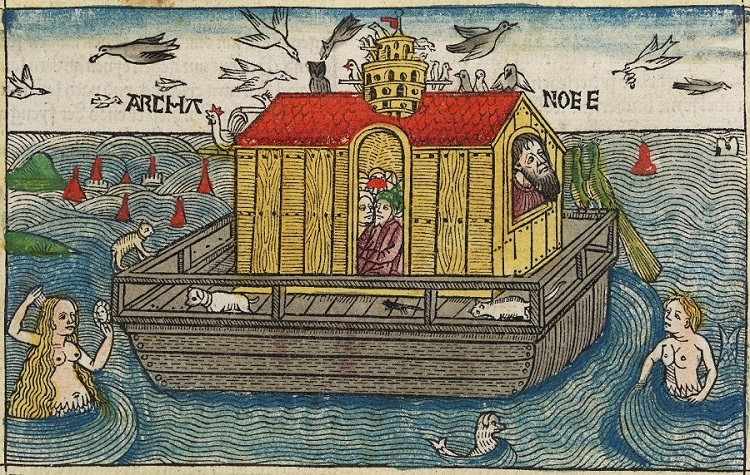 Source
​
Seeing that the earth was corrupt and filled with violence, God instructed Noah to build an ark in which he, his sons, and their wives, together with male and female of all living creatures, would be saved from the waters. Noah entered the ark in his six hundredth year, and on the 17th day of the second month of that year "the fountains of the Great Deep burst apart and the floodgates of heaven broke open" and rain fell for forty days and forty nights until the highest mountains were covered 15 cubits, and all life perished except Noah and those with him in the ark.
After 150 days "God remembered Noah ... and the waters subsided" until the ark rested on the mountains of Ararat. On the 27th day of the second month of Noah's six hundred and first year the earth was dry.
Essentially, if the Genesis Flood story has any merit to it, we are faced with three questions, answers to which could shed some light onto quite a few different research areas, including the one I'm presenting:
Where the water came from?
When did the Flood happen?
Where the water went to?
Where waters came from:
According to the Genesis creation narrative, God created the firmament to separate the
"waters above"
the earth from the
"waters below"
the earth. Whether we do have the elusive Firmament or not, none of us knows for sure. We are being told that we have Space, and van Allen Belts.
As far as the internal Earth structure goes, the
Kola Superdeep Borehole
is only 7.6 miles deep. Yet,
we are being told that we know
what's going on at 3,958 miles deep
(
Inner Core
).
I do question that we are being told the truth about what's down there.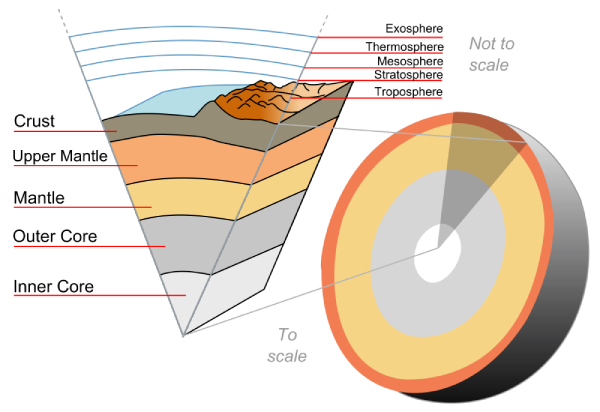 Through the Genesis we get the following:
the fountains of the Great Deep burst apart and the floodgates of heaven broke open
As we can see, the waters came from below, and from above, if we were to honor the Genesis, and Co. The water kept on coming for 40 days,
"until the highest mountains were covered 15 cubits"
.
After 150 days "God remembered Noah ... and the waters subsided"
.
When the flood happened:
Obviously the Deluge is
being pushed to some super ancient times
. We get quite a range of "scientific" opinions out there.
some say it happened in 2348 BCE
some say it happened 100,000 years ago
some say it did not happen at all
But even the most recent time provided, pushes the event some 4,367 years back. Meanwhile, we have multiple legends carrying the legend through time.
Great Flood Timing: 300-500 years ago
​
Questioning the Narrative is hard. Not so much
"per se"
but rather in the court of public opinion, if you will. We are so used to looking at certain things/events in a particular ingrained way. In this case we all "know", that if this Biblical Flood happened, it took place a very long time ago. And the reason we know that is because the Genesis is pushed so far back. This is a dogmatic, institutional knowledge, and as such is beyond contestation.
KD opinion:
I think the Great Biblical Flood happened fairly recently, i.e. 300-500 years ago. I think so, because of the three undeniable facts which are being grossly misrepresented by the so-called historians.
Population Growth Chart
Map Transformations
Ruin Artists
Population growth
is one of the biggest giveaways here. The ridiculousness of the below chart is being explained each and every way one can imagine. Our gullibility is the limit for the "Narrative" writers.
Before we get into some numbers here, lets re-visit the official timeline of the "Homo" history. In this case it is irrelevant whether you are a creationist, or in the Darwin's corner. We
do have the "Narrative",
accompanied by a certain population growth time line.

Homo: 2,500,000 to 2,000,000 years ago
Homo Erectus: 1,900,000 - 500,000 of years ago
Neanderthal and Denisovan: 800,000 - 300,000 years ago
Homo Sapiens: 300,000 - 130,000 years ago
Some of
the World Population Numbers
of the Homo Sapiens:
KD:
Now, let us be real. We are considered to be Human Sapiens just like the very first ones 300-130 thousand years ago. That means that the Population Growth Charts have to start at least 130,000 years ago, and not 8k or 10k BC.
130,000 to 1 AD: population grew from ZERO to 170 mln (or 400 mln)
1 AD to 1700 AD: population grew from 170 mln (or 400 mln) to 600 mln
1700 AD to 2019 AD: population grew from 600 mln to 7.7 bln
I am far from being proficient with computer graphics, but the below alteration I did to the above chart should do. In my opinion the Great Biblical Flood happened just before the growth spiked. Of course, that would mean that vast quantities of human (and other) beings perished in the cataclysm.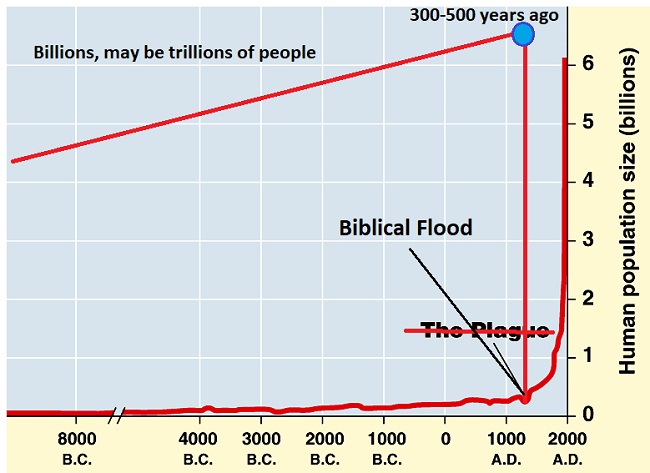 Map Transformations
​
Map shenanigans have been one of the most prominent areas covered on this blog. I will just say that the
"map thing"
is being dismissed by the Narrative.
The changes we observe in our 1500-1800s cartography is being attributed to the lack of education, skill and knowledge exhibited by the
most famous cartographers of the past
. Some related articles to consider:
Ruin, aka Capriccio Artists
​
In painting, a
capriccio
means an architectural fantasy, placing together buildings, archaeological ruins and other architectural elements in fictional and often fantastical combinations, and may include figures). It falls under the more general term of
landscape painting
. The term is also used for other artworks with an element of fantasy.
Do we always know when we are being lied to? I think in this case we can question the Narrative. There is exactly ZERO evidence that any of the 17th-18th century artists were making stuff up. If anything there is plenty of compelling evidence that they were not.
KD:
I am not going to name every single ruin artists out there. Those who want to know more will figure out where to look up those 17th-18th century individuals. There is one name which stands out, and the name is Giovanni Battista Piranesi. A few of the Piranesi related SH articles are below:
I am not gonna go too deep into the Mud Flood topic. For those interested please feel free to visit the proper article and section below:

​
KD:
21st century
excavation of Rome
is probably one of the most prominent examples of the mud flow covering a city with no serious damages caused in the process. Could this happen due to the place becoming gradually submerged, entirely or partially? I think it could.
And in general, ask yourself why archaeologists have to excavate structures which are not that old...
Circumstantial evidence:
There are few ridiculous situations similar to the one the world famous
Cologne Cathedral
found itself in. The Narrative pushes its believability limits in my opinion:
construction of Cologne Cathedral began in 1248 but was halted in 1473, unfinished. Work did not restart until the 1840s, and the edifice was completed to its original Medieval plan in 1880.
An 1856 photo of Cologne Cathedral, then unfinished,
with a 15th-century crane on south tower.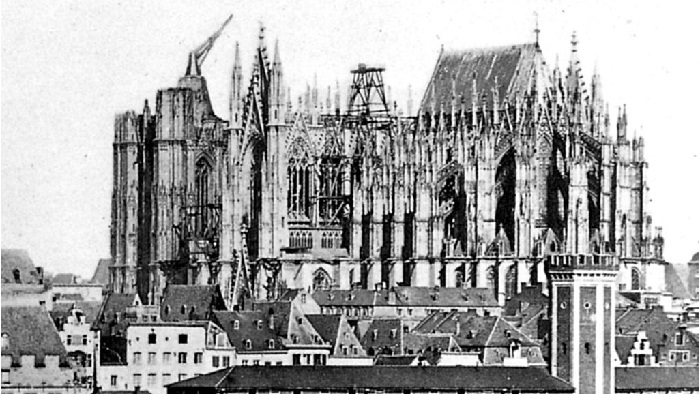 1856 photo of Cologne Cathedral and 15th century crane
Where the Flood Waters went to?
​
Well, here is where I say that the Flood Waters were accumulated and frozen in our polar regions. The tech aspect of things we will cover a bit later. As far as melting all the world ice goes, our scientists say the following:
If we keep burning fossil fuels indefinitely, global warming will eventually melt all the ice at the poles and on mountaintops, raising sea level by 216 feet.
There are more than five million cubic miles of ice on Earth.
I do not believe that the entire Earth was covered with water. Primarily because the Flood Legends exist in memories of each and every corner of our planet
(whether spherical, flat or whatever)
. This in turn means that survivors
(besides "Noah and Co")
were multiple and geographically spread out.
Science says:
The
icing of Antarctica
began in the middle Eocene about 45.5 million years ago and escalated during the Eocene–Oligocene extinction event about 34 million years ago. The Western Antarctic ice sheet declined somewhat during the warm early Pliocene epoch, approximately 5 to 3 million years ago; during this time the Ross Sea opened up. But there was no significant decline in the land-based Eastern Antarctic ice sheet.
Ice has been building up in the Arctic
for 2.7 million years. Until now, no one has been able to prove what mechanism brought about this accumulation of ice.
KD:
So there we have it. I call BS on the above timing, for it could be a simple speculation, if it was not a deliberately misleading "scientism".
I am not even gonna mention that the
Antarctica was officially discovered
only in 1820. All this time our so-called scientists were successfully dodging a simple question of how come we have the Antarctica on the 15th
(16th, etc.)
century maps. And what is more important, we have Antarctica without any ice. To save some room I will tack on the Arctic region to it as well.
​
The above maps are dated with 1595 and 1597 from left to right. Obviously on the left we have the Arctic region, and on the right the Antarctic one. I chose these two, for they appear to be the most famous ones. Yet there are tons of other maps pertaining to the polar regions free of ice. Most of those maps predate the above two. I am not going to search for those maps for the reader. You can visit the below related articles and a few ancient map links below.
KD:
Our scientists are telling us that the ice in both Polar Regions is millions of years old. Yet, we have a gazillion of maps telling us otherwise. If someone wants to say, that our scientists are correct, please provide which one of the involved cartographers personally stated that he was making stuff up. In my personal opinion, we are being misled beyond any imaginable believe, and it is being done on purpose.
If the speed of the Industrial Revolution, volume of the 19th century patent filings, and some "other" technology attributed to the so-called
"Ancient Austronauts"
is not enough to pick your curiosity, you need to factor in all the remarkable architecture of the "Ancients". I can point you to some of the blog areas, but what you get out of it is entirely up to you:
What kind of technological advancement was needed for creating maps like this one?
Anyways, I think we have very little understanding, and a whole lot of denial of what those "ancient" people were capable of. I do entertain the possibility, that the "ancients" of 500 years ago
(without Windows 10, and iPhones)
were technologically superior to our current civilization.
While the term
"the Antarctic Wall"
is more or less attributed to the Flat Earth society, there is no denial of such a phenomenon. There is an Ice Wall there.

​
Some parts of this wall are more weird than others.
Below:
The 455,000 square-foot, 116-foot tall building will be the largest refrigerated warehouse in North America and largest automated freezer in the world.
Obviously not this one here, but this is the direction I'm thinking in.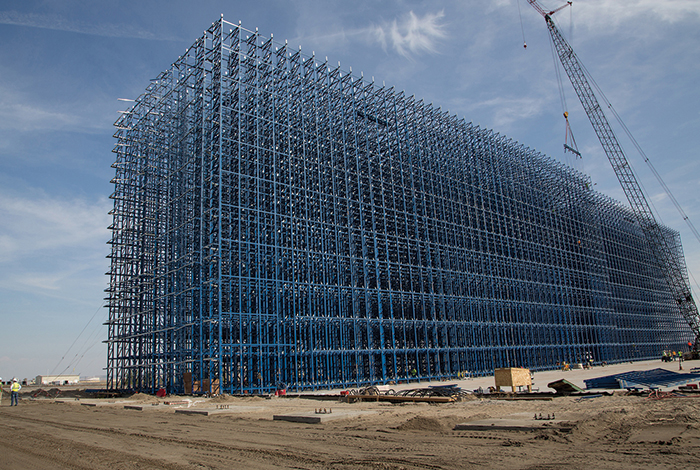 World's Largest Freezer in Final Phase of Construction
The Antarctic Treaty
​
As of 2015,
there are 53 states party to the treaty
, 29 of which, including all 12 original signatories to the treaty, have consultative (voting) status. Consultative members include the seven nations that claim portions of Antarctica as national territory. The 46 non-claimant nations either do not recognize the claims of others, or have not stated their positions.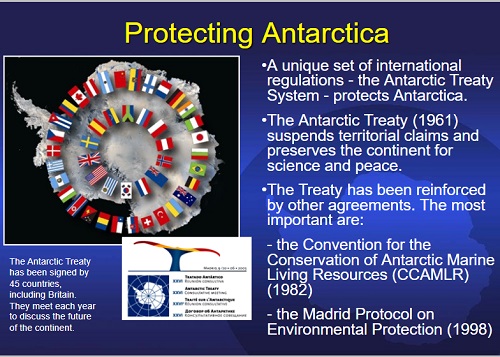 ​
If this happy flag family signing and resigning a treaty to protect a chunk of 2 mile deep ice is not suspicious, I do not know what is. North Korea, Russia and the United States on the same treaty is strange enough, but the contents of the treaty are even stranger. I am not going to do anyone's homework in reference to the
research of the contents
of this Treaty. In a nutshell it means that any given country can't do jack there.
Don't let those tourist cruises mislead you. You will pay an arm and a leg to see a square mile of a some cold place. And you will be given a chance to pet a penguin, or two.
Other than that, the "Treaty" prohibits any corporation, or military activity. Military equipment is to be used for protection of the "Treaty" only. No oil drilling, etc. Those select scientists need protection to drill the ice in some crazy cold weather, I guess. They do it
since 1898
. Does anyone know what they are doing there? What is a single useful accomplishment?
Back to Global Warming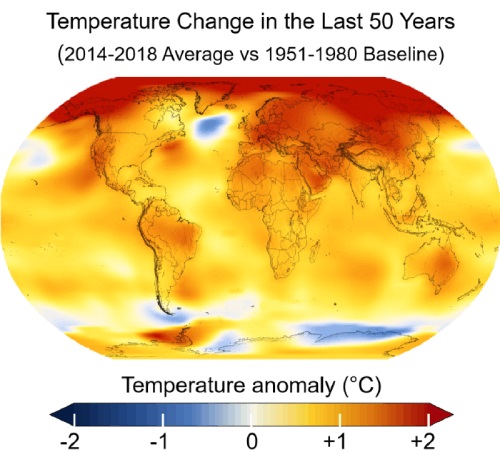 Source
​
We have this interesting inconsistency happening to our "Global Warming" process. In a way it suggests that "Warming" is more local than global.
Arctic ice is melting
Antarctic ice is growing
KD summary:
My hypothesis on all of the above is something like this.
We have two freezers keeping the Flood waters accumulated at the polar regions.
The North Pole Freezer has failed, causing heavy melting to the Arctic Ice.
Unable to fix the Northern Freezer, TPTB freaked out and went into the "Global Warming" mode.
TPTB can not make the true issue public, hence the "Global Warming" term.
The South Pole Freezer was cranked to full capacity to compensate for the failed North one.
The Antarctic Treaty is protecting the freezer, as well as our sanity.
The Arctic region freezer is conveniently surrounded by some trustworthy countries. Hence no Treaty is required.
The Great Biblical Flood happened barely prior to the first emergence of the Ruin Paintings.
I might revisit this article to polish it up a bit. Pretty sure I forgot to mention quite a few relevant SH blog articles. Feel free to add those if they pertain. So far, I simply wanted to through this out there, and see what the general opinion would be.
P.S.
Greenland used to be green, right?
1592 Prioris Hemisphaerii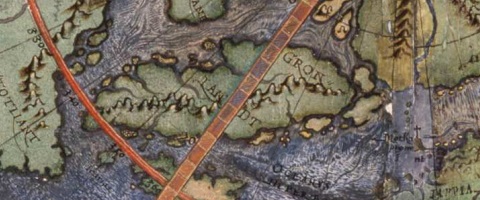 Source
​