Have been looking at a lot of different maps recently, and came across a few puzzling ones. Their appearance simply does not match my traditional understanding of the eighteenth century means and abilities. At the same time, my knowledge of the semi-ancient surveying techniques is next to zero. Yet, I do think that to produce maps of this quality, and detail it would require some sort of aerial photography. Well, at the very least some sort of a view from above.
In part, this article is being created for demonstrating purposes. Pretty often we have to hear that those cartographers from the past were highly inaccurate. Were they really?
Please take a look at the below maps and inspect them for yourself. The ones I added have limited resolution. Please
use links below the maps
to access full size zoomable maps. They are pretty fascinating.
Shows buildings, fields, etc. Includes illustrated cartouche with illustration of and dedication to the Empress Elizabeth. Oriented with north toward lower left.
1753: Saint Petersburg
1766: Paris & Environs
​
Map consists of 35 sheets. Black and white. Relief shown by hachures. This is the second edition after the first edition of 1763, with the addition of six sheets of indexes covering transportation in the city. This is the first plan of Paris to be drawn on a large scale of 1:4,200 and is based on the prior work of Delagive and his 1728 plan of Paris. When all 35 sheets are assembled into one map, it has the dimension of 146 x171 cm. This copy includes six views of Paris that are not found in most examples.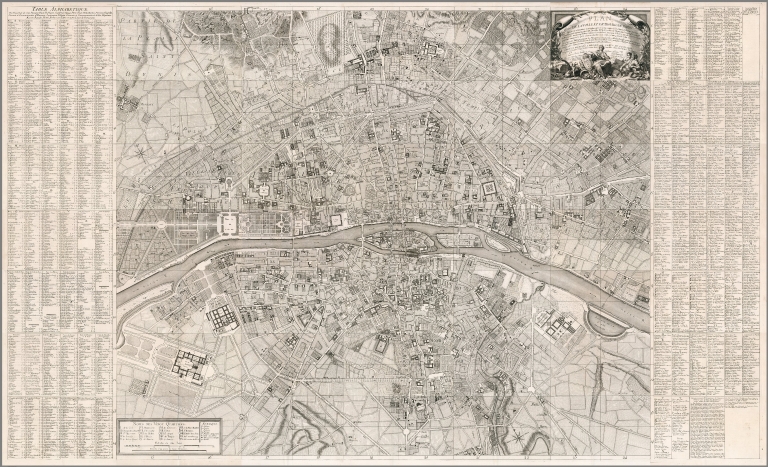 1766 Paris & Environs
1795: Paris & Environs
​
The first edition of this map was published in 1731. This is the fifth, updated edition, published after Roussel's death in 1733. There are many changes in the updated map, for example adding the Champs-de-Mars military academy and the Pantheon. The 1731 first edition was used by John Rocque for an English edition.
---
KD:
how do you think they were able to produce maps like these? How much time, and how many surveyors would it take to create those by walking the ground?