The Life Tent is a waterproof and windproof 2-person tube tent constructed from extra-thick tear & puncture resistant polyethylene material that locks out rain, wind, and snow. Engineered to be your layer of protection against harsh weather, the interior reflects up to 90% of your body heat keeping your warm, dry, and protected from the elements
PARA-SYNCH TECHNOLOGY PARACORD DRAWSTRING & SURVIVAL WHISTLE: Engineered for emergencies and survival, use the 120-decibel survival whistle to cut through wind and trees to alert rescuers up to 1-mile away. The 550lb nylon core Para-Synch Technology drawstring can be used to tie down or repair gear. In an emergency, your tools are the difference between life and death. The Life Tent stacks the deck in your favor and is perfect for your bug out bag, hiking pack, survival gear, or car survival kit
FAST & EASY TO SET UP: Just run the 20ft rope of 550lb nylon core paracord through both ends of the tube tent and tie between two trees or sturdy objects 3-4 ft off the ground. Use rocks or gear to anchor the tent's corners. If there's nowhere to tie the paracord, the 8x5 foot mylar tube tent can also be used as an emergency sleeping bag, emergency bivy sack, pup tent, space blanket, or thermal bivvy
ULTRA LIGHTWEIGHT COMPACT SURVIVAL SHELTER: Weighing just 8.7 ounces and packing up into a 5.25" x 3.25" inch stuff sack, your Life Tent is constructed of heavy-duty 28um extra-thick mylar material with a tear and puncture resistant coating to protect you in a survival situation. Durable enough for repeated use, it can be folded up and placed back inside the Nylon stuff sack. The Life Tent is an essential tool for you to escape the elements and stay alive in an emergency
GO TIME GEAR ADVANTAGE: Better design. Better quality. World-class customer service. That's the Go Time Advantage. We got tired of low-quality survival gear and cheaply-constructed, unreliable, survival tents. We needed a high-quality survival tent for life-threatening survival situations that didn't break the bank. It didn't exist. So we built it. Grab a Life Tent today for your bug out bag, hiking gear, earthquake kit, and survival gear kit so you are ready to escape to safety in an emergency.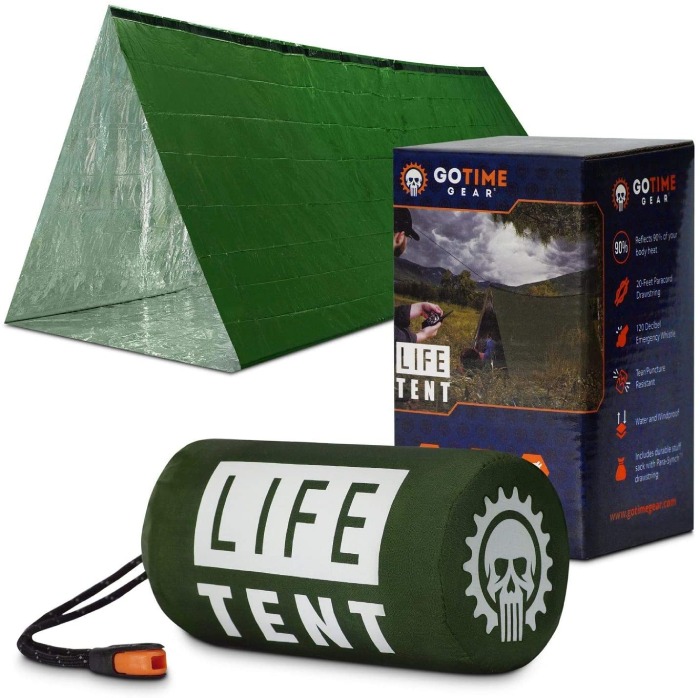 ​
---