I understand that people change with age. Napoleon died when he was 51 years old. You be the judge of this particular aging. On the other hand, his life was pretty stressful, so... who knows?
NAPOLEON BONAPARTE
15 August 1769 – 5 May 1821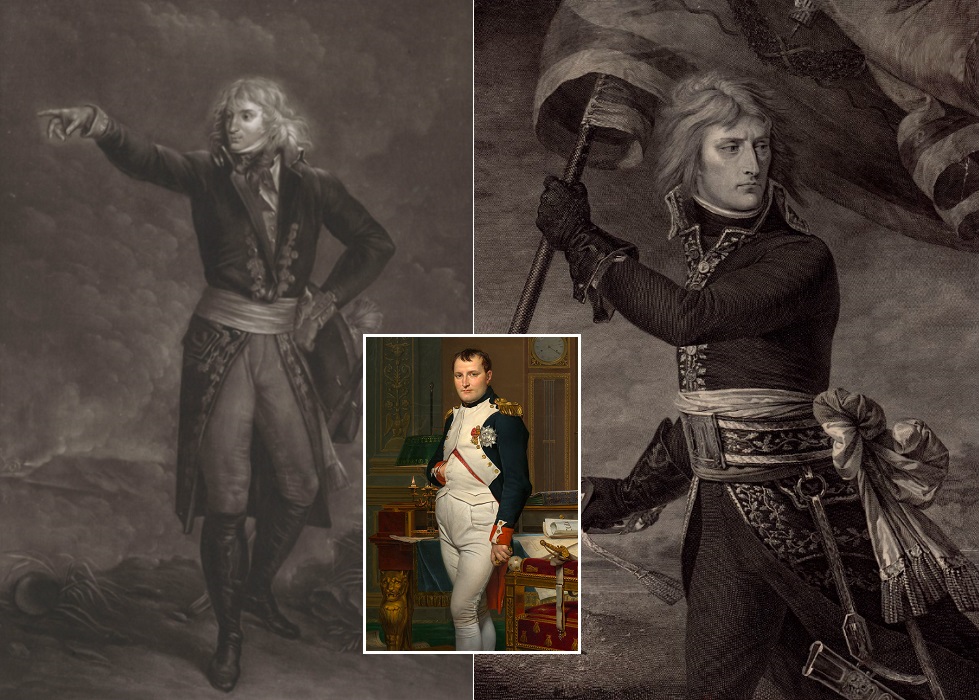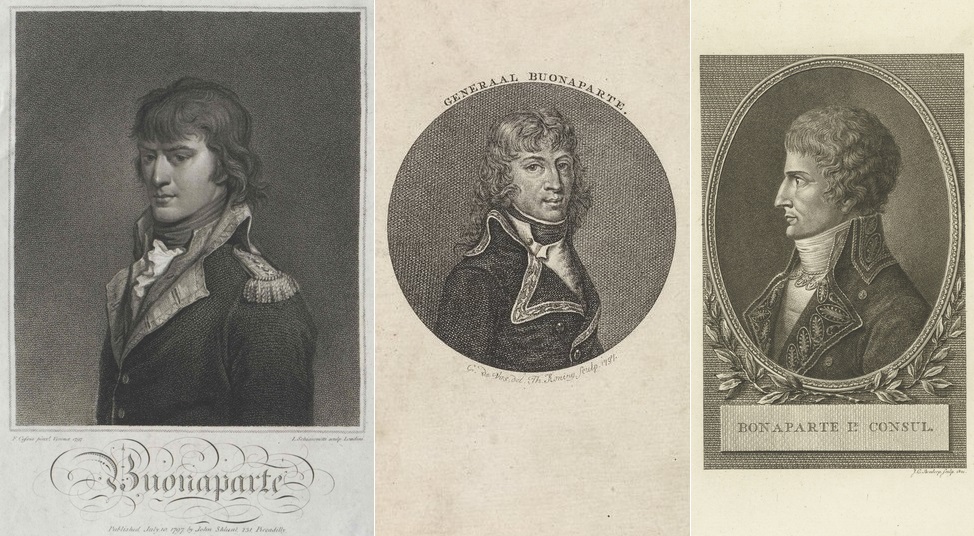 ​
I have my Napoleon related doubts. Granted, there are heaps of various historical documents out there. But, imho, something smells in the entire story. Let's start with some basics.
Napoleon Bonapart
15 August 1769 – 5 May 1821
​
Napoléon Bonaparte, usually referred to as simply Napoleon in English, was a French military and political leader who rose to prominence during the French Revolution and led several successful campaigns during the Revolutionary Wars.
He was the de facto leader of the French Republic as First Consul from 1799 to 1804. ​

As Napoleon I, he was Emperor of the French from 1804 until 1814 and again in 1815.​

Napoleon dominated European and global affairs for more than a decade while leading France against a series of coalitions in the Napoleonic Wars.

​

He won most of these wars and the vast majority of his battles, building a large empire that ruled over continental Europe before its final collapse in 1815. ​
Born
Napoleone di Buonaparte
on the island of Corsica not long after its annexation by the Kingdom of France, Napoleon's modest family
descended from minor Italian nobility
.
Napoleon's family was of Italian origin:

his paternal ancestors, the Buonapartes, descended from a

minor Tuscan noble family

who emigrated to Corsica in the 16th century.
his maternal ancestors, the Ramolinos, descended from a

minor Genoese noble family

.

Nobility is a

social class normally ranked immediately below royalty

and found in some societies that have a formal aristocracy.
There are often a variety of ranks within the noble class.
---
- Older Books -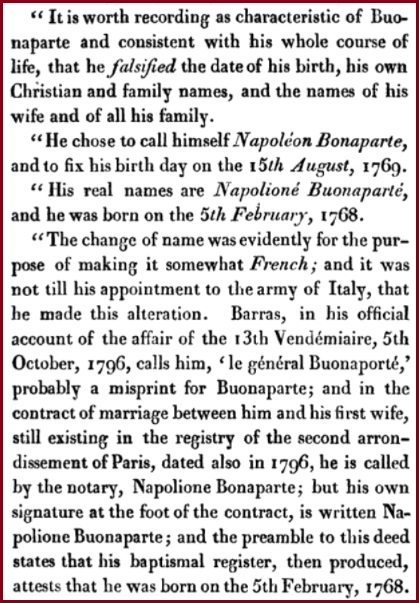 Source
Nicolas Buonaparte
​
What was his real name? This particular historical issue is not being talked about these days. Below we have two oddly titled Napoleon related caricatures.
Description in French:
Ce prénom lui a été attribué par des ennemis qui l'accusaient d'avoir voulu se faire couronné roi d'Espagne, car se prénom avait à l'époque la connotation d'affubulateur, de fanfaron. [J'en donne] Pour exemple, cette caricature royaliste de l'époque des Cent-Jours qui présente l'arrivée de Nicolas Buonaparte aux Tuileries, le 20 mars 1815. Il ne viendrait pourtant à personne à l'esprit de prénommé l'Empereur... Nicolas.
Description in English:
This first name was given to him by enemies who accused him of wanting to be crowned King of Spain, because his first name had at the time the connotation of arrogant, boastful. [I give] For example, this royalist caricature from the time of the Hundred Days which presents the arrival of Nicolas Buonaparte at the Tuileries on March 20, 1815.
Yet no one would come to mind to name the Emperor ... Nicolas.
We are being told:

This first name was given to him by enemies who accused him of wanting to be crowned King of Spain, because his first name had at the time the connotation of arrogant, boastful.
Description in French:
Dernière Demeure De Nicolas Buonaparte Ou La Récompense Du Crime Et Le Châtiment D'Un Tyran.
Description in English:
Last Home Of Nicolas Buonaparte Or The Reward For Crime And The Punishment Of A Tyrant.
I do not know about you, but this is the first time I see Napoleon Buonaparte being called Nicolas Buonaparte. A little bit of research produced the following results. Some of the
"justifications"
for this
"Nicolas"
name, sound anything but convincing.
current stance
on our chronological timeline of events. As an example, we do not know if 1812 and 1612 were really separated by 200 years. From this perspective, the below account is super interesting. There is more info on this at the linked source.
Also look below for the "Treviso Connection".
The
Emperor Nicholas
in the below paragraph is the brother of
Alexander I of Russia
, but... check out the Napoleon part.
"potpourri"
are. If you can find a translation, please share the link.
A large potpourri in three parts; by the author of Ogre de Corse.

​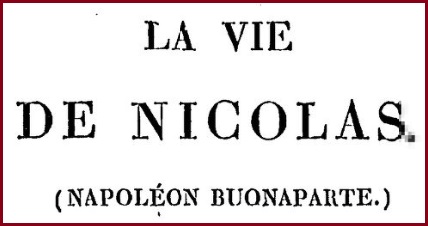 ​
KD:
These were just a few. I am not sure what to make of this
"Nicholas"
name. Please speak up if you have an opinion.
Ali and Brurtus Bonaparte
​
If any of this is true, then they had way too much fun back in the day. The below sounds kind of... ridiculous and even childish. Unless, of course, there is something we do not know. How come these musical chairs with Napoleon's name were not in my school program?
This here is our alleged explanation for the name of Ali Bonaparte.

Source
Julius Caesar Connection
​
I'm probably seeing things, but the below event reminded me of the
assassination of Julius Caesar
. Napoleon, obviously, was not killed, but the storyline appears to be pretty similar to that of Julius Caesar.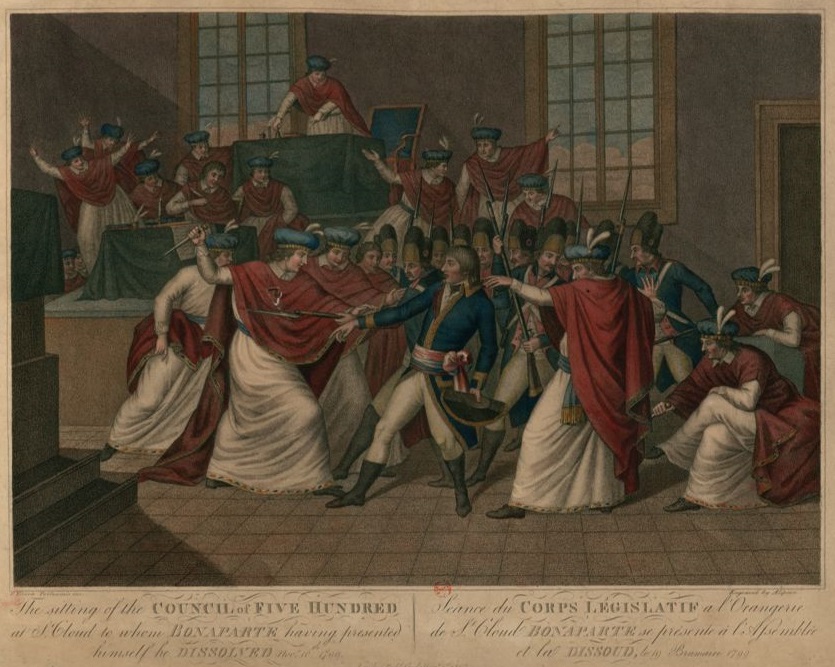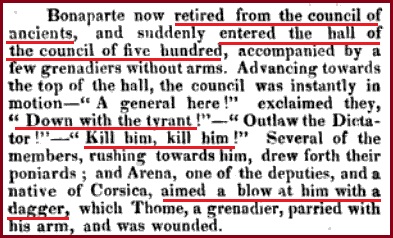 I find these council names highly suspicions. They were either infatuated with the antiquity, or they were themselves the antiquity.
With all these tyrants, Brutus', and Luciens (or may be Lucius'), the stuff is somewhat weird.
---
Now let's see how
"modest"
that
"minor"
Italian nobility could possibly be.
The Treviso Connection
+Buonaventura Buonaparte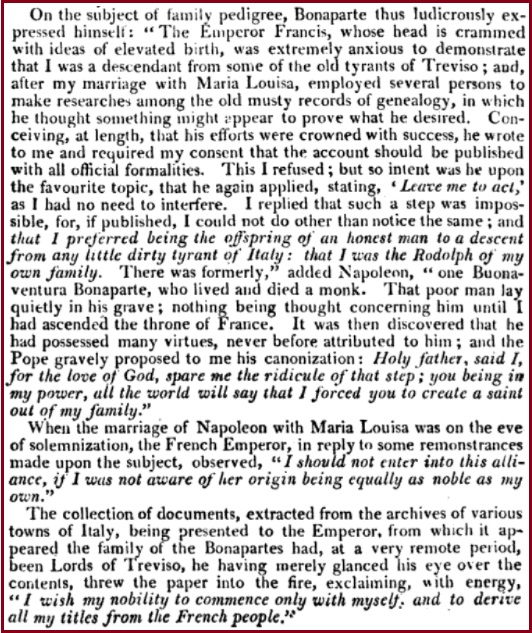 Source
​
Note:
Marie Louise, Duchess of Parma - Wikipedia
To be honest, I find this
"Treviso Connection"
somewhat questionable. That's some serious pedigree to be totally unknown at the times when our Napoleon was still alive.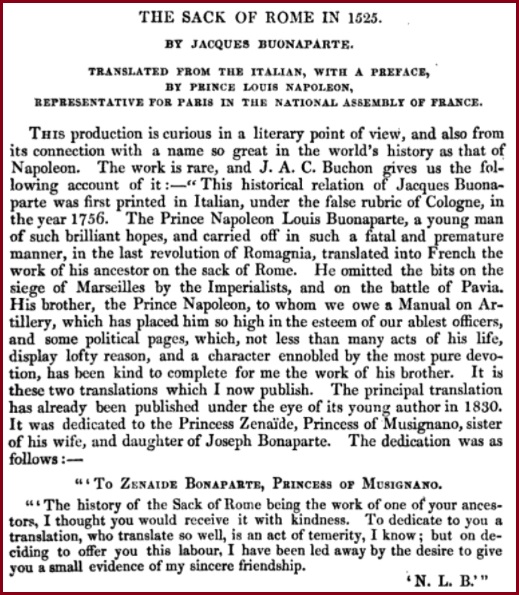 Continue Reading...
The "Byzantium" Connection
​
Than we have this Byzantium connection. Per the narrative,
Byzantium
was colonized by the Greeks from
Megara
in 657 BC, and remained primarily Greek-speaking until its conquest by the Ottoman Empire in AD 1453.
I have to make it clear again. I seriously entertain an idea of single historical events having been multiplied into hundreds of phantom pseudo-historical events. Such phantom events were chronologically spread out.
Napoleon
and
Nicephorus III Botaniates
.
Alexios I Komnenos
should also be taken into the equation.

​
The above paragraph came from this
1884 book
. It contains some entertaining details, including our Napoleon being possibly related to the
Man in the Iron Mask
.
Demetrio Stefanopoli (1749 – 1821) was a Corsican notable and military officer in French service. A member of the Greek community of Corsica, in 1782 he received letters patent from Louis XVI recognizing him as the descendant and heir of
David Komnenos
, the last
Emperor of Trebizond
, after which he was known in French as Démétrius Stephanopoli Comnène.
Could it be that this gentleman served as a prototype of sorts?
What I do find interesting, his wiki page does not say a single word about his relative... Nicolo. I stand corrected, it does say exactly one word about this Nicolo. You can find it in the
Writings section
.
Voyage de Dimo et

Nicolo

Stephanopoli en Grèce
Trip of Dimo and Nicolo Stephanopoli to Greece: during Years V and VI (1797 and 1798) ... according to two missions, one of which was from the French Government and the other from General-in-Chief Buonaparte. [Volume 1] / written by one of the professors of the Prytaneum.
What we do get in the wiki article is this:
He died childless at Paris on 8 August 1821. His younger brother Giorgio and then his nephew, Adolphe de Geouffre, were his heirs.
So... who was this Nicolo?
I have no idea, but let's take a look at the title pages of several books. These books were published in 1854, 1860 and 1848, but time lines can be confusing, as you know. I used Google to get titles translated.
The Two great social disturbances started again in the East and in the West
Warnings to the French, Greeks and Italians
by Prince Nicolaos Steph. Comnenus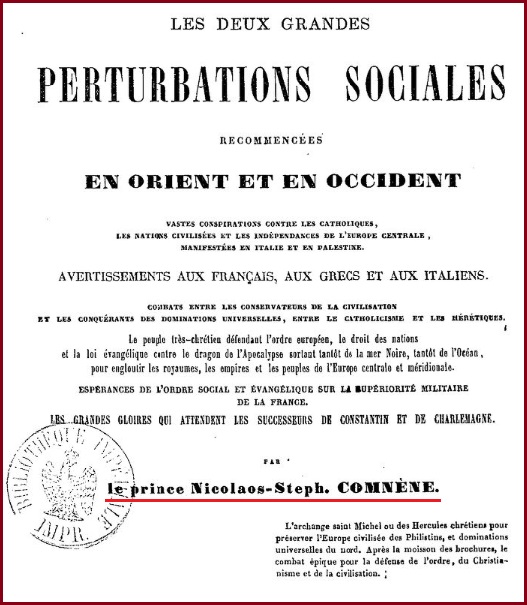 ​
Impious wars of the usurpers started in the East in the year 1853 under the mask of religion and order​

Follows a Call to the Greeks, with the 3rd edition of the Manifesto of immense desolation ready to explode on society
by Prince N. Stephanopoli-Comnenus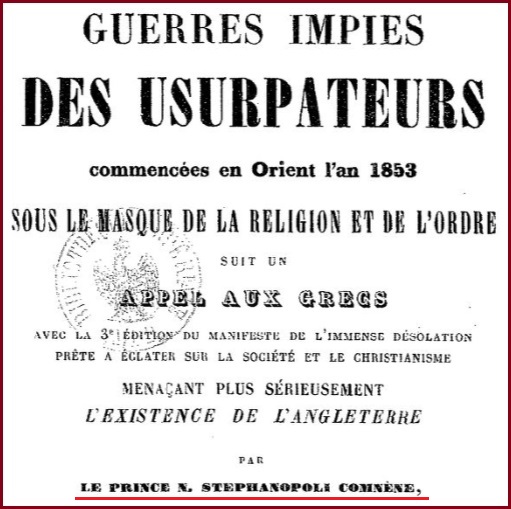 Precise history of the imperial house of Comnéne preceded by a direct filiation since

prince Étiénne George Nicephore Comnéne who takes the nickname of Stephanopoli

until Niccolò George Garidacci Stephanopoli Comnéne, son of the author of this work.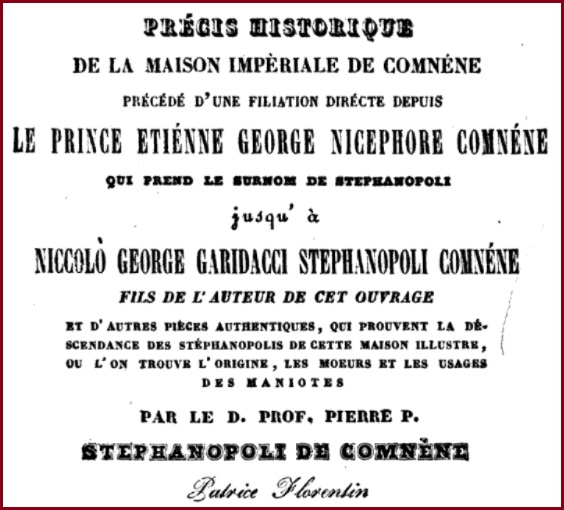 Question:
Who were these dudes?
Napoleon being of Greek descent
. These discussions, for obvious reasons, do not consider any time line meddling possibilities. I do.
---
KD:
What do I have in mind? Same old, same old...
Could it be that something like 20 historical individuals and 50 events were turned into thousands of individuals and events?

And more extreme... could it be that our history reflects a single event?

What if our Komnenos', Attilas, Nebuchadnezzars, Alexanders the Great, etc., did not live hundreds and thousands of years ago?

What if them 19th century destructions were misrepresented beyond our wildest beliefs?
As far as Mr. Napoleon goes... what do we know?
What did he really look like?
What was his name?
Who were his ancestors?
Did he even exist?
Who, or what was buried under this dome?..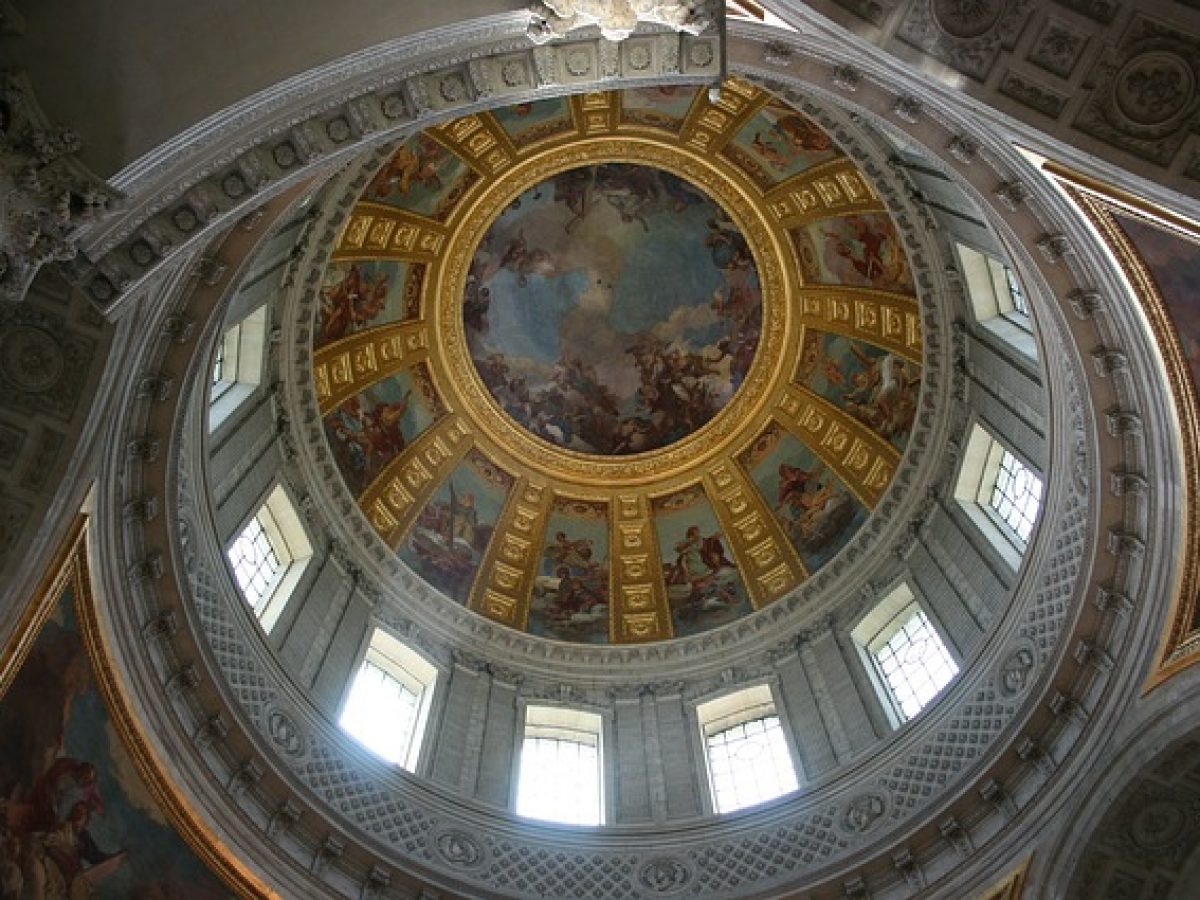 ...and inside of this sarcophagus in
Les Invalides
.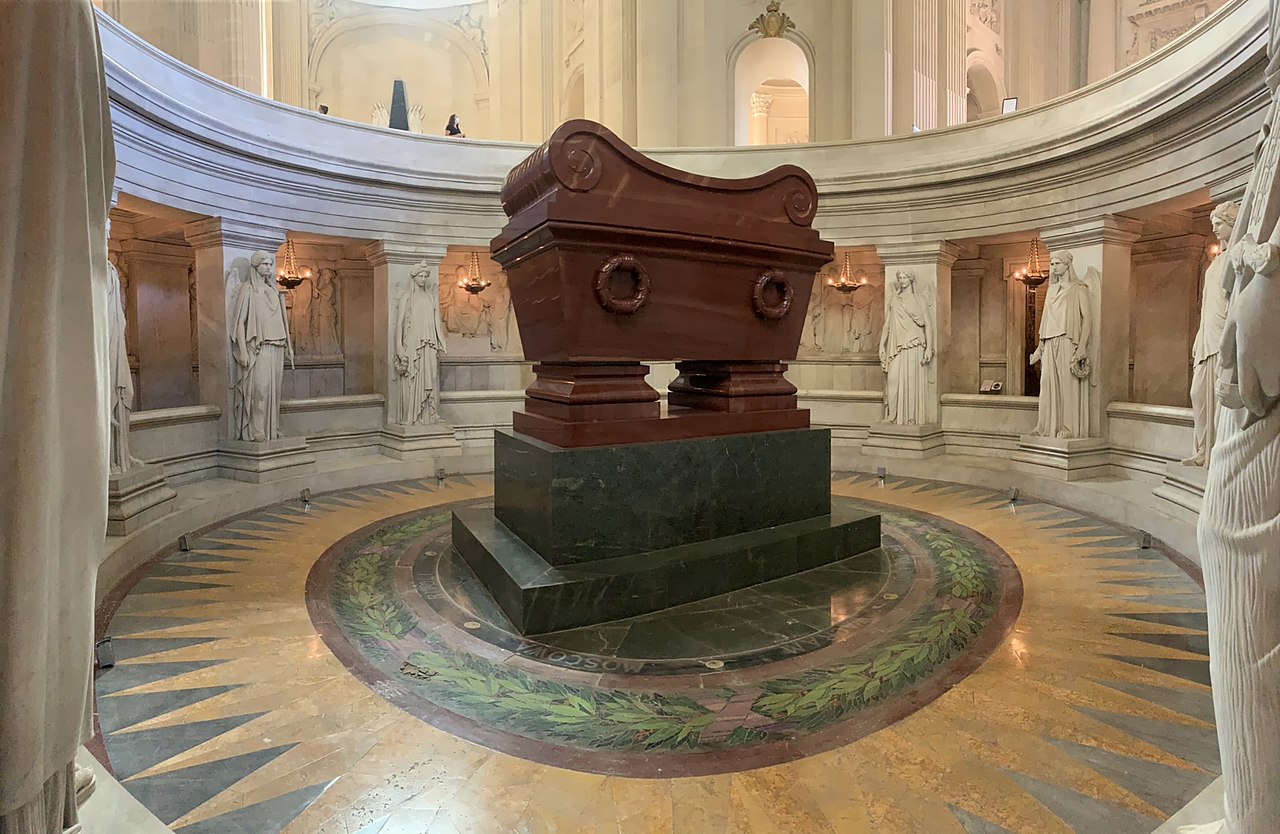 ​
The sarcophagus was put up on a green granite pedestal and
contains a nest of six coffins
.
1. soft iron
2. mahogany
3, 4. two of lead
5. ebony
6. oak
Related:
1840: Napoleon's Funeral Carriage
It's a helmet made for a giant's head.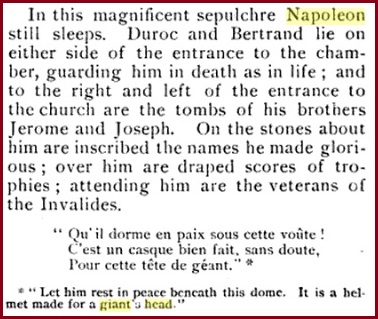 Source
​
How long ago was the War of Gods and Men?