This article is not about the meaning of the coat of arms of the
Little Tartary
but rather about its relation to the coats of arms of some of the existing prominent families of today. In other words, who do we have out there to ask a simple question of "What are you hiding?" Therefore, I will be placing this article into the Tartary section of the blog vs. the Coats of Arms subsection.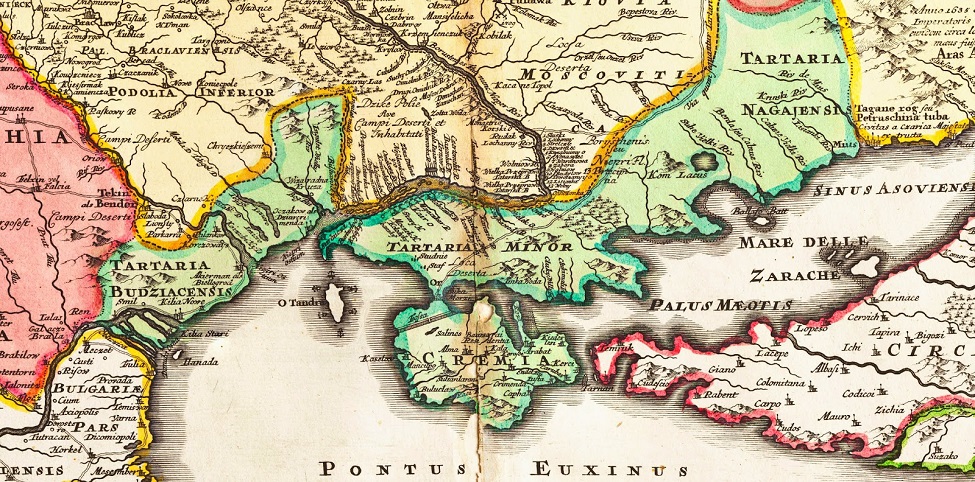 Fake historians of today are trying to tell us that Little Tartary was nothing major. It is very similar to what they are telling us about the Great Tartary. Naturally, we are expected to move along due nothing special to see there. We have these "Tartary" regions all over our older maps, yet we are expected to believe that the word "Tartary" was meaningless.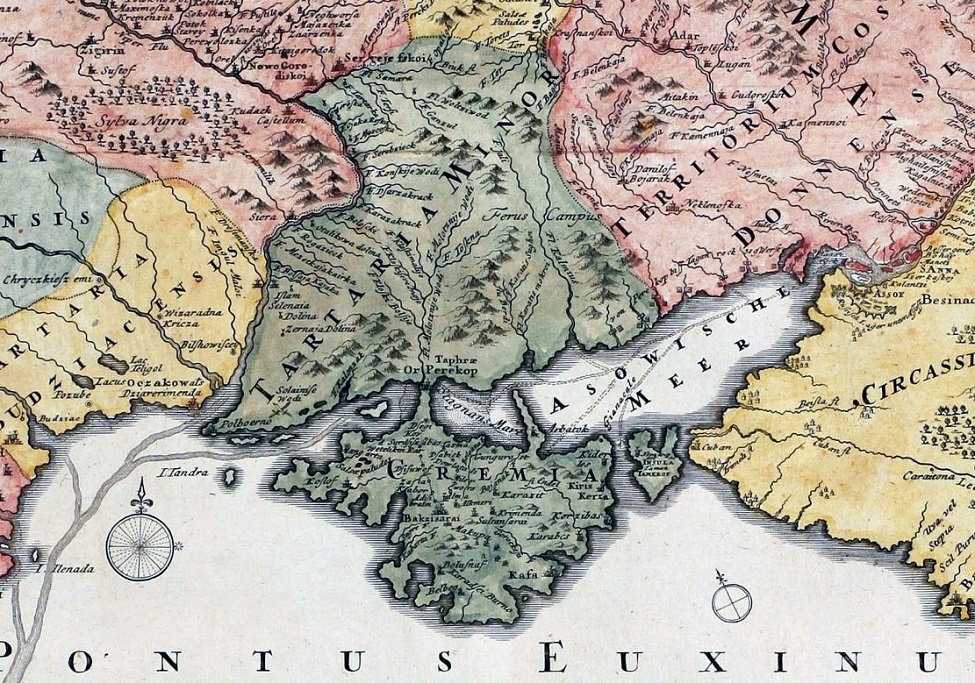 I believe the
Crimean War of 1853-1856
was directly related to defeating one of the last strongholds of the old Tartarian Empire. This Crimean War and the US Civil War of 1861-1865 probably have more in common than we could ever imagine, but that would be a topic for a separate article.
For right now I simply wanted to take a look at some of the known crests, and see if we have any resemblance with the below crest belonging to the Little Tartary.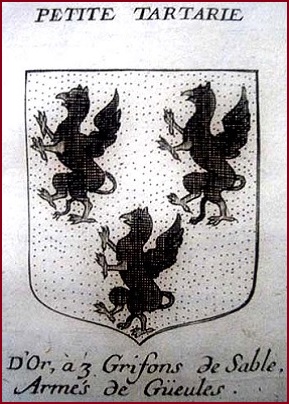 ​
Chances are, families associated with the below crests possess the information we are so desperately looking for.
William Aspinwall
of Charlestown, Massachusetts.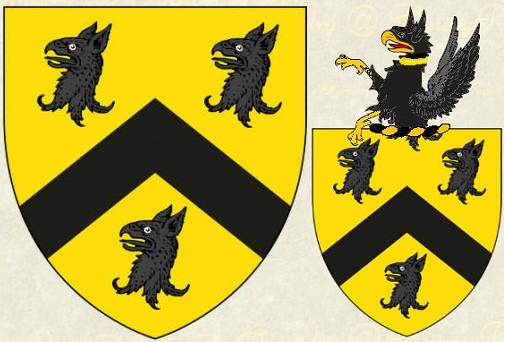 William Aspinwall (1630)
​
The Coat of Arms
:
Chevron between three griffins' heads erased sable.
Crested
:
A demi-griffin erased sable, beaked, legged and collared or.
Motto
:
Aegis fortissima virtus.
William Aspinwall
came to colonies of North America in the year 1630. Aspinwall was involved in the
Antinomian Controversy
which severely divided the Massachusetts Bay Colony from 1636 to 1638. He joined himself with the adherents of
Anne Hutchinson
and
John Wheelwright
, aided in drafting their famous petition, and departed with them to Rhode Island. He was at Portsmouth in 1638, where he signed the covenant of formation, but he moved to the New Haven Colony in 1641.
Heneage Finch
2nd Earl of Aylesford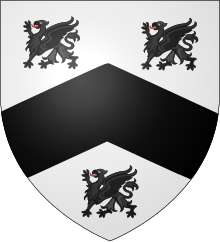 ​
The Coat of Arms
:
Argent, a chevron between three griffins passant sable.
​
Heneage Finch, 2nd Earl of Aylesford
(1683–1757) was a British peer and member of the House of Lords, styled Lord Guernsey from 1714 to 1719. He was the son and heir of
Heneage Finch, 1st Earl of Aylesford
(died 1719). From 1704 to 1705, he represented
Maidstone
in the British House of Commons, and was knight of the shire for Surrey from 1710 to 1719. He was the
Master of the Jewel Office
from 1711 to 1716.
Tenney Family Crest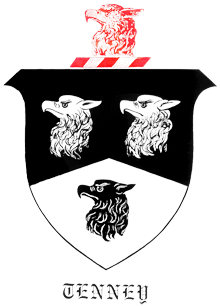 Source
​
Crest definition:
Tenney, Salsbury per Chevron sable and Argent, three Griffin's heads erased and countercharged.
Crest signifies:
Chevron means slanting from the middle each way. Sable means black. Argent means white. Griffin, a fabled animal, a mixture of Lion and Eagle, denotes power. The head, talons, wings and claws were those of the Eagle; neck, body, legs and tail, of the Lion. Erased means torn off. Countercharged means white heads on black ground and black heads on white ground.
Griffins' heads, coupled gules:
Couped means cut off as by one stroke of the sword. Gules means Red; the crest must be red.
The original description of the Arms (Shield) is as follows: "

De Gu. Au Chev.D'Or Ch. De Trois Annelets du Champ Et Acc. De Trois Fleurs-De-Lis Du Sec

"
When translated the Blazon also describes the original colors of the TENNEY Arms as follows: "Red; a gold Chevron charged with three red rings and accompanied by three gold Fleurs-De-Lis".
Above the shield and helmet is the crest which is described as: "A silver castle surmounted by two silver towers, each tower surmounted by a red banner, floating to the right".
Tenney Family History:
Source Link
Arms of Eveleigh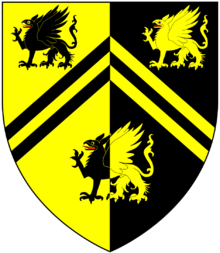 ​
The Coat of Arms
:
Per pale or and sable, two chevronels between three griffins passant counterchanged.
Nicholas Eveleigh
(1562–1618) of Parke in the parish of Bovey Tracey in Devon, was an utter barrister, and served as Steward of the Stannary Court of Ashburton, Devon. He died aged 56 when the roof of Chagford Stannary Courthouse collapsed, killing him and nine others. His "sumptuous" monument survives in Bovey Tracey Church.
Effigy of Nicholas Eveleigh, Bovey Tracey Church.
Elizabeth Tilney
Countess of Surrey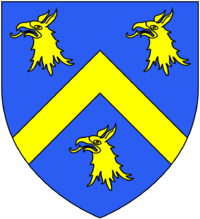 ​
The Coat of Arms: Azure, a chevron between three griffin's heads erased.
Elizabeth Tilney
, Countess of Surrey (before 1445 – 4 April 1497) was an English heiress and lady-in-waiting to two queens. She became the first wife of Thomas Howard, Earl of Surrey. She served as a lady-in-waiting to Queen consort Elizabeth Woodville, and later as Lady of the Bedchamber to the Queen's daughter, Elizabeth of York, consort of King Henry VII of England. She stood as joint godmother to Princess Margaret Tudor at her baptism. She was the mother of Thomas Howard, 3rd Duke of Norfolk. Through her daughter Elizabeth she was the maternal grandmother of Anne Boleyn, and through another son, Edmund, the paternal grandmother of Catherine Howard, both queens consort of King Henry VIII. Elizabeth's great-granddaughter was Queen Elizabeth I of England. Elizabeth was commemorated as the "Countess of Surrey" in John Skelton's poem,
The Garlande of Laurell
, following his visit to the Howard residence of Sheriff Hutton Castle.
---
KD:
Well, I'm not really sure what useful information we can extract out my little article here. At the same time it appears that three griffins have to stand for something specific. I would imagine that families with Crests going hundreds of years back might know something pertaining to the true history of their heraldry. Are they gonna say anything? The sure won't, but there could be specific instances in their histories which got overlooked by the censors...
P.S.
This article is Tartary specific, this is why it did not go in
Crests & Coats of Arms
section.