I am not suggesting that the guy did not exist. At the same time, no matter where we look at, we appear to have the same issue with the original sources of information. I will voice my hypothetical opinion at the end of this article. Let's see what proof of anything, allegedly, accomplished by Columbus we have.
Mr. Columbus took four voyages to the New World:
1492-1493

- he discovered land

1493-1496

- he encountered a hurricane, malaria, and cannibals

1498-1500

- he faced doldrums, rebellion, and was arrested

1502-1504

- he survived another hurricane, explored Panama, and was shipwrecked on Jamaica for a year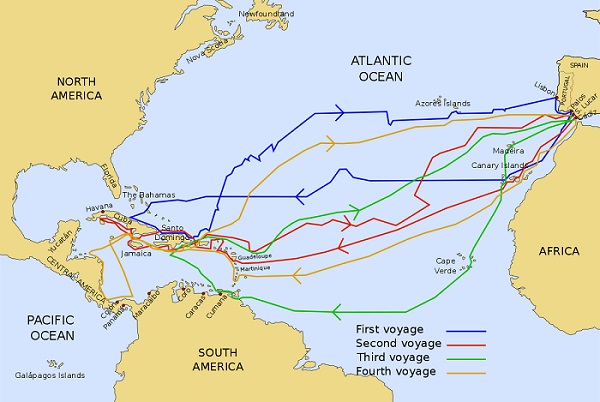 ​
Before we get to the docs, let's see whether we really know what the famous discoverer looked like. For that it is important to remember, that per the narrative, Columbus was
born before 1451 and died in 1506
.
Apparently, we have no idea what Christopher Columbus looked like. Officially, there is not a single known contemporary portrait of Christopher Columbus
.
This is not some secret info, but how often do we hear about things of this nature?
One of the people who contributed to our knowledge of what Columbus looked like was his son
Ferdinand Columbus
. Ferdinand is regarded as a reliable source due to his travels with his father.
The Admiral was "of good stature and appearance, taller than the average and strongly limbed: the eyes lively and other parts of the face of good proportion, the hair very red, and the face somewhat ruddy and freckled ...." long visaged with cheeks somewhat high, but neither fat nor thin. He had an aquiline nose and his eyes were light in color; his complexion too was light, but kindling to a vivid red. In youth his hair was blond, but when he came to his thirtieth year it all turned white.

​
Another historian of the day,
Bartolome de las Casas
, the "Historian of the Indies," knew Columbus quite well after his return from the New World. His description agrees with the other account except for the inclusion of a beard.
He writes that "His form was tall, above the medium: his face long and his countenance imposing: his nose aquiline: his eyes clear blue: his complexion light, tending toward a decided red, his beard and hair were red when he was young, but which cares then had early turned white."
One of the most recognizable portraits associated with Christopher Columbus is the one we can see on Wikipedia. It is titled: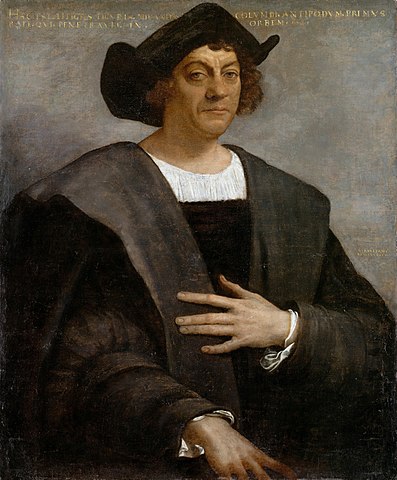 Painted in Rome by one of the outstanding Venetian masters of the High Renaissance, this badly damaged portrait purports to show Christopher Columbus. The inscription identifies him as "the Ligurian Colombo, the first to enter by ship into the world of the Antipodes 1519," but the writing is not entirely trustworthy and the date 1519 means that it cannot have been painted from life, as Columbus died in 1506. From an early date this picture became the authoritative likeness.

Additionally we have
this priceless piece of information
.
In 1893, however, Scientific American and other publications reported evidence that a true likeness, produced by none other than the Italian artist Titian, had been found two or three years earlier and had since been authenticated.

​

The article in July 15, 1893 issue, notes that only a few portraits of Columbus fitted descriptions given by the explorer's contemporaries and by his son Fernando. Those accounts indicated that he was "was a vigorous man, of tall stature, with blond beard and hair, clear complexion and blue eyes," just as the man in the painting was depicted (although you can't that from the black and white image shown here). ​

The painting, the story explains, was discovered by a Neopolitan antiquarian identified as a Mr. Cannavina, who uncovered the image of Columbus under glue that had been applied in the 1790s by a family in Bologna to mask the art from feared French invaders. Various signs—among them, a blond beard, a table covered with copper nautical instruments, a fragment of an inscription that could have included Columbus's name, and a small Havana spaniel at the subject's feet - induced Cannavina to seek the opinion of "a certain number of erudite Neapolitans" as well as of an art critic named Alexander d'Agiout. These authorities concluded that the painting was indeed of the great explorer. They were convinced in part by evidence that the instruments on the table were ones that Ferdinand of Castille had given to Columbus and by the presence of a dog from the Americas, which seemed "to have been put there as a true certificate of origin." ​

As for the artist being Titian, the piece says, "It is only necessary to inspect it to think of attributing it to Titian. None of those who have seen it has hesitated upon this point." The experts determined that the portrait was made "in the first years of the sixteenth century, either from nature or from a sketch of the time," although the painter made the explorer look younger than he would have been at the time. "It seems to us," the story concludes, "that this portrait really represents Columbus." ​
Here is one additional Christopher Columbus.
Scanned
from A Popular History of the United States by W. C. Bryant and S. H. Gay. Volume I. Copyright, 1878.
Christopher Columbus according to
Encyclopedia Britannica
.
​
And the last one I will mention is this "in chains" one. I have no idea who the author was, but
you can see it here
.
​
KD on portraits:
I am not gonna attempt to locate all 71 portraits of Christopher Columbus displayed at the 1893 Chicago Expo. I would love to see a photograph of the exhibit though. It is fairly obvious that we have no idea what this prominent historical figure looked like. I find it hard to believe that such a significant individual in reality looks like this, for this is all we know.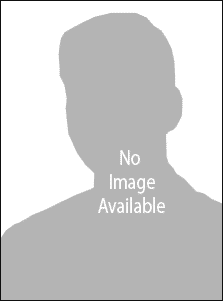 ​
Related links:
Update:
78 portraits of Christopher Columbus
---
As far as any original, America related texts, authored by Christopher Columbus go... well, we do not have any. There was a gentleman who authenticated one in 1978, but the story is just laughable. We will get to it below. It appears there are only 4-5 documents to talk about. May be I missed something, but here are the ones I stumbled upon:
2. Columbus's letter on the second voyage - no link
3. Columbus's letter on the third voyage - no link
KD:
As we know, originals do not survive, only copies do. Such copies normally show up many years later. Let us see if the Columbus story is any different.
1. Columbus's letter on the First voyage
​
Columbus's letter on the first voyage
is the first known document announcing the results of the first voyage of Christopher Columbus that set out in 1492 and reached the Americas. The letter was ostensibly written by Columbus himself, on February 15, 1493, aboard the caravel
Niña
, while still at sea, on the return leg of his voyage. A post-script was added upon his arrival in Lisbon on March 4, 1493, and it was probably from there that Columbus dispatched two copies of his letter to the Spanish court. The letter was instrumental in spreading the news throughout Europe about Columbus's voyage. Almost immediately after Columbus's arrival in Spain, printed versions of the letter began to appear.
On his return to Spain, sailing in January and February 526 years ago, Christopher Columbus composed three letters describing his first voyage west and his experiences on the islands he explored. The letters were purportedly sent to Queen Isabella and King Ferdinand; Luis De Sant Angel (Santangel), who helped finance the voyage; and Gabriel Sanchez, treasurer of the Monarchs. ​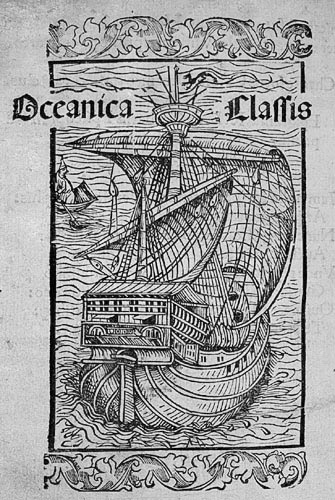 ​
There are two known editions of the (Spanish) Letter to Santangel, and at least six editions of the (Latin) Letter to Gabriel Sanchez published in the first year (1493), plus an additional rendering of the narrative into Italian verse by Giuliano Dati (which went through five editions). Other than the Italian verse, the first foreign language translation was into German in 1497. In all, seventeen editions of the letter were published between 1493 and 1497. A manuscript copy of the letter to the Catholic monarchs, found in 1985, remained unprinted until recently.
KD:
Summarizing the above... Sounds like we are supposed to have at least three originals written by Columbus himself. I consider anything written by the Columbus's hand to be the originals. Everything else was printed, and is not considered to be an original.
Question: Where are they?​

Answer:

Original versions of Columbus's letter, written by his hand, have never been found.

​

Historians have had to rely on clues in the printed editions, many of them published without date or location, to reconstruct the history of the letter.
It is assumed that Columbus wrote the original letter in Spanish. As a result, historians tend to agree that the Barcelona edition (which has no date or publisher name, and the appearance of being hurriedly printed) was probably the first to be published, and was the closest to the original manuscript.

Only the printed editions - Spanish and Latin - are known. ​
KD:
Original versions of Columbus's letter, written by his hand, have never been found.
2. Columbus's letter on the Second voyage
​
This
wiki article
mentions Columbus's 1495 letter of his second voyage which had only one printing. I was unable to find any information pertaining to this letter. There is this
Letter of Dr. Chanca on the Second Voyage of Columbus
. I did not follow up on this letter due to the author not being Columbus himself.
KD:
I was unable to locate any information pertaining to the original of the second voyage letter.
3. Columbus's letter on the Third voyage
​
I am not sure this letter had ever existed. There are plenty of descriptions of the third voyage itself, but as far as Columbus writing any specific letters, I had no luck finding any. May be you will...
KD:
...unknown...
4. Columbus's letter on the fourth voyage
​
Columbus's letter on his fourth voyage was written in 1503 while he was shipwrecked on Jamaica. Besides describing the misadventures that left him stranded, he bemoans the lack of recognition given to him in opening up the lucrative exploitation of riches found on the islands and the mainland of South America.
An Italian translation of this letter was published in 1505. ​

It was not published in Spanish until 1825. ​

The first English translation, by John Boyd Thatcher, was published in 1904. ​
KD:
I was unable to locate any information pertaining to the original of this letter.
5. Christopher Columbus's Journal
​
Christopher Columbus's journal
is a diary and logbook written by Christopher Columbus about his first voyage. The journal covers events from 3 August 1492, when Columbus departed from Palos de la Frontera, to 15 March 1493 and includes a prologue addressing the sovereigns. Several contemporary references confirm Columbus kept a journal of his voyage as a daily record of events and as evidence for the Catholic Monarchs. Upon his return to Spain in the spring of 1493, Columbus presented the journal to
Isabella I of Castile
. She had it copied, retained the original, and gave the copy to Columbus before his second voyage.
The whereabouts of the original Spanish text have been unknown since 1504.

​
Copy by
Bartolomé de las Casas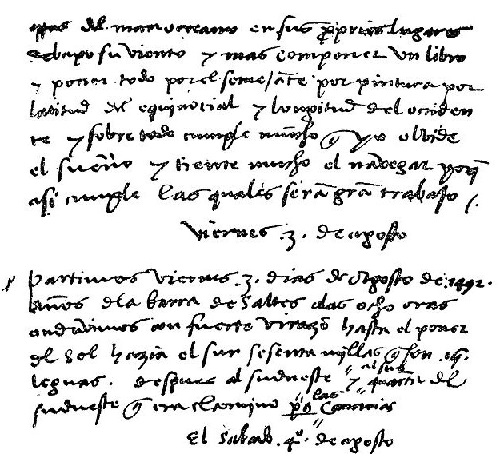 Copies based on an abstract from the journal have been made, most notably by
Bartolomé de las Casas
. Some scholars have questioned the accuracy of the copy made by Bartolomé de las Casas, but in more recent studies the las Casas copy has been verified.
Bartolomé de las Casas did not have the original journal either and ordered a scribe to make a copy of the journal's abstract.

The scribe made several errors while copying the abstract, such as frequent confusions of Columbian leagues with Roman miles.

The authenticity of las Casas's copy was challenged by Henri Vignaud and Rómulo D. Carbia, both of whom believed the copy was largely or entirely a fabrication.

In 1939, las Casas's copy was proven to be authentic by Samuel Eliot Morison, and this view was endorsed in later studies.

All existing copies of the journal are based on the journal's abstract – a manuscript of 76 folios discovered later in the library of the Duke of the Infantado by Martín Fernández de Navarrete.
Navarrete reported the discovery of the journal's abstract to his friend, Juan Batista Muñoz, who used it in his Historia del Nuevo Mundo published in 1793.
In 1825, Navarrete published the abstract with expanded abbreviations, spelled out numerals, corrected punctuation and modernized spelling.
All editions of Navarrete's copy since 1825 differ to some extent from the las Casas copy.
In 1892, an edition of Navarrete's copy was published by Italian scholar Cesare De Lollis with critical apparatus.

The manuscript was kept in the Biblioteca Nacional de España until 1925 when it was reported as missing.
KD:
Original version of the journal is "missing" since 1504.
O'Gorman Columbian Manuscript
​
The
O'Gorman Columbian manuscript
(also known in Spanish as Ordenanza. Manuscrito Colombino O'Gorman Condumex) is a document written and signed by Christopher Columbus in the city of Cadiz, Spain, on February 20, 1493.
It was

named after its discoverer, the Mexican historian

Edmundo O'Gorman.

In 1978, the eminent historian Edmundo O'Gorman

authenticated the document and backed its acquisition by CONDUMEX.

​

Edmundo O'Gorman was born in 1906 and died in 1995. ​
KD:
I don't think the so-called authenticity of this O'Gorman Manuscript requires any additional commentary.
---
A History of the Life and Voyages
of Christopher Columbus​
A History of the Life and Voyages of Christopher Columbus
is a fictionalized biographical account of Christopher Columbus written by
Washington Irving
in 1828. It was published in four volumes in Britain and in three volumes in the United States.
The work was the most popular treatment of Columbus in the English-speaking world
until the publication of
Samuel Eliot Morison
's biography
Admiral of the Ocean Sea
in 1942.
It is one of the first examples of American historical fiction and one of several attempts at nationalistic myth-making undertaken by American writers and poets of the 19th century.
---
KD Summary:
Well, just like I said before, I am not suggesting that the guy did not exist. At the same time you can see that we are missing two key pieces here:
1. Columbus's Appearance

-

Not Available

​

2. Any Original Docs

-

Not Available

​
It's rather bizarre to see that there are no obvious publications suggesting that people in 17th, or 18th centuries were bothered by the absence of the above-mentioned facts. Having 71
"varying wildly"
alleged original portraits of Christopher Columbus in 1893... what could this fact tell us?
Additionally we have to deal with publications like this
1679 Atlas Minimus which was allegedly authored by
John Seller
.
John Sellers was not only an instrument maker, surveyor, cartographer, artist and Hydrographer to the King, but more over, he was responsible for the first English Pilots. Pilots which were continually reprinted and still in use centuries after his death in 1697.
Did this John Seller simply forget about Christopher Columbus? He did not forget about
Sebastian Cabot though.
Not a word of Columbus?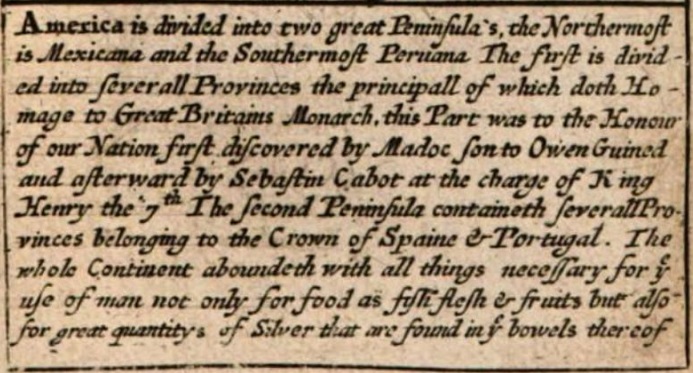 1679 Atlas
​
Additionally we have little issues like this:
Columbus "discovered" America in 1592?
And speaking of the above map snippet, how come 1592/1615 and 1599
(and the rest)
have different #1, or "j", or "i"? Only Columbus and Spilberg have 1=j, the other ones have 1=i. Throwing this in for some brainstorming.

​
The reason this difference could be significant could be hidden within this
1679
image below.

Looks like back in 1713, 307 years ago, and 221 years after the alleged discovery of 1492, them scholars were
still working on the narrative sequence
: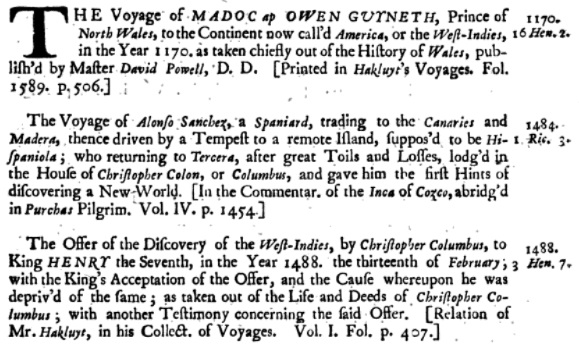 When did they say Columbus discovered America? In 1490...
---
KD Hypothesis:
My suggestion is a rather simple one, but for this suggestion to exist two conditions would have to be met:
Christopher Columbus had to exist​

His hand had to produce some handwritten texts​
If these are met, than I will suggest that any content produced by the Columbus's hand was purged from our history. In its place fraudulent
"substitution"
content was injected into the
"New History"
by the PTB. For those wondering why TPTB would need something like this:
Columbus was re-discovering known lands after some major cataclysm​

Any knowledge of the remnants of the advanced global civilization destroyed by the cataclysm had to be suppressed (for whatever reason)​

We do not know when this re-discovery really happened​
Did Christopher really write all those attributed to him texts, or
Ferdinand Columbus
(1488-1531)
did? And if Ferdinand wrote those, how old was he when he did it?

Well, and if Columbus did not exist, than the absence of all of the above would be that much easier to explain, wouldn't it?
These are my thoughts. Please feel free to contribute.