St. Augustine, Florida was definitely producing some interesting buildings, and all of them have something interesting in common. This time I stumbled into the Casa Monica Hotel. I guess when we were talking about
the 1888
Ponce de Leon Hotel
, I did not pay proper attention to the material it was made out of. Meanwhile, here is what was used.
The hotel was the first of its kind constructed entirely of poured concrete, using the local coquina stone as aggregate.
There were a few other interesting/pertinent things in the history of our Ponce de Leon Hotel:
Construction began in 1885 (by former shipbuilders James McGuire and Joseph McDonald) and ended in 1887.
540 rooms, and only 1 bathroom for the entire building at construction.
The hotel was built by millionaire developer Henry M. Flagler
Flagler was impressed with the poured concrete construction method used to build a winter home of businessman Franklin W. Smith.
In 1885, Flagler made Smith an offer. If Smith could raise $50,000, Flagler would invest $150,000 and they would build a hotel together. Smith couldn't come up with the funds, so Flagler began construction of the 540-room Ponce de León Hotel by himself, spending several times his original estimate. Smith helped train the masons on the mixing and pouring techniques. Two years later, Smith would build the Casa Monica Hotel opposite the Ponce de Leon, on land sold to him by Flagler.
HistoricHotels.ORG
tells us that in May 1887, Henry Flagler - railroad pioneer, hotel magnate and co-founder of Standard Oil - sold a parcel of land in St. Augustine, Florida to Bostonian
amateur architect
, Franklin W. Smith. On New Year's Day 1888, Smith opened the historic Casa Monica Hotel. Four months later, Henry Flagler purchased Casa Monica and "all fixtures, furnishings, silver, hardware, linen, bedding, parlor, hall, dining room, and kitchen furnishings and all other chattels," for $325,000 and changed the name of the hotel to Cordova. The hotel flourished under Flagler's management.
that would be 18 months to build the below hotel in 1887-1888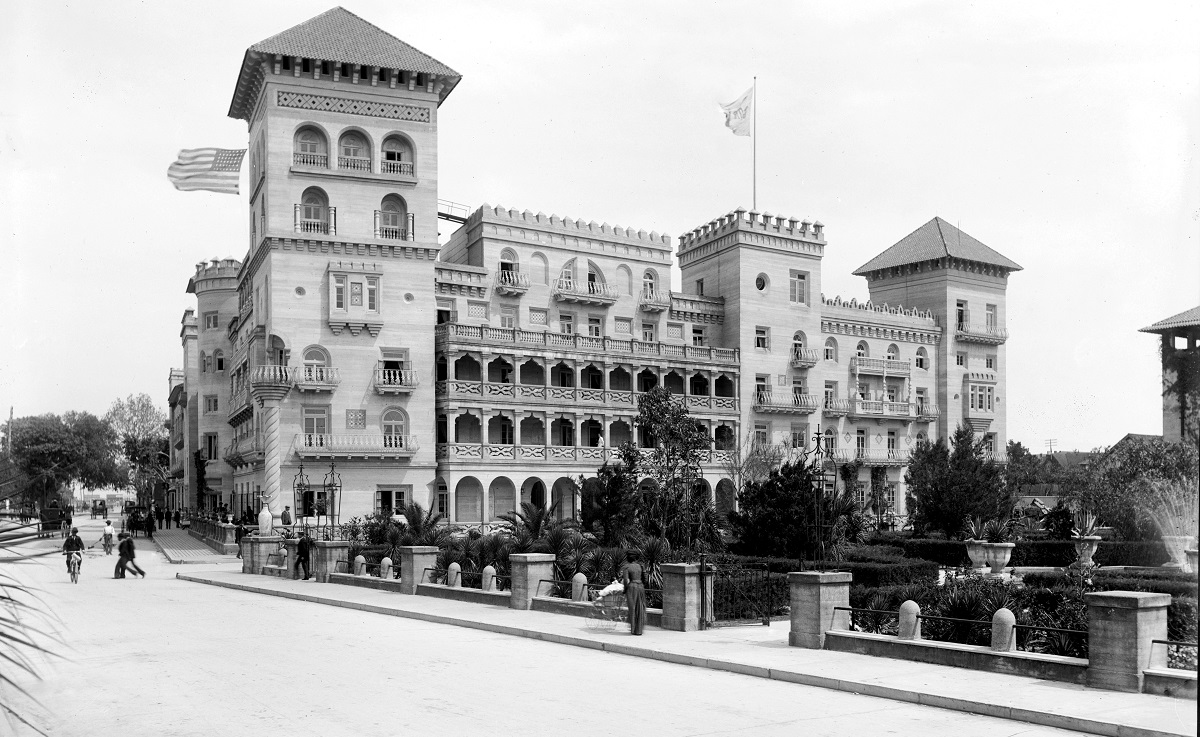 Larger Image (checkout sidewalks)
​
With the above in mind, let us see what information we can extract out of Wikipedia, as it pertains to the Casa Monica Hotel: The
Casa Monica Hotel
is a historic hotel located in St. Augustine, Florida, in the United States. The Casa Monica Hotel is one of the oldest hotels in the United States and is a member of the
Historic Hotels of America
National Trust.
The hotel was opened in 1888 by Franklin W. Smith, a notable Victorian architecture enthusiast and social reformer who earned a place in Florida history for interesting Henry Flagler in investing in the state. The construction material was poured concrete, of which Franklin Smith was a leading experimenter. The original exterior finish was natural, leaving horizontal pour marks visible, and matching other grand Flagler era structures in downtown St. Augustine.
The architectural style was Moorish Revival and Spanish Baroque Revival, in which Smith was also a pioneer promoter. His own winter home, Villa Zorayda, just a block to the west, was the first Moorish Revival building in the Ancient City. The hotel's Sun Parlor was the most notable interior room, but it was gutted after the hotel closed. Its details were unfortunately later demolished and have yet to be restored.
Soon after completing the hotel, Smith ran into financial difficulties and sold the hotel, including all fixtures, furnishings, linen, and all other chattel, for $325,000-USD to oil and railroad tycoon Henry Flagler. Upon purchasing the hotel, Henry Flagler renamed the Casa Monica the Cordova Hotel. Flagler, a founder, with John D. Rockefeller, of the Standard Oil Company, already owned two hotels in St. Augustine, the Ponce de Leon Hotel (now Flagler College) and the Hotel Alcazar (now City Hall and the Lightner Museum). From 1888 to 1902, the hotel featured parties, balls, fairs and charity events.
If you were attentive reading the above, you would have noticed that we have these two gentlemen
Flagler
and
Smith
playing musical chairs with
"poured concrete" buildings
in St. Augustine Florida. It's almost looks like building laundering business. How many buildings are we talking about? I'm not exactly sure, but here is what we have so far, and all of the below appears to revolve around the year 1888:
Meanwhile, the
1890 population
of St. Augustine was 4,472 people.
---
Links and Sources:
---
KD:
Here is my 2 cents on what we could have here. They really needed hotels in St. Augustine in 1888 to build at least three, didn't they?
The Moorish "Revival" style buildings were being indoctrinated in St. Augustine, Florida, using Mr. Smith and Mr. Flagler. The time frame appears to be 1885-1888. I am not gonna go as far as saying that the buildings were not built around 1888, but I certainly have my doubts. Is the building technology being hidden from us, or the time when the buildings were built?