Surviveware Small First Aid Kit with Labelled Compartments for Hiking, Backpacking, Camping, Travel, Car and Cycling.
Each inner sleeve is functionally labelled and organized to do the thinking for you in critical situations. If your loved one is a hero, give them a tool that is essential in an emergency.
We know the importance of quality, that's why the Surviveware Small First Aid Kit is made from 600D Polyester for extreme adventures, with ripstop material enabling you to stop any tears before they spread, and a zipper certified for 1000 zips.
This kit is packed with 100 essential supplies for backcountry expeditions. Weighing in at 1 pound, it is ideal for an active lifestyle and easily carried on a backpack, belt, or EDC bag via MOLLE compatible straps and snaps.
Not only is the bag water-resistant, but all the inner contents are protected from water damage in durable, laminate pouches.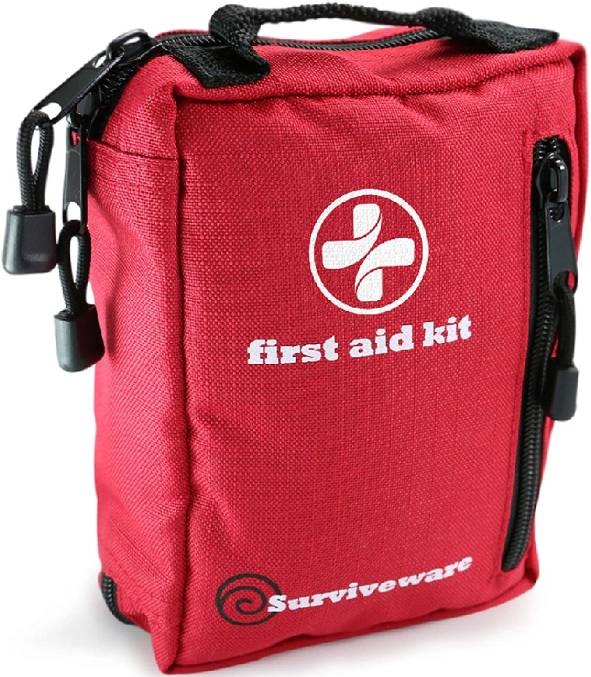 ​
What's inside the kit?
6" Shears(1), 600D Polyester Bag(1), Adhesive Bandages: Butterfly Closures(5), Butterfly(5), H-Shape(5), Large(2), Standard(20), Mini(5), Square Shape(5), Cotton Gauze Swabs(3), Cotton Swabs(10), Crepe Bandage(1), Emergency Blanket(1), Eye Pads(2), Hypoallergenic Tape(1), Nitrile Gloves(1), Personal Medicine Laminate Bag(1), Personal Medicine Mini Bags(5), PBT Conforming Bandage(1), Safety Pins(4), Splinter Probes(2), Strip Wound Closures(3), First Aid Guide(1), Triangular Bandage(1),Tweezer(1), Whistle(1)
---