Joined

Oct 29, 2020
Messages

1,217
Reaction score

4,568
Within this Family Vault, Lie Interred, it is to be hoped never to rise again, The Star Chamber Court Ship Money Excise Money & all Imposts without Parliament. The Act de Haeritico Comburendo Hearth Mon Gener Warrants And which tended to alienate the Affections of Englishmen to their Country.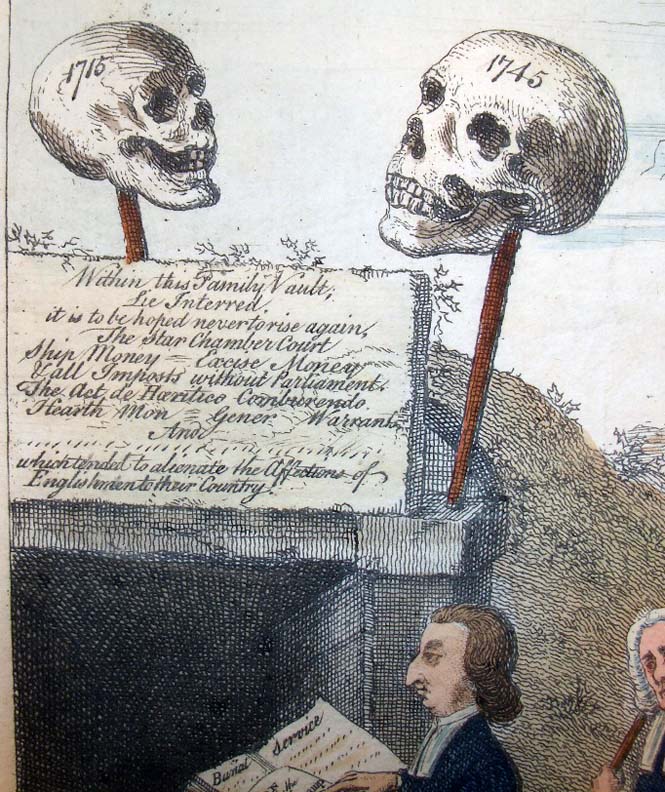 Illustration shows a group of men in a funeral procession on the banks of the Thames River with a row of warehouses in the background, one of which is labeled "The Sheffield and Birmingham Warehouse Goods now ship'd for America."
At the head of the procession, Dr. W. Scott stands at the open doors to the tomb, he holds the text to his sermon, a dog relieves himself on his leg.
Two flag bearers follow, behind them stands George Grenville carrying a child-sized coffin, next in line are five men, in various states of distress, followed by two bishops who bring up the rear.
On the quay, behind the bishops are two bales labeled "Stamps from America" and "Black cloth return'd from America."
There are three ships "Conway", "Rockingham", and "Grafton" moored in the river.
Links and Sources:
---
Question:
What do these two impaled giant skulls have to do with the Stamp Act of 1765 or this ridiculous funeral procession?