The Gateway of India is an arch-monument built in the early 20th century in the city of Mumbai, India. The Gateway's arch has a height of 26 metres (85 feet) with its central dome being 15 metres (49 feet) in diameter.
The monument is built of yellow basalt and reinforced concrete.
The stones were sourced locally while the perforated screens were brought in from Gwalior.
The monument faces towards the Mumbai Harbour.
There are four turrets on the structure of the gateway, and there are steps constructed behind the arch of the Gateway which lead to the Arabian Sea.
The monument features intricate stone latticework.
The Scottish architect, George Wittet combined elements of the Roman triumphal arch and 16th-century architecture of Gujarat. The architecture also combines indigenous architectural elements with elements of Islamic architecture, known as the Indo-Saracenic.
The harbour front was realigned in order to make an esplanade, which would sweep down to the centre of the town.
On each side of the arch, there are large halls with the capacity to hold 600 people.
The cost of the construction was ₹21 lakh (US$28,000), borne by the then government.
Due to a paucity of funds, the approach road was never built. Hence, the Gateway stands at an angle to the road leading up to it.
The Gateway in 1924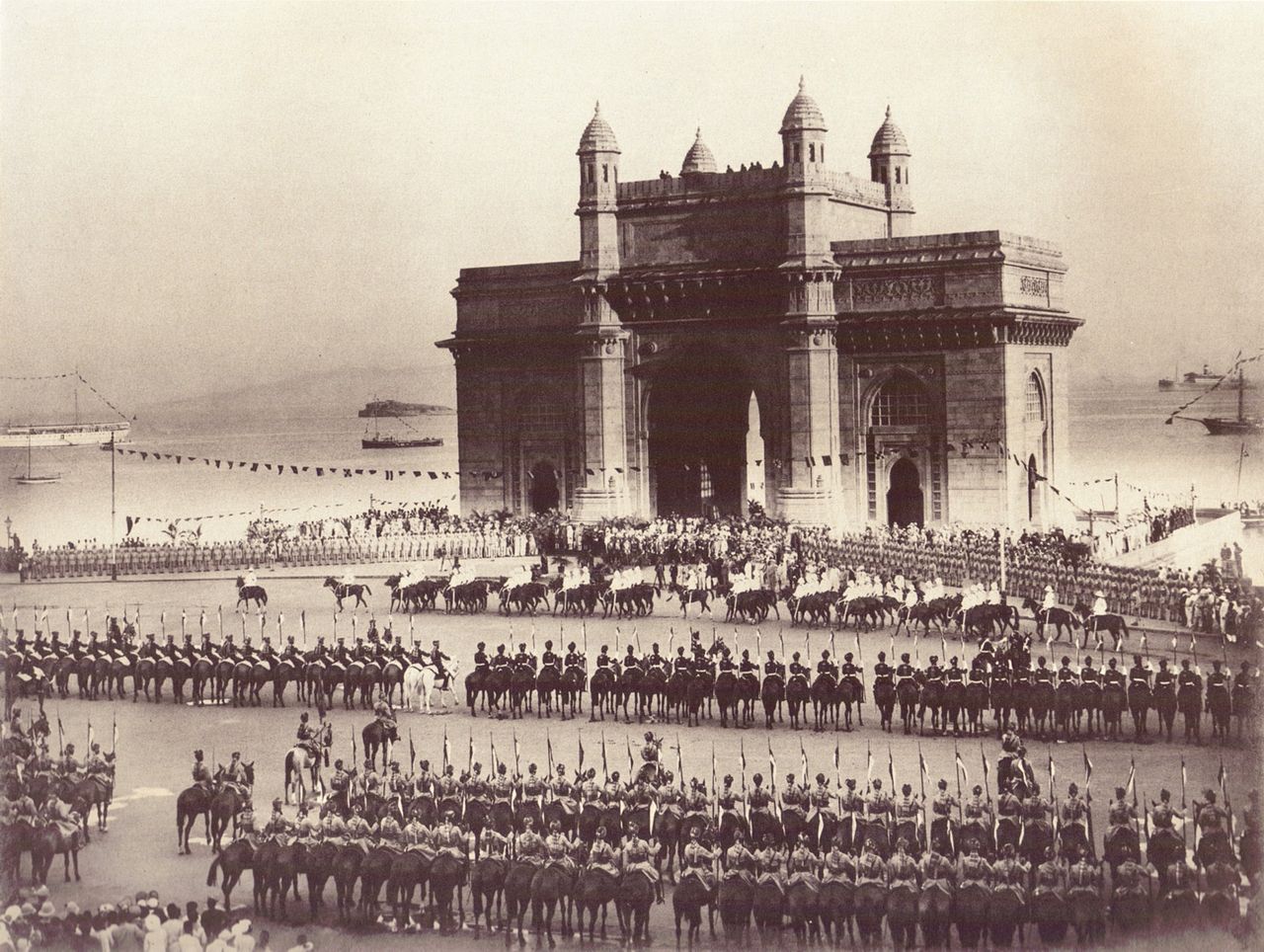 Source
​
It was
erected to commemorate the landing of King-Emperor
George V
, the first British monarch to visit India.
George V

visited India in December 1911

.
George V

only got to see a cardboard model of the monument

, as

construction did not begin until 1915

.
The foundation stone was laid in March 1913.
The final design of the monument was sanctioned only in 1914.
Construction was completed in 1924.
Construction photo #1:
Rare Old Photo Of Gateway Of India Under Construction, Mumbai (Bombay), Maharashtra, India (1919).
Construction photo #2:
Gateway of India under construction, India, early 1900s.
Construction photo #3:
Gateway of India, Mumbai under construction.
---
KD:
So, what do you think? Did they build it from scratch, or simply renovated an older damaged structure?
I could not find any additional construction photographs. If you locate any, please share.