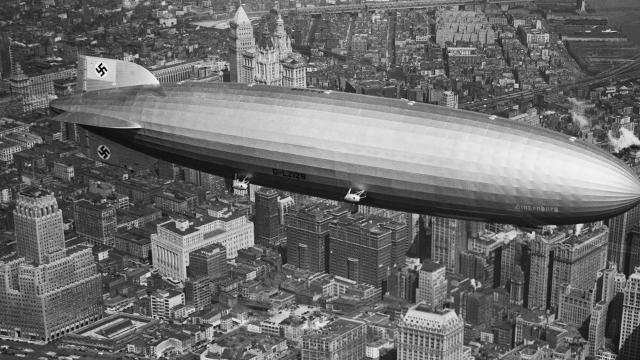 A rigid airship is a type of airship
(or dirigible)
in which the envelope is supported by an internal framework rather than by being kept in shape by the pressure of the lifting gas within the envelope, as in blimps (also called pressure airships) and semi-rigid airships. Rigid airships are often commonly called
Zeppelins
, though this technically refers only to airships built by the
Luftschiffbau Zeppelin
company.
Framework of a Rigid Airship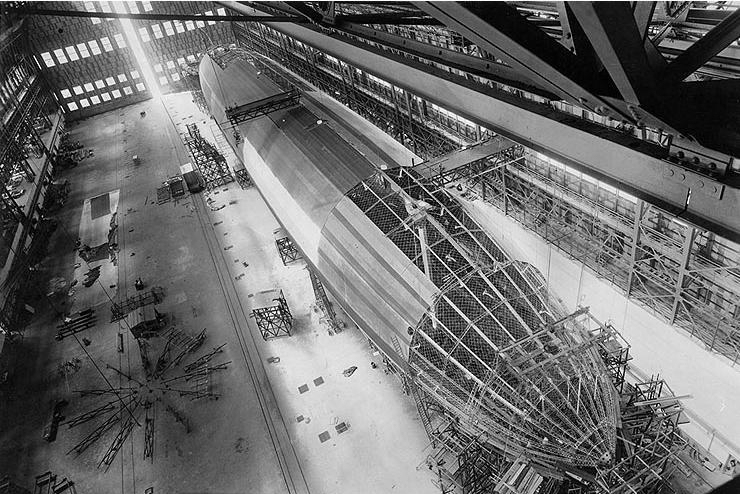 Construction of USS Shenandoah (ZR-1) in 1923
1937: Final Hindenburg Flight
​
After making the first South American flight of the 1937 season in late March,
Hindenburg
left Frankfurt for Lakehurst on the evening of 3 May, on its first scheduled round trip between Europe and North America that season. Although strong headwinds slowed the crossing, the flight had otherwise proceeded routinely as she approached for a landing three days later.
Hindenburg's arrival on 6 May was delayed for several hours to avoid a line of thunderstorms passing over Lakehurst, but around 7:00 pm the airship was cleared for its final approach to the Naval Air Station, which she made at an altitude of 200 m (660 ft) with Captain Max Pruss in command.
At 7:21 pm a pair of landing lines were dropped from the nose of the ship and were grabbed hold of by ground handlers.
Four minutes later, at 7:25 pm Hindenburg burst into flames and dropped to the ground in a little over half a minute.
Of the 36 passengers and 61 crew aboard, 13 passengers and 22 crew died, as well as one member of the ground crew, a total of 36 lives lost.
The exact location of the initial fire, its source of ignition, and the source of fuel remain subjects of debate. The cause of the accident has never been determined conclusively, although many hypotheses have been proposed.
Sabotage theories notwithstanding, one hypothesis often put forth involves a combination of gas leakage and atmospheric static conditions.
Manually-controlled and automatic valves for releasing hydrogen were located partway up one-meter diameter ventilation shafts that ran vertically through the airship.
Hydrogen released into a shaft, whether intentionally or because of a stuck valve, mixes with air already in the shaft- potentially in an explosive ratio.
Alternatively, a gas cell could have been ruptured by the breaking of a structural tension wire causing a mixing of hydrogen with air.
The high static charge collected from flying within stormy conditions and inadequate grounding of the outer envelope to the frame could have ignited any resulting gas-air mixture at the top of the airship.
In support of the hypothesis that hydrogen was leaking from the aft portion of the Hindenburg prior to the conflagration, water ballast was released at the rear of the airship and 6 crew members were dispatched to the bow to keep the craft level.
Another more recent theory involves the airship's outer covering.

The silvery cloth covering contained material including cellulose nitrate which is highly flammable.
This theory is controversial and has been rejected by other researchers because the outer skin burns too slowly to account for the rapid flame propagation and gaps in the fire correspond with internal gas cell divisions, which would not be visible if the fire had spread across the skin first.
Following the Hindenburg disaster, the Zeppelin company resolved to use helium in their future passenger airships. However, by this time, Europe was well on the path to the Second World War, and the
United States, the only country with substantial helium reserves, refused to sell the necessary gas
. Commercial international aviation was limited during the war, so development of new airships was halted. Although several companies, including Goodyear, proposed post-war commercial designs, these were largely to no avail.
A few words about helium:
United States refused to provide helium, and Hindenburg ended up using hydrogen?
U.S. law prevented the Hindenburg from using helium instead of hydrogen

,

which is more flammable

. After the crash of the hydrogen-filled R101, in which most of the crew died in the subsequent fire rather than the impact itself, Hindenburg designer Hugo Eckener sought to use helium, a less flammable lifting gas.
You gotta love the above excerpt from the
History stories
. Since when did helium become flammable?
As

helium

is lighter than air it can be used to inflate airships, blimps and balloons, providing lift. Although hydrogen is cheaper and more buoyant, helium is preferred as it

is non-flammable.

Helium is an inert gas. Inert quite literally means non-combustible. In fact, helium (in its liquid state) is actually used as a coolant for things like rocket ships, MRI machines, and particle accelerators.
KD:
I don't know about you, but the decision to feel up with hydrogen at this point in time sounds somewhat... suspicious.
A Few Photographs
The Dining Room
Hindenburg Hangar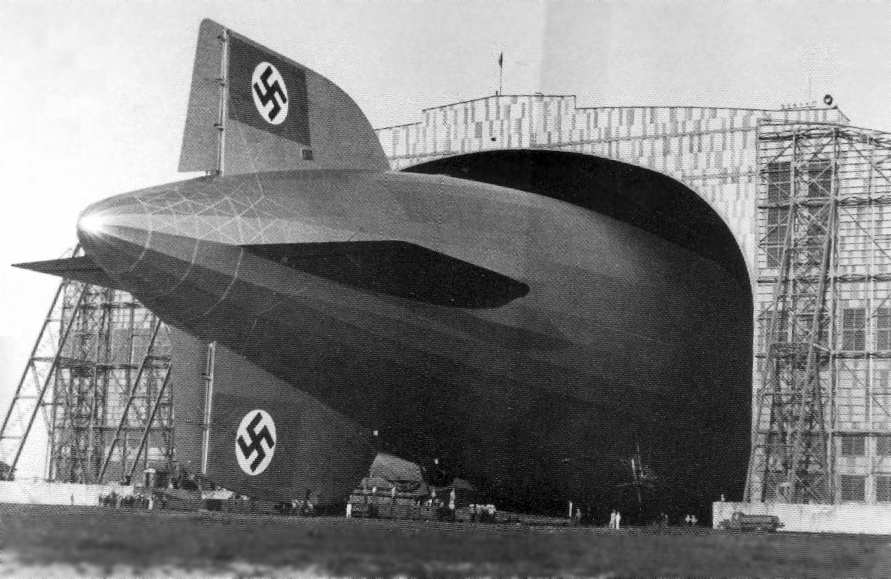 Inside the Hindenburg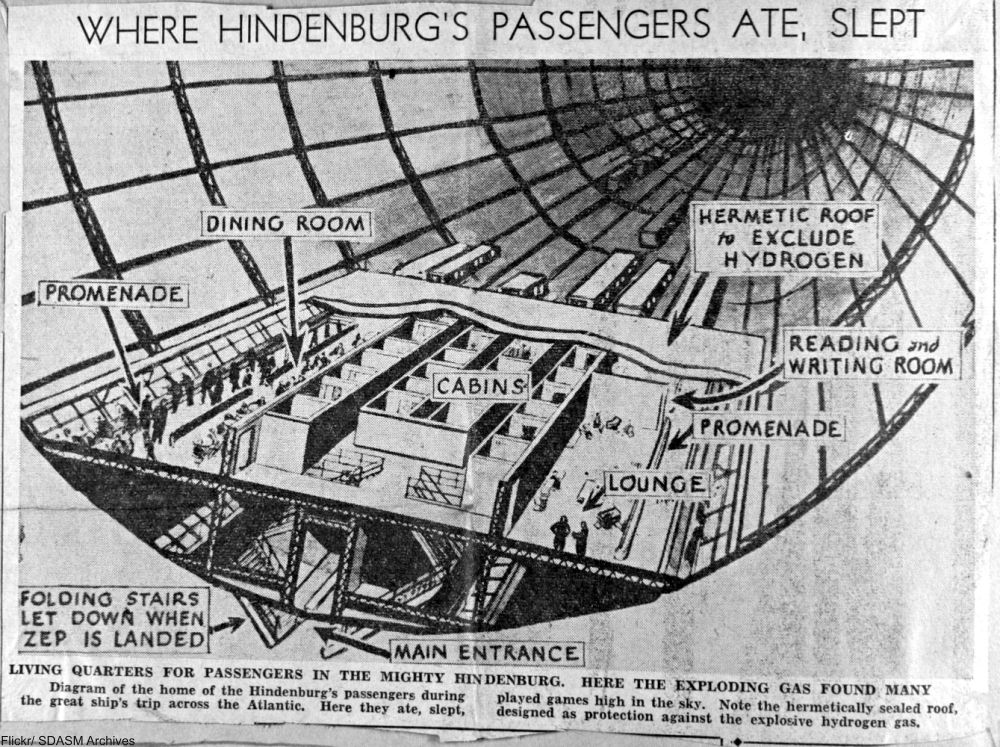 Back To The Future
​
Certain things never fail to speak up. The tech gets abandoned to be resurrected 100 years later. All those ancient
faxes
,
hyperloops
and
such
. Where are we heading to with this "new" approach to air travel, back to the future?
Much of the world has no access to paved roads. Vast cargo-bearing airships could reach places that planes and trucks can't.
This is the prime example of how suspicions this entire issue is.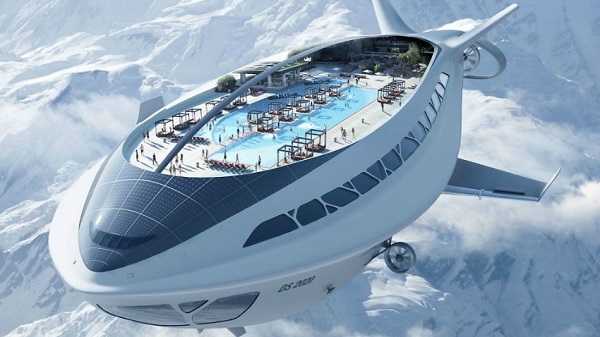 High-tech cargo airship being built in California
Source
​
The Aeroscraft airship, a high-tech prototype airship, is seen in a World War II-era hangar in Tustin, Calif., Thursday, Jan. 24, 2013. Work is almost done on a 230-foot rigid airship inside a blimp hangar at a former military base in Orange Co. The huge cargo-carrying airship has shiny aluminum skin and a rigid, 230-foot aluminum and carbon fiber skeleton. (AP Photo/Jae C. Hong)
The massive blimp-like
aircraft flies but just barely
, hovering only a dozen feet off a military hangar floor during flight testing south of Los Angeles. Still, the fact that the hulking Aeroscraft could fly for just a few minutes represents a step forward in aviation, according to the engineers who developed it. The Department of Defense and NASA have invested $35 million in the prototype because of its potential to one day carry more cargo than any other aircraft to disaster zones and forward military bases.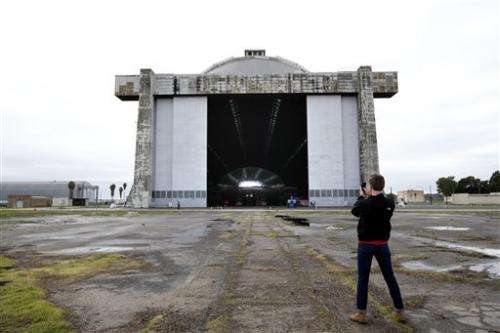 ​
And here is where we could get suspicious. We all have seen the above "hangar" shape. May be those were not originally meant for trains.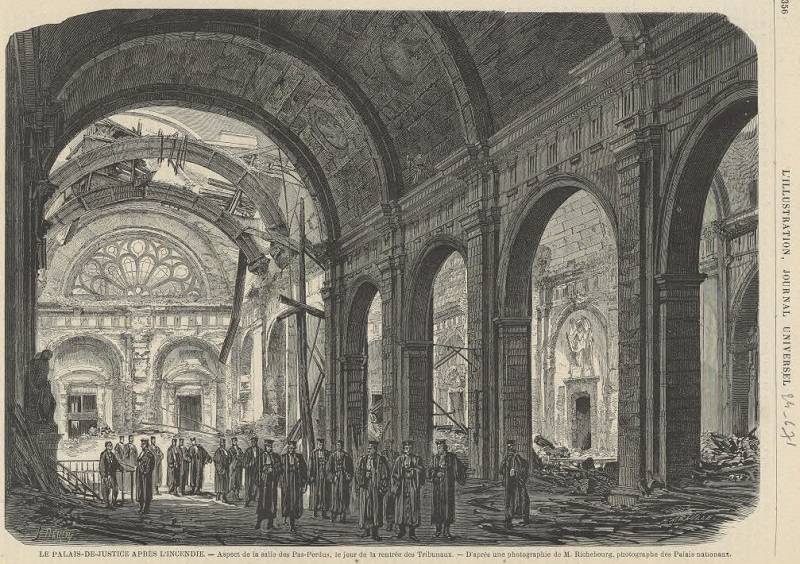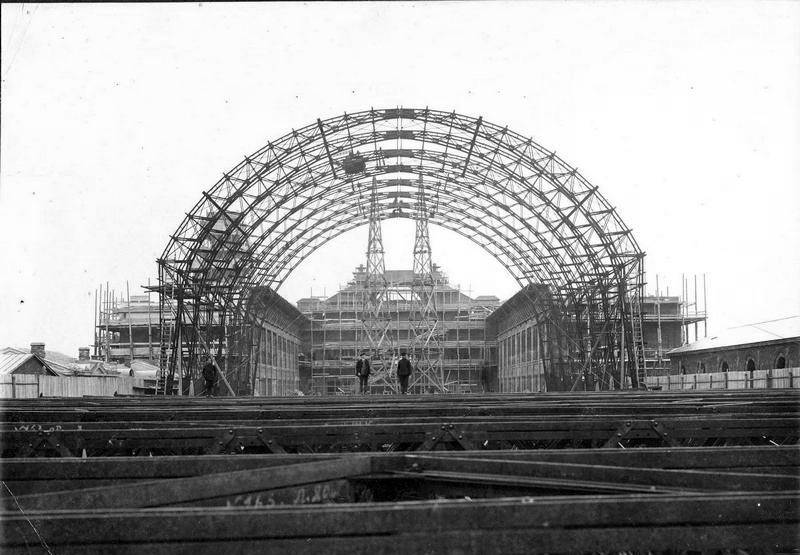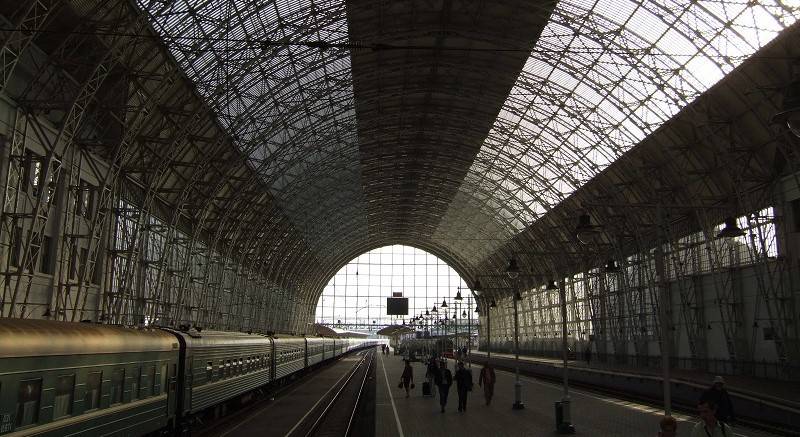 ---
KD:
These airships are so much safer too. Just a thought.
I think it was a global eradication of this mode of transportation. While writing this post I ran into this Russian airship related page through some google images. I do not see Russians caring much for that 1936 Hindenburg catastrophe. So why did they scrap the program as well? No helium? Check it out, it's worth it.
1894
Olga Romanoff
Olga Romanoff; or, The syren of the skies : a sequel to "The angel of the revolution".
Read #1 -
Read #2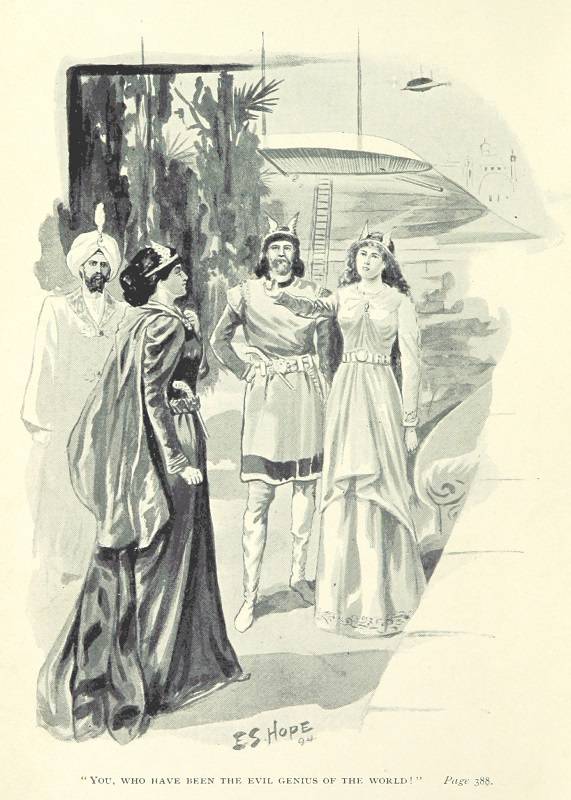 ​
Which Olga Romanoff was this? The one linked below? Was she 12 y.o. when she wrote her books?