How many electric car models do you know of the top of your head? Probably three or four. If you are really into it, may be ten, though I'm not even sure there are ten contemporary electric car models out there. Well, in the beginning of the 20th century there were hundreds of different models. A few of those models you can observe in the attachments representing just one 1907 catalog. In reality there were many more. I mean like WAY more!
Appears, one hundred years ago electric cars were a pretty common sight on the streets. I have heard that there were electric cars back then, but not to this degree. Many of those cars have a range comparable to their today's counterparts. 1908 Fritchle Model A Victoria had the
exact same
range as 2010 Nissan Leaf.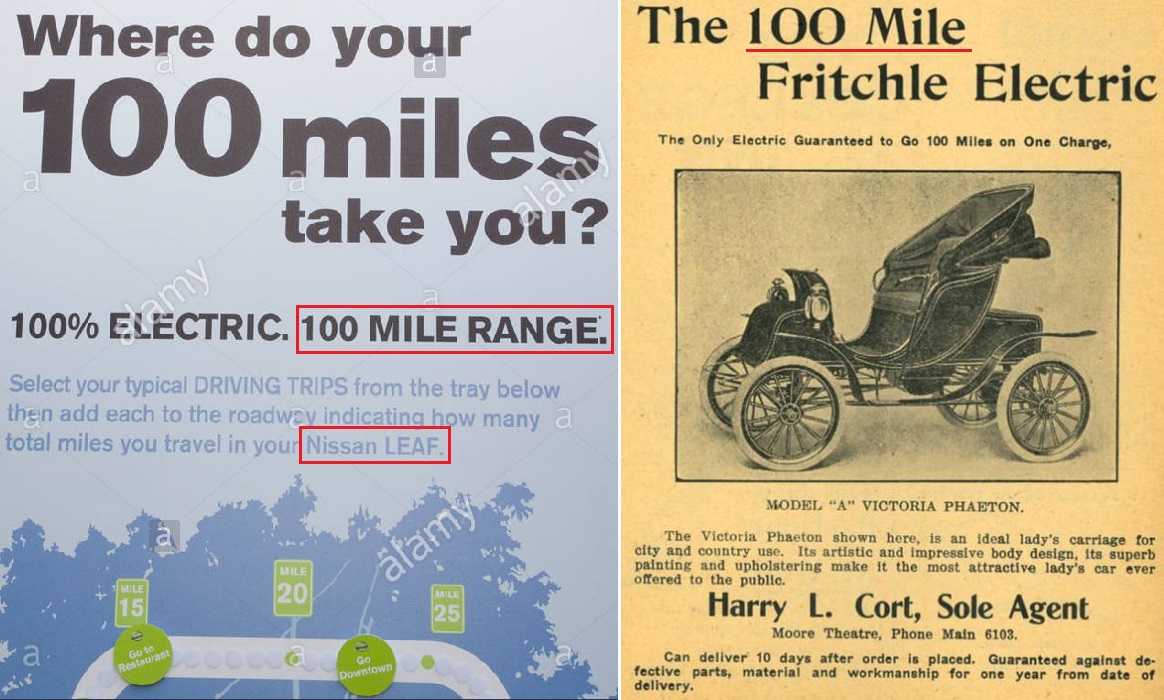 Then in 1909 the Fritchle Electric coupe toured 2,140 miles from Lincoln, NE to Washington DC through 10 states. This Electric Automobile averaged 90 miles per day of travel.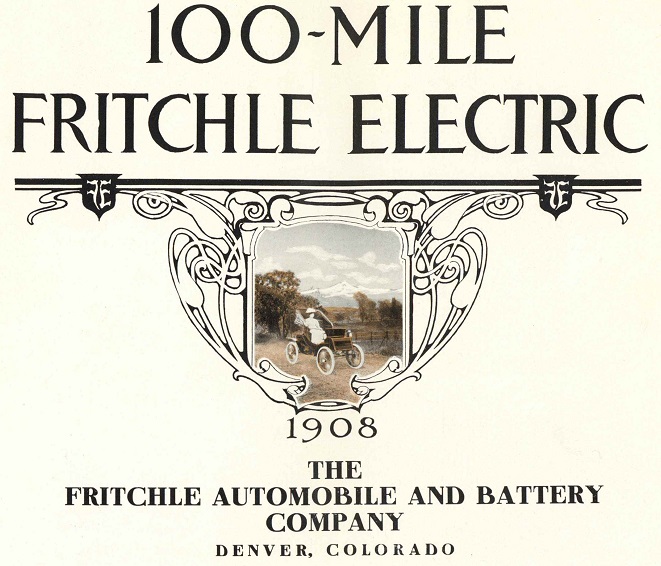 Advertising claims 100 miles per charge. In 1916 Fritchle announced a
gasoline-electric
automobile with a four cylinder air cooled engine. They sold very few and the following year abandoned all production.
original
is being kept at the
New York Public Library
. I will base my opinion on more comprehensible distances.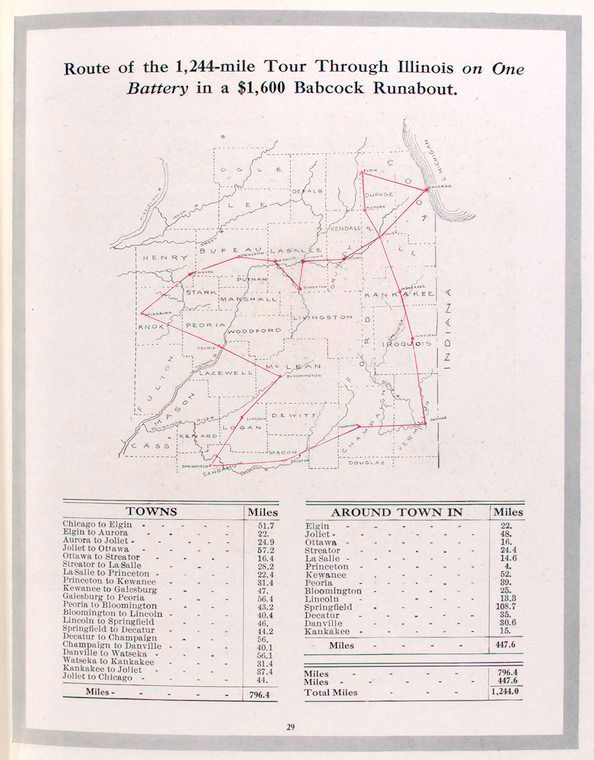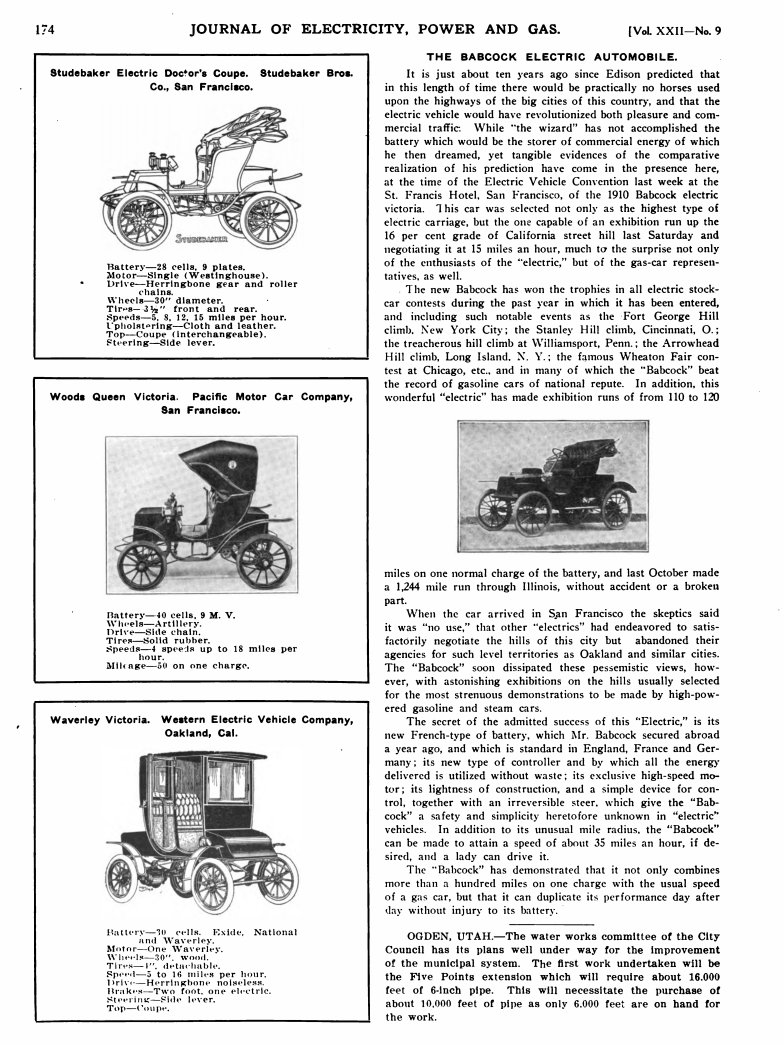 Electrical West, Volume 22.
1907 Electric Cars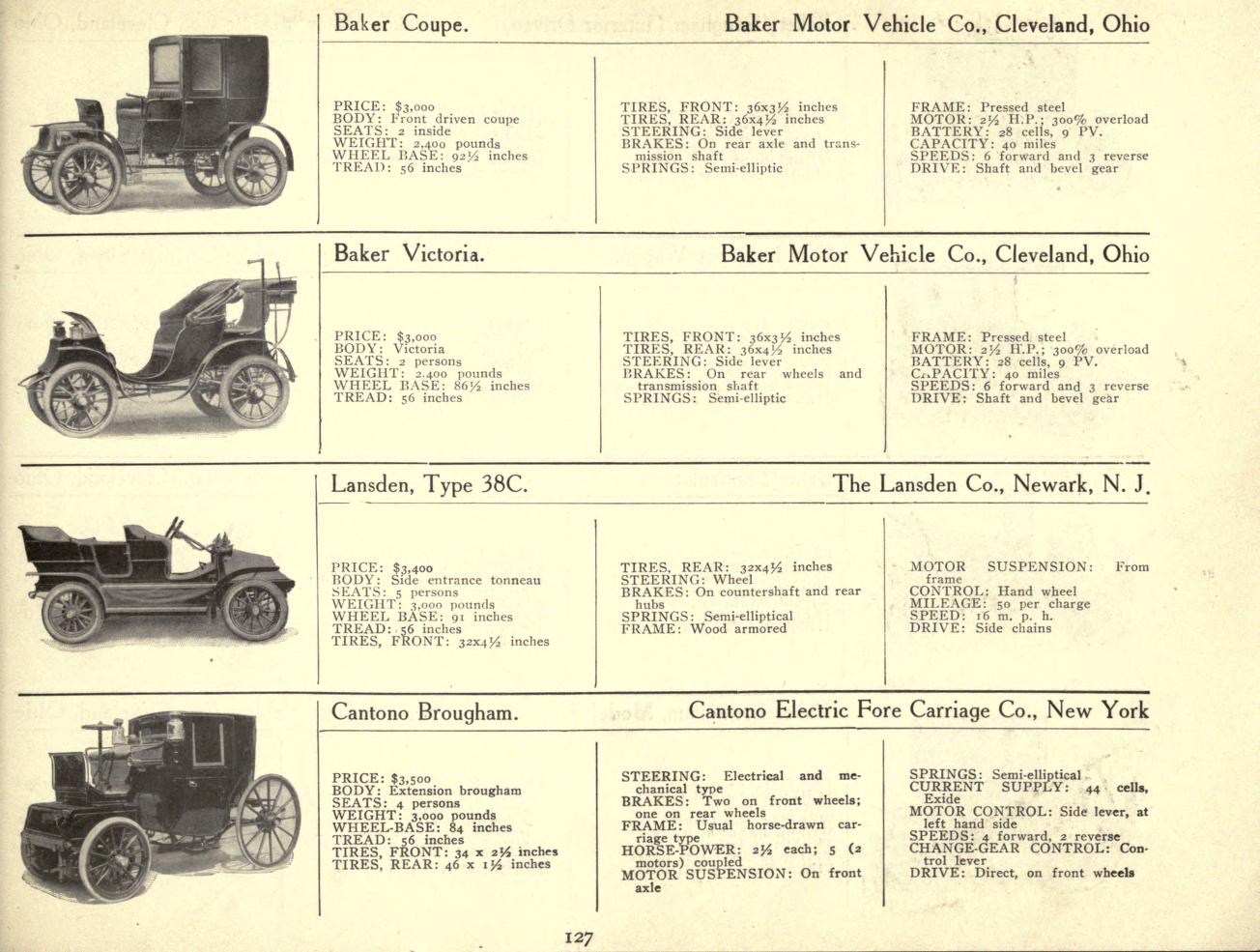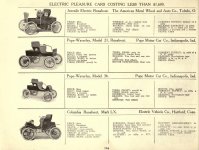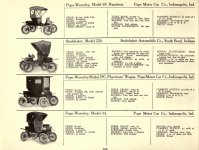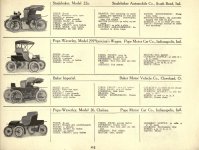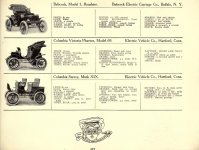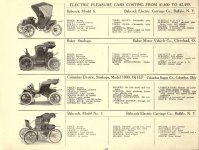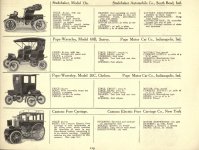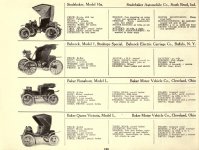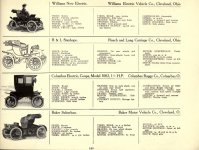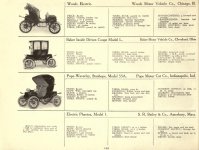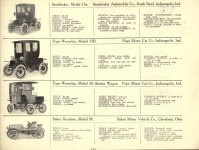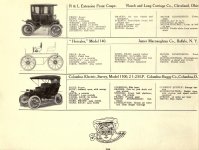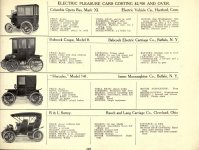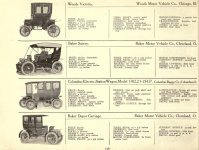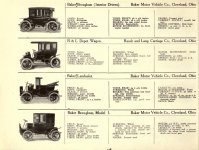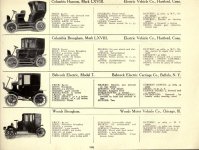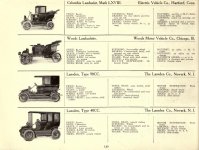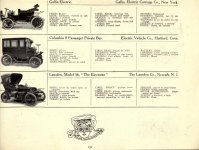 1907 Electric Trucks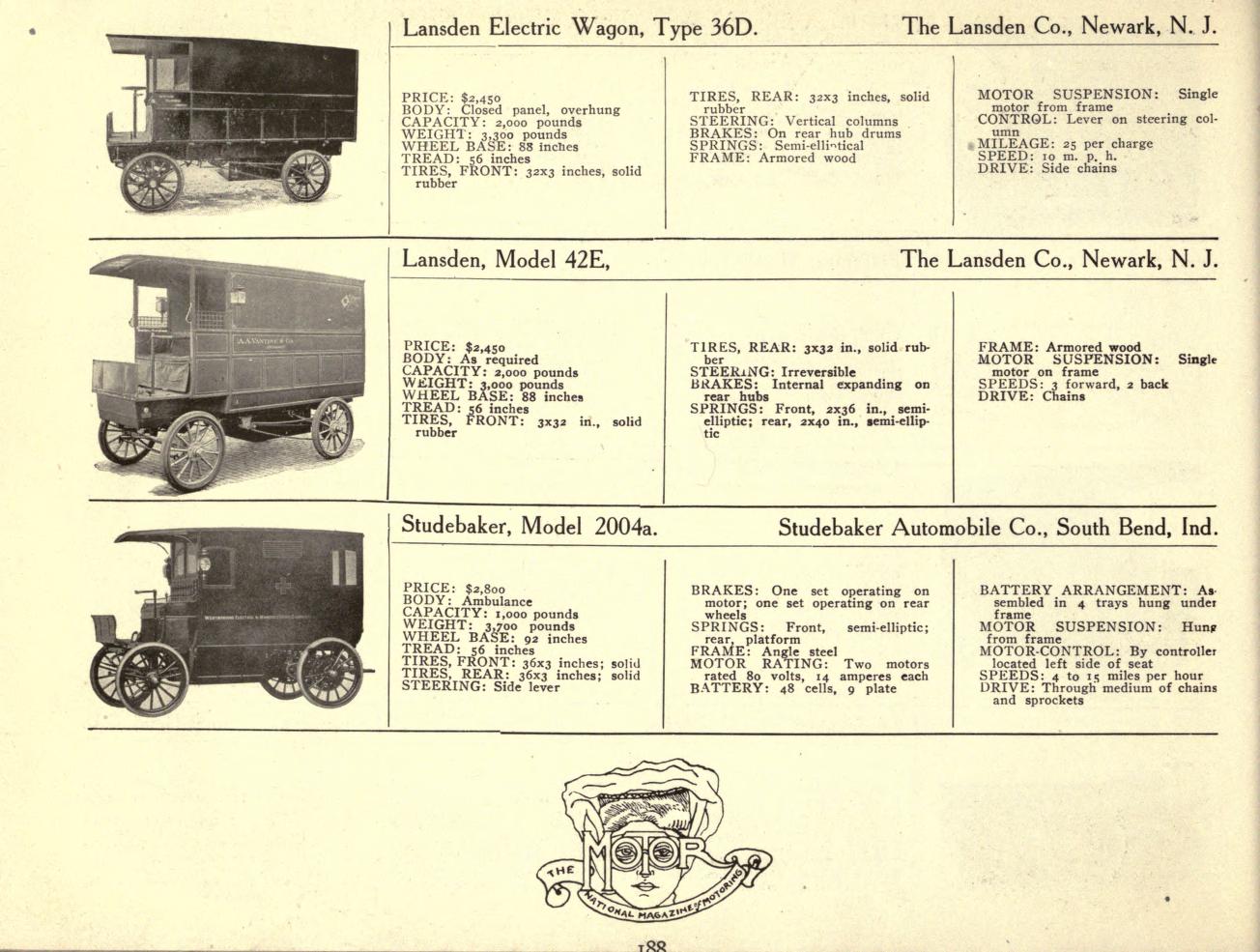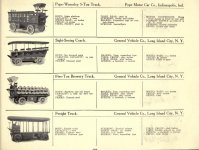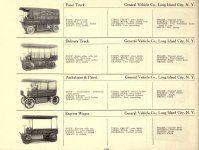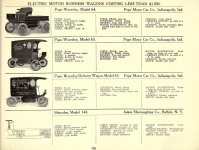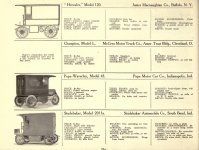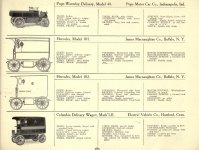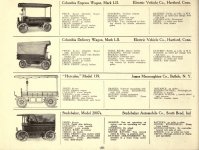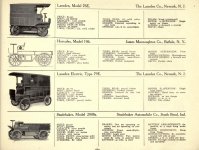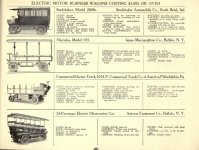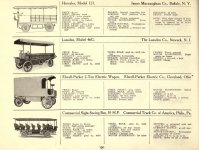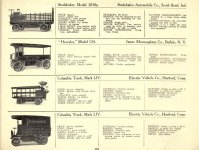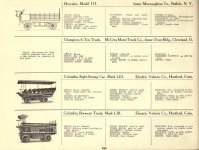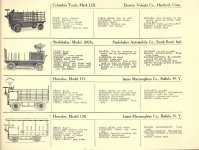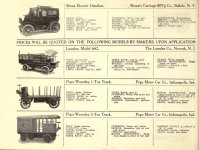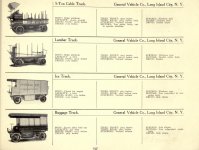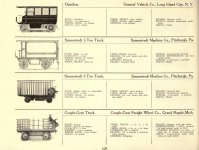 This lady is charging her Columbia Victoria Mark 68 in 1912.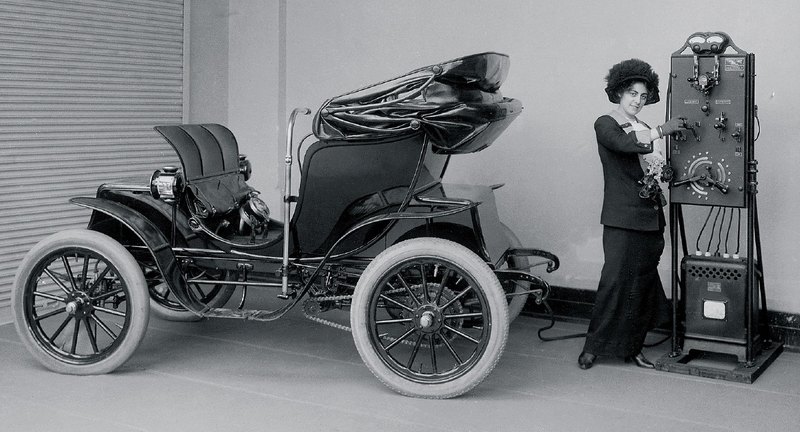 Whose technology?
​
The very first electric car, supposedly, was presented by Siemens and Halske in 1882. And those early electric cars looked neat, but very primitive. It also appears that most
body styles were derived
from those available in horse-drawn carriages. And with all this visual simplicity, these vehicles had ranges we were only able to mass produce in the 21st century. Let us take a look at the battery powering 2010 Nissan Leaf which is equal in range to 1908 Fritchle Model A Victoria.
Nissan Leaf Battery Pack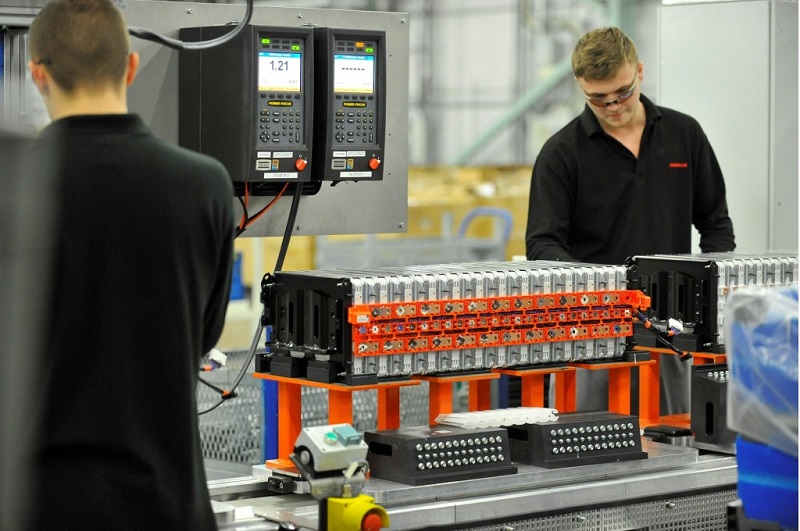 Number of battery modules in a Nissan Leaf: 48
Number of cells per module: 4
Weight of pack: 300 kilograms (660 pounds)
Amount of lithium in the pack: 4 grams
192 laminated prismatic cells
360 V nominal voltage
1908 Fritchle Model A Victoria had a 28-cell lead-acid battery weighing 400–600 lb. This is the best photograph of the Fritchle battery pack I could find.
Apparently it was powerful enough to tow an Oldsmobile. And the below letter of appreciation from a grateful customer speaks volumes.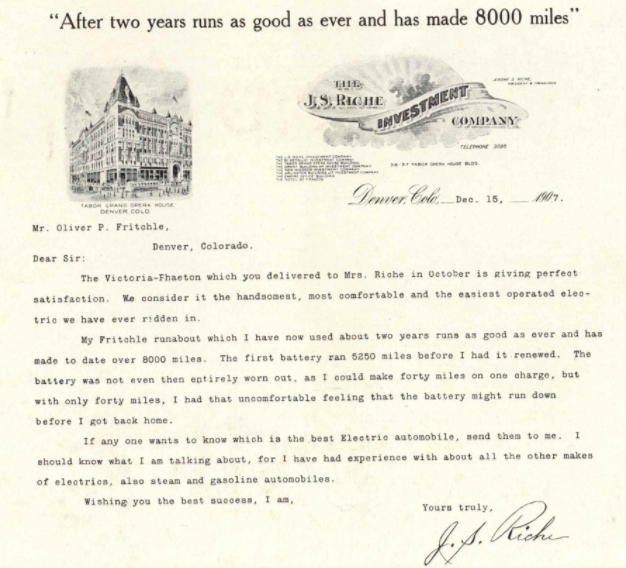 1908 100-MILE FRITCHLE ELECTRIC
- read those battery feedback letters. Amazing.
​
The Fritchle batteries generally lasted for more than 10,000 mi and could be replaced at a cost of US$208. The cars were advertised and trademarked as "100-mile Fritchle Electrics," and they lived up to this claim.
Another feature of the Fritchle was a regeneration system in which the motor became a generator when the car was coasting downhill, thereby partly recharging the batteries.
Yes, the max speed of 1908 Fritchle Model A Victoria was only 22 MPH. Nissan Leaf is also heavier 3,300 lbs vs. 2,100 lbs for 1908 Fritchle Model A Victoria. But we are talking about 1908. Today's battery makers have over 100 years of scientific R&D experience on those from the late 19th - early 20th century, and we are still at about 350 miles per charge.
Those people from over a century back, with their extremely limited scientific base were able to achieve similar things we are enjoying today. Where did this "ahead of its time" technology come from? I do not believe there was sufficient time for the natural, research based development for this quality level of power storage in 1900. Such a sharp technological contrast between the simplicity of the vehicle body and the durability of the power unit, suggests different levels of development. It's like the technology just fell into someone's lap. Be it in a way of documentation, or a whole warehouse fool of batteries.
What about the infrastructure required for production of all these electric cars? The catalog above probably contains 5% of all the electric cars produced at the time. Just pick at the below list of
Early Electric Automobile Manufacturers
. And those are electric cars only.
Early Electric Automobile Manufacturers
​
Ajax - Ajax Motor Vehicle Co. New York, NY 1901-1903 A light electric runabout, 2 passenger, with bicycle type wheels.
American Electric - American Electric Vehicle Co. Chicago, IL 1899-1902
American Juvenile Electric - American Metal Wheel & Auto Co. Toledo, OH 1907 An electrically powered car with seats for 2 children only.
Argo - Argo Electric Vehicle Co. Saginaw, MI 1912-1914 This electric car used a 60 volt system and reliable Westinghouse motors.
Autoette - Autoette Electric Car Co. Long Beach, CA 1950s A small electric car used in retirement communities.
Automatic - Automatic Electric Transmission Co. Buffalo, NY 1921 A small electric car that claimed a range of 60 miles and 25 MPH.
Babcock - Babcock Electric Carriage Co. Buffalo, NY 1906-1912
Bachelle - Otto Bachelle Chicago, IL 1901-1902
Bailey - S.R. Bailey & Co. Amesbury, MA 1907-1915
Baker - Baker Motor Vehicle Co. 1899-1916
Banker Juvenile Electric - Banker Brothers Co. Pittsburg, PA 1905 A small electric roadster that was also a cyclecar built for children.
Barrows - Barrows Vehicle Co. Willimantic, CT 1897-1898 A 2 passenger, 3 wheel electric with front wheel drive.
Beardsley - Beardsley Electric Co. Los Angeles, CA 1915-1917 Available in 12 different model, all were light and capable of 28 MPH.
Belmont - Belmount Electric Auto Co. Wyandotte, MI 1916 Available in 4 & 6 passenger limousines and commercial electric's only.
Berwick - Berwick Auto Car Grand Rapids, MI 1904 A 2 passenger electric with plenty of brass work, capable of only 15 MPH.
B.M.W. - Boulevard Machine Works Los Angles, CA 1949 Produced small electric minicars but in 1966 produced a 60MPH electric roadster.
Borland - Borland-Grannis Co. Chicago, IL 1903-1914 Produced open and closed cars, Powered by GE motors and capable of 22 MPH.
Boston - Concord Motor Car Co. Boston, MA 1906-1907 Scheduled at the 1907 Boston Auto show, but did not make it.
Broc - Broc Carriage & Wagon Co. Cleveland, OH & Saginaw, MI 1909-1916 Claimed to reach speeds of 24 MPH with a 1 HP motor and offered several models.
Buffalo - Buffalo Electric Carriage Co. Buffalo, NY 1901-1906 This company built runabouts and large expensive cars with 75 miles per charge.
Buffalo - Buffalo Electric Vehicle Co. Buffalo, NY 1912-1915 A rival electric car company to the Buffalo Electric Carriage Co.
Byrider - Byrider Electric Auto Co. Cleveland, OH 1908-1909 A small 2 passenger electric car that sold for about $1,800.00.
Cantono - Cantono Electric Tractor Co. Canton, OH 1904-1907 The Cantono was an Italian design but American made automobile.
Century - Century Motor Co. & Century Electric Co. Detroit, MI 1911-1915 A tiller operated Electric car.
Chapman - Belknap Motor Co. Portland, Maine 1899-1901 Also known as The Electromobile built by W.H. Chapman.
Charles Town-About - Stinson Aircraft Tool and Eng. Corp. San Diego, CA 1958-1959 Prototypes looked like the 1950s VW-Karmann Ghia.
Chicago - Chicago Electric Motor Co. Chicago, IL 1915-1916 This company built enclosed coupes for 4 and 5 passenger.
Church-Field - Church-Field Motor Co. Sibley, MI 1912-1913 An unusual Electric Car with 20 forward speeds.
Cleveland - Cleveland Machine Screw Co. Cleveland, OH 1899-1901 Known as a light Electric car for 2 passenger.
Colonial - Colonial Electric Car Co. Detroit, MI 1912 Built as a closed model and roadster with tiller steering.
Columbia - (Changed names 5 times) 1997-1913 Produced Electric Cars and Gas Powered cars.
Columbia - Columbia Electric Vehicle Co. Detroit, MI 1914-1918 Built as a coupelette and brougham and had wire wheels.
Columbus - Columbus Buggy Co. Columbus, Ohio 1903-1913 This former buggy company built Electric and Gasoline cars.
Crowdus - Crowdus Automobile Co. Chicago, IL 1901-1903 This Cyclecar had a range of 50 miles per charge.
Dayton - Dayton Electric Car Co. Dayton, OH 1911-1915 Offered as many as six different models
De Mars - DeMars Electric Vehicle Co. Cleveland, OH 1905-1906 One distinguishing feature was a single headlight.
Detroit Electric - The Anderson Carriage Co. Detroit, MI 1907-1910
Detroit Electric - The Anderson Electric Car Co. Detroit, MI 1911-1918
Detroit Electric - The Detroit Electric Car Co. Detroit, MI 1919-1938 The best known Electric car.
Dey - Dey Electric Corp. York, PA 1917 A 3 passenger runabout.
Dey-Griswold - Dey-Griswold & Co. New York, NY 1995-1898 A product of Harry E. Day 1895-1898
Eaton - Eaton Electric Motor Carriage Co. Boston, MA 1898 A light Electric two passenger car.
Electra - Storage Battery Power Co. Chicago, IL 1913-1915 Driven by a 2 1/2 horsepower motor.
Electra King - B and Z Electric Car Co. Long Beach, CA 1961 Of small and simple construction.
Electric Shopper - Electric Shopper, Long Beach, CA. c.1960 A small Electric car similar to the Electra King.
Electro Master - Nepa Mfg. Co. Pasadena, CA 1962 This Electric car had a 40 mile range.
Electromobile - (see Chapman)
Flanders - Flanders Mfg. Co. Pontiac, MI 1912-1913
Flanders - Tiffany Electric Co. Detroit, MI 1913-1914
Flanders - Flanders Electric Co. Pontiac, MI 1914-1915 Typical looking electric made in open and closed body styles.
Fritchle - Fritchle Auto & Battery Co. Denver, CO 1904-1917 The Fritchle Electric had a range of 100 miles per charge.
Gas-Au-Lec - Vaughn Machine Co. Peabody, MA 1905-1906
Gas-Au-Lec - Corwin Mfg Co. Peabody, MA This was a Gasoline-Electric automobile
G.E.C. - General Electric Co. West Lynn, MA 1898
G.E.C. - General Electric Co. Schenectady, NY 1902 Experimental cars, electric and gas-electric made by GE.
General Electric - General Electric Automobile Co. Philadelphia, PA 1898-1899 A light runabout with light weight batteries.
Grinnell - Grinnell Electric Car Co. Detroit, MI 1912-1913 Claimed to travel 90 miles per battery charge.
Hercules - James Macnaughton Co. Buffalo, NY 1907 Made as a 2 and 4 passenger Electric car.
Hewitt-Lindstrom - Hewitt-Lindstrom Electric Co. Chicago, IL 1900-1901 Produced a light 2 passenger runabout.
Hub - Hub Motor Co. Chicago, IL 1899-1900 Used 4 electric motors located on each wheel "HUB".
Hupp-Yeats - R. C. H. Corp. Detroit, MI 1911-1912
Hupp-Yeats - Hupp-Yeats Electric Car Co. Detroit, MI 1912-1918 The motors were built by Westinghouse on this Electric Car.
Ideal - Ideal Electric Co. Chicago, IL 1909-1914 Built four passenger closed automobiles.
Interurban - F. A. Woods Auto Co. Chicago, IL 1905 For long tips the electric motor could be exchanged in 10 minutes for a gas engine.
Kensington - Kensington Automobile Co. Buffalo, NY 1899-1904 The Kensington Co. made gas, steam and electric cars.
Kimball - C.P. Kimball & Co. Chicago, IL 1910-1912 This Electric car had 2 - 80 volt motors operated by chain drive.
Lansden - Lansden Co. Newark, NJ 1906-1908 Powered by 3 1/2 HP motors and also known as the Electrette.
Lenox - Maxim & Goodridge Hartford, CT 1908-1909 The batteries on this Electric Car weight in at 800 pounds.
Marketour - Marketour Electric Cars Long Beach, CA 1964 A small modern electric car.
Menominee - Menominee Electric Mfg Co. Menominee, MI 1915 This company made an Electric Cabriolet.
Milburn - Milburn Wagon Co. Toledo, OH 1914-1922 Also built wagons as early as 1848.
Mobilette - Mobilette Electric Cars Long Beach, CA 1965 Another modern Electric car.
Morrison - William Morrison, Des Moines, IA 1887-1897 The first commercially sold Electric Car.
New England - New England Electric Vehicle Co, Boston, MA 1899-1901 An early example of an American Electric Car.
Ohio - OH Electric Car Co. Toledo, OH 1910-1918 Crocker-Wheeler motors with 4 speed controllers were used.
Quinby - The J. M. Quinby and Co. 1899-1900 Very few Quinby Electrics were built in 1899 and 1900.
Parsons - Parsons Electric Motor Carriage Co. Cleveland, OH 1905-1906 At $1600.00 this was an expensive Electric Car.
Phipps-Grinnell - Phipps-Grinnell Automobile Co. Detroit, MI 1901-1912 An Electric Car made for about 12 years.
Pomeroy - Pomeroy Motor Vehicle Co. Brooklyn, NY 1902 A small Electric Runabout.
Rauch & Laun; Raulang - Rauch & Lang Carriage Co. Cleveland, OH 1905-1916
Rauch & Lang; Raulang - Baker, Rauch & Lang Co. Cleveland, OH 1916-1922
Rauch & Lang - Rauch & Lang Electric Car Mfg. Co. Chicopee Falls, MA 1922-1928 Rauch & Lang was an old established carriage maker.
Riker - Riker Electric Motor Co. Brooklyn, NY 1896-1899
Riker - Riker Electric Vehicle Co. Elizabethport, NJ 1899-1900
Riker - Riker Motor Vehicle Co. Elizabethport, NJ 1901-1902 First built as a two passenger Phaeton.
Royal and Royal Princess - Royal Automobile Co. Chicago, IL 1905 This Electric Car went 75 miles on one charge.
Scott - St Louis Electric Automobile Co. St Louis, MO 1899-1900
Scott - Scott Automobile Co. St. Louis, MO 1900-1901 A light 2 passenger Electric Car.
Standard - Standard Electric Car Co. Jackson, MI - 1912-1915 Used Westinghouse engines and had a 110 mile range.
Storms - William E. Storms Detroit, MI 1915 The only known Electric Cyclecar.
Strong & Rogers - Strong & Rogers Cleveland, OH 1900-1901 A $2,000.00 Electric Car.
Stuart - Stuart Motors Kalamazoo, MI 1961 A 1960s proposed Electric Car.
Studebaker Electric - The Studebaker Brothers Mfg. Co. 1902-1912 after 1904 The Studebaker Automobile Co.
Synnestvedt - Synnestvedt Machine Co. Pittsburgh, PA 1904-1908 Operated with a 40 cell battery and 4 speed controller.
Syracuse - Syracuse Automobile Co. Syracuse, NY 1899-1903 A very light 2 passenger Electric Car.
Thompson - Andrew C. Thompson Plainfield, NJ 1901-1902 A light Electric runabout powered by a 1 1/2 HP motor.
Tiffany - Tiffany Electric Car Co. Flint, MI 1913-1914 The cost of this Electric Car was $750.00.
U.S. Electric - U.S. Automobile Co. Attleboro, MA 1899-1901 A small number of these were made in 2 and 4 passenger models.
V. E. (V. E. C.) - Vehicle Equipment Co. Long Island City, NY 1903-1905 This company produced Electric Cars and Commercial Vehicles.
Ward - Ward Motor Vehicle Co. New York, NY 1914-1916 This Electric Car was priced at $2,100.00 and went 100 miles per charge.
Woods - Woods Motor Vehicle Co. Chicago, IL 1899-1919 The Electric Car was around from 1899 to 1919.
---
KD:
Ugly crooked wooden utility poles, and dirt streets next to beautiful Colonial buildings, ridiculous
sails on gigantic 700 ft long iron ships
,
high quality pneumatic train cars
, and
many other things
- all these are indicators of the unknown factor silently existing in our most recent past. The pneumatic train and electric car technologies quickly went away. Official reasons were similar: not profitable, not enough customers. Semi-official reason: gas sales bring more money. I think the real reason was that gifted technology without sufficient understanding is prone to being lost. They simply were unable to do anything with it.
It's so easy to explain everything using the "Industrial Revolution" excuse. We were dumb and stupid for centuries, and all over sudden everyone got smart at the same time. And only these little big mismatches stick out. They are only visible if you look, for if you don't, they are invisible. Well camouflaged by the fake historical non-sense they are. Our society prefers not to see all the contradictions hiding in the mysterious 19th century (and recent history in general.) I wonder why?