Here we have another one of those Expos allegedly made out of horse hair and plaster. I suggest we look into this Expo, analyze available construction photographs, the crowds, the exhibits, etc. May be, in the process, we could develop some sort of an opinion on what this next "build to destroy" mini-city was really intended for. Was it built, or was its tear down presented to us as its construction.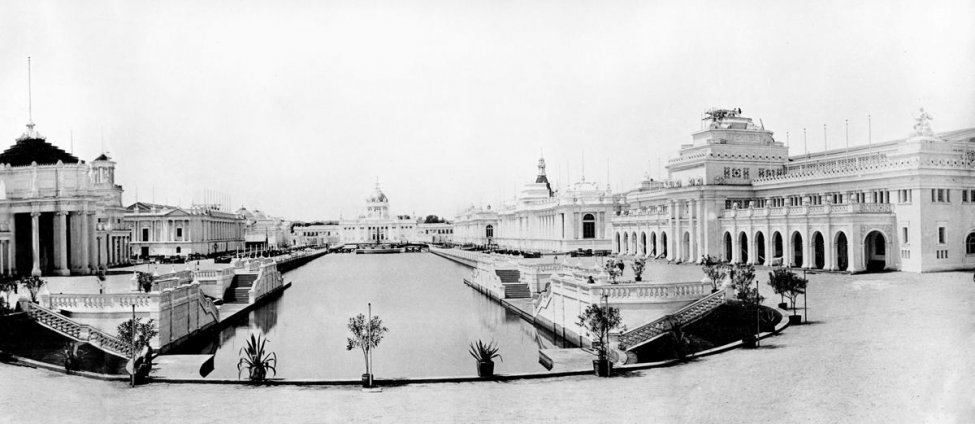 Trans-Mississippi International Exposition
​
The Trans-Mississippi and International Exposition was a world's fair held in Omaha, Nebraska from June 1 to November 1 of 1898. Its goal was to showcase the development of the entire West, stretching from the Mississippi River to the Pacific Coast. The Indian Congress was held concurrently. Over 2.6 million people came to Omaha to view the 4,062 exhibits during the five months of the Exposition. President William McKinley and William Jennings Bryan were among the dignitaries who attended at the invitation of Gurdon Wattles, the event's leader. 100,000 people assembled on the plaza to hear them speak. The Expo stretched over a 180-acre (0.73 km2) tract in North Omaha and featured a 2,000 feet (610 m)-long lagoon encircled by 21 classical buildings that featured fine and modern products from around the world.
Precursors:
watch these 3 and 2 minute videos
Basic Info
​
First of all, I suggest we look at
this Wikipedia page
devoted to this 1898 Expo. Do you think it does justice to this enormous event. Why is the page so small? Where are the photographs?
Construction started: after October 1, 1897
Construction finished: prior to June 1, 1898
Total construction time:

under 8 months

Opening: June 1, 1898
Closure: November 1, 1898
Total Expo operation time: 153 days
No. of exihibits: 4,062
Visitors: 2,613,508 people
Profits 1898: US $1,924,077
No. Buildings constructed: 21, plus hundreds more (???)
Site of venue: 108 city blocks on 180-acre tract in North Omaha, and featured a 2,000 ft (610 m)-long lagoon
Many temporary buildings, structures, and features were installed for the Exposition.
Thomas Rogers Kimball
and
C. Howard Walker
were named co-architects-in-chief for the event. The two men were responsible for the overall site development, including perimeter buildings. They designed several major buildings, some smaller structures and the Arch of States, which was a main entrance.
All these structures were temporary by design, built at about half the cost of permanent buildings. The lower cost allowed the construction of larger structures. The construction of the hundreds of temporary buildings at the Expo was notable because of the almost exclusive usage of a new, cheap and pliable building material called staff. It allowed Expo designers to construct visual reproductions of Grecian and Roman temples, fine European buildings, and more. The buildings were constructed of strips of wood covered with staff.
Below are some photographs containing the alleged construction of the Expo complex. For additional ones, please visit
this link
.
I am not sure why the image is copyrighted with 1897, but we have what we have. The link above provides some additional info pertaining to this Agriculture Building. It also states in there that the building was razed in 1898. This building here.
​
This is the biggest version of this particular image that I was able to find. I guess it is supposed to be 1898.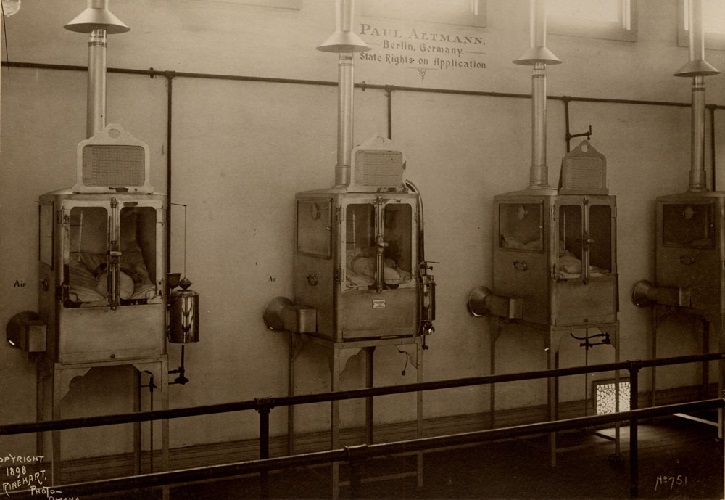 Miniature Railroad
​
Children and adults ride the Miniature Railroad. Three men stand along fence. Sign reads: "Union Pacific: North Platte."
Children ride Miniature Railroad. Three men stand along fence.
Sign reads: "Union Pacific: North Platte."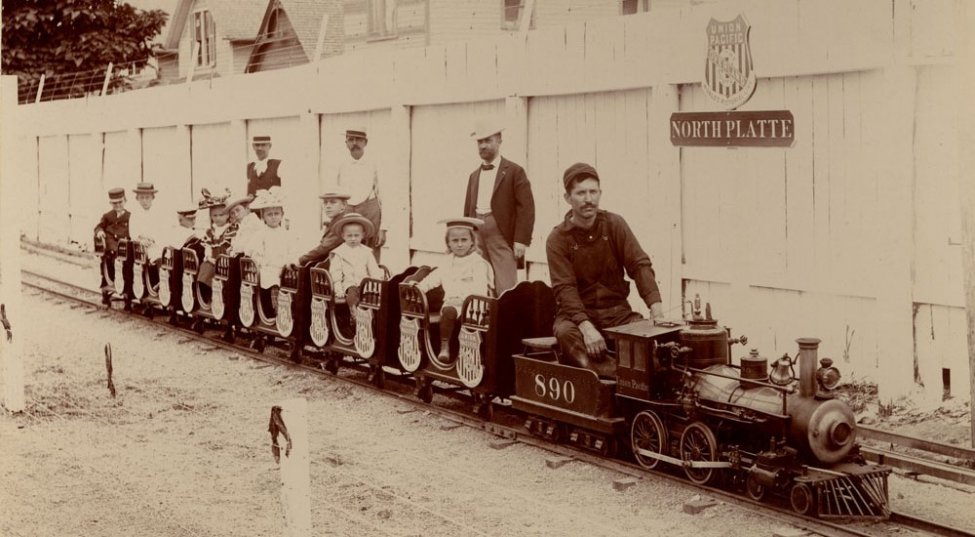 Requiem
​
The Trans-Mississippi Exposition was held in Omaha in 1898. More than 2.6 million people came to see this World's Fair, and 21 classical buildings were built to house the exhibitions. They were designed to be temporary, and were built around a lagoon that featured gondolas and swan boats.
Source:
By January 1900, almost all of the buildings, walkways and other elements of the Expo grounds were completely gone.
In 1980, while excavating for a new sewer in Kountze Park, a construction foreman uncovered several pieces of a building from the Exposition. An attempt to recover more artifacts was unsuccessful. Today there are only a few pieces of plaster from Exposition buildings that remain as tangible historical artifacts.
KD: I bet no digging is allowed at the park. What if a few additional pieces of "plaster" get uncovered?
There is always a fire involved: in the final months of cleanup, which were May and June of 1900, there was a fire that took out the last remaining elements of the Expos.
It took about 8 months to build this expo, and about 6 months to demolish.
Sources and Links:
---
KD:
Anyone else sees the continuation of this weird "build to destroy" idea here? What do you think could be behind all of this non-sense?
Please feel free to add additional photographs
By the way, in 1899 the same spot held another expo:
1899 Greater America Expo Notes

After the 1898 Trans-Mississippi Exposition exhibition a group of investors decided to retain some of the buildings and hold a second exhibition at Kountze Park in 1899. President McKinley expressed support for the exhibition as an opportunity to show America's new possessions.
The grounds were refurbished with 500 staff patching and painting buildings and replanting flower beds. And the concrete walkways were replaced by red brick ones.