Sometimes, it's so obvious that certain inventions are technologically out of sync with the narrative, that the gap between two realities appears to be utterly ridiculous. In this case we have several revolutionary inventions attributed to the same inventor. What else is new in the world of the Stolen History?
Ictíneo II was a pioneering submarine launched in 1864 by the Spanish engineer Narcís Monturiol. It made her maiden voyage under human power on 20 May 1865, submerging to 27.5 metres
(90 ft)
. Here is what was so special about her. She was:
The first air independent submarine​

The first combustion powered submarine... yup, just wait for it.​

The first submarine to overcome the basic problems of machine powered underwater navigation​
I am not sure whether we have an actual photograph of this sub, but we sure do have a replica.
This replica of Ictineo II was built in 1992, and its outer hull has been constructed out of wood, like the original submarine.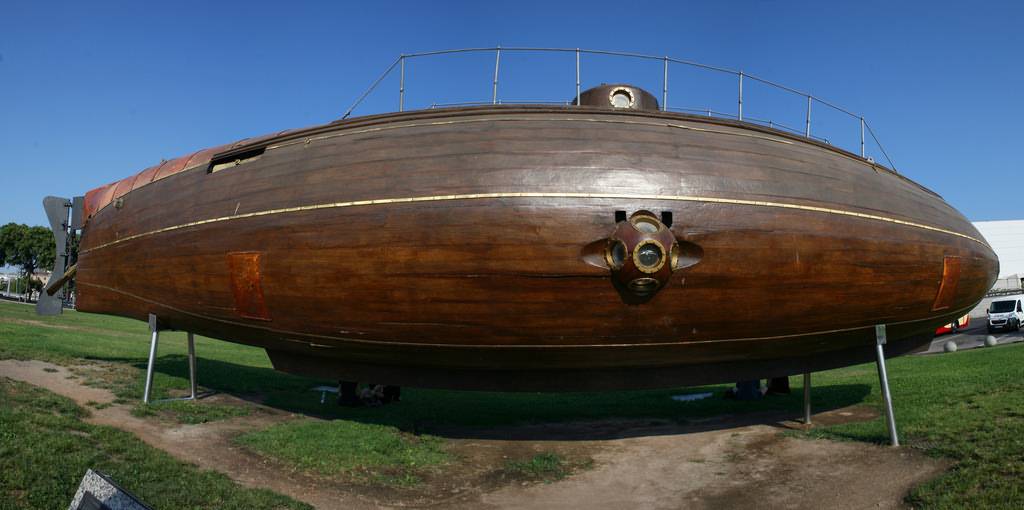 The reason I am not 100% positive we do not have a photograph of the real thing is the image below. The "drawing" looks suspicious.
It also does not say that it's Ictíneo II.

Yet, it would have to be Ictíneo II, because Ictíneo I looked totally different.
Try to figure whether it is #I or #2 out at this source.

And I'm not sure the sub we see below was made of wood.

Here they say that it's a reproduction.
Sources for the below, or similar looking
"photograph-like"
images:
Source #1 (the below image)

I don't know where they are hiding this image on the #1 source page, here is a direct link.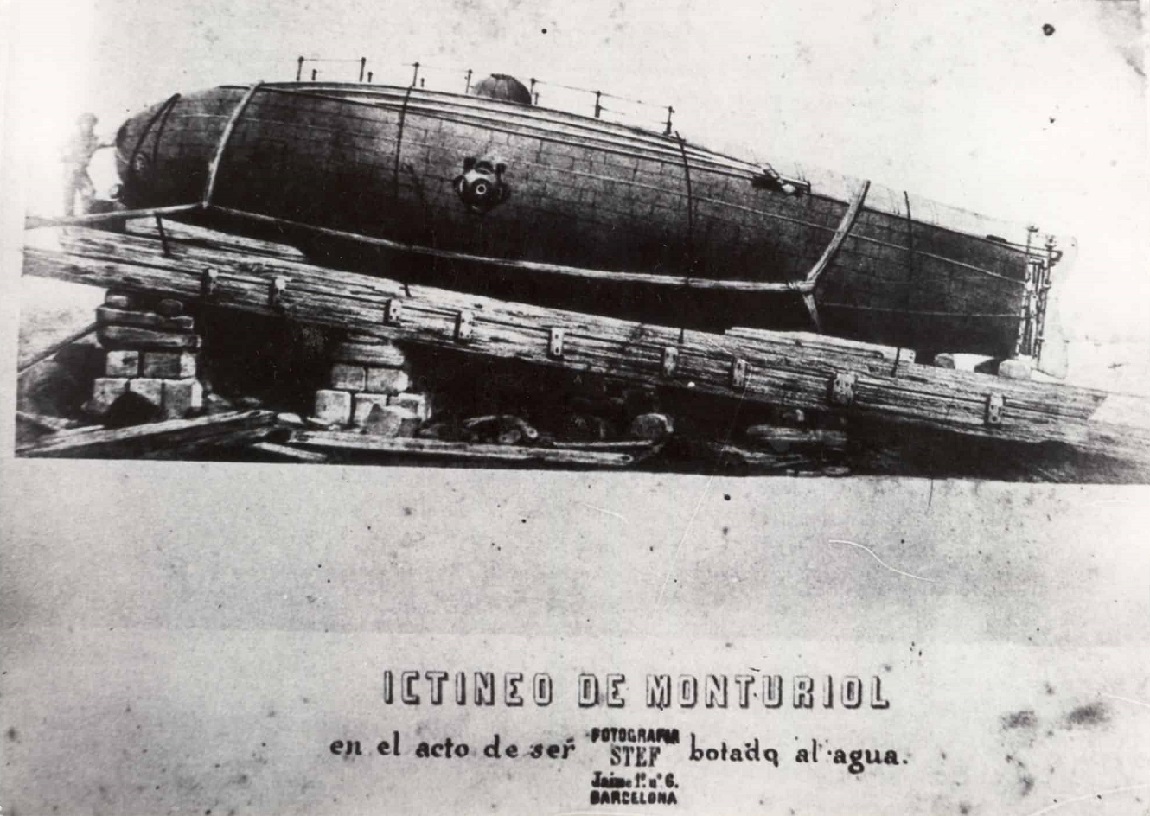 Narcís Monturiol
​
Did our "inventor" receive any education
that we could associate with engineering? May be he did, but here is what the PTB has to say. Please do not skip, for I know you will enjoy the non-sense.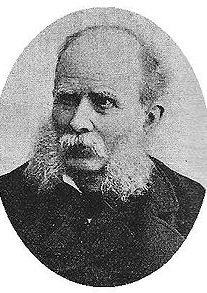 1819-1885
​
Narcís Monturiol i Estarriol was a Spanish artist and engineer. He was the inventor of the first air-independent and combustion-engine-driven submarine.​

Monturiol i Estarriol was born in the city of Figueres, Spain. ​

He was the son of a cooper. ​

A cooper is a person trained to make wooden casks, barrels, vats, buckets, tubs, troughs and other similar containers from timber staves that were usually heated or steamed to make them pliable.​

Monturiol went to high school in Cervera and got a law degree in 1845.​

Monturiol never practiced law, instead turning his talents to writing and publishing, setting up a publishing company in 1846.​

He produced a series of journals and pamphlets espousing his radical beliefs in feminism, pacifism, and utopian communism. ​

He also founded the newspaper "La Madre de Familia", in which he promised "to defend women from the tyranny of men" and "La Fraternidad", Spain's first communist newspaper.​

Monturiol also became an enthusiastic follower of the utopian thinker and socialist Étienne Cabet; he popularised Cabet's ideas through La Fraternidad and produced a Spanish translation of his novel Voyage en Icarie.

​

A circle formed round La Fraternidad raised enough money for one of them to travel to Cabet's utopian community, Icaria.

​

Following the revolutions of 1848, one of his publications was suppressed by the government and he was forced into a brief exile in France.

​

When he returned to Barcelona in 1849

, the government curtailed his publishing activities, and

he turned his attention to science and engineering

instead.

​

A stay in

Cadaqués

allowed him to observe the dangerous job of coral harvesters

where he even witnessed the death of a man who drowned while performing this job.

​

This prompted him to think of submarine navigation and in September 1857 he went back to Barcelona and organized the first commercial society in Spain dedicated to the exploration of submarine navigation

with the name of Monturiol, Font, Altadill y Cia. and a capital of 10,000 pesetas.

​

In 1858 Monturiol presented his project in a scientific thesis, titled The Ictineo or fish-ship.

The first dive of his first submarine, Ictineo I, took place in September 1859

in the harbour of Barcelona.
Oh, and here is one more photograph.
This picture is worth a thousand words, don't you think?
Source (Crew of the Ictineo's first voyage. Monturiol is in the center. )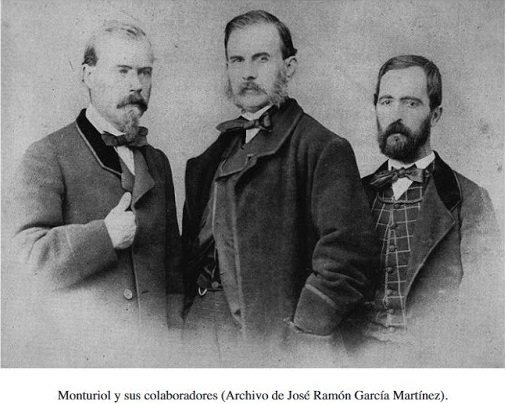 ​
Between 1859 and 1867 Monturiol produced two submarines, and that was it. Caring about them poor coral harvesters only went so far.
In 1868 Monturiol returned to political life. A member of the
Partido Federal
, he was a deputy in the Constituent Assembly of the First Spanish Republic
(1873)
, and shortly afterwards became the director of the
National Stamp Factory
in Madrid for a few months, where:
He implemented a process to speed up the manufacturing of adhesive paper.

​
Monturiol's other inventions included:
1. A system for copying letters

2. A continuous printer
3. A rapid-firing cannon
4. A system to enhance the performance of steam generators
5. A stone cutter
6. A method for preserving meat

7. A machine for making cigarettes
Not bad for a lawyer and a
"utopian thinker"
. Monturiol died in 1885.
KD:
Well, only losers need education, right? Winners just will themselves to inventions of this magnitude. Wait until you read about the inventions Monturiol came up with for his submarine #II.
Look for

[A]

and

[В]

, and remember that those were 1860s.
The
Ictíneo II
was originally intended as an improved version of the handpowered
Ictíneo I
. The Spanish Navy pledged support to Monturiol but did not actually supply it, so he had to raise funds himself, writing a
letter to the nation
to encourage a popular subscription which raised 300,000 pesetas from citizens of Spain and was used to form the company
La Navegación Submarina
to develop the
Ictíneo II
.
The Ictíneo II was 14 metres (46 ft) long, 2 metres (6.6 ft) wide, and 3 metres (9.8 ft) high.
Her displacement was 46 tonnes and her interior volume was 29 cubic metres (1,000 cu ft).
She was built of olive wood with oak reinforcements, and a 2 mm thick layer of copper.
Her upper side had a deck 1.3 metres (4.3 ft) wide and a hatch with three glazed portholes 200 millimetres (7.9 in) in diameter and 100 millimetres (3.9 in) thick glass blocks.
The submarine could be steered from the conning tower by means of an endless screw gear.
The
Ictíneo II
made her maiden voyage under human power on 20 May 1865, submerging to 27.5 metres (90 ft).
After reading about the American Civil War and the attempts at submarine construction such as the CSS Hunley, the financially desperate Monturiol wrote to the US Secretary of the Navy.
However, the Civil War had ended by the time the Secretary responded.
Dissatisfied with
the limitations placed on him by
human propulsion
, Monturiol realized that the only option was steam power, but contemporary steam engines required a fire which was not an option for a submarine.
To this end he invented [A] an air independent engine, which ran on a chemical reaction fueled by

peroxide

that provided its own oxygen for combustion.
The most important innovation in the
Ictíneo II
was its air independent propulsion for underwater navigation.
[В] A reaction of zinc, manganese dioxide and potassium chlorate heated the boiler of a steam engine to provide propulsion and illumination and the oxygen released by the reaction could be used for breathing.
Monturiol purchased a six-cylinder steam engine and divided it in half; one half was powered by a coal-burning boiler for surface propulsion while the other half was powered by a separate boiler heated by his chemical mixture.
Monturiol intended to develop the submarine for its commercial use in the exploitation of coral reefs.
Later he installed a gun inside the submarine's hull and performed a number of trials involving underwater shots on predetermined targets from 22 December to 30 December 1865, but this failed to impress the military authorities.
Monturiol envisaged a new vessel, custom built to house his new engine, which would be entirely built of metal with the engine housed in its own separate compartment.
However, due to the state of his finances, construction of a new vessel was out of the question, and instead he managed to assemble enough funds to fit the engine into the Ictíneo II.
On 22 October 1867 the
Ictíneo II
made its first surface journey under steam power, averaging 3.5 knots (4.0 mph) with a top speed of 4.5 knots (5.2 mph).
Two months later, on 14 December, Monturiol submerged the vessel and ran his chemical engine, but with a quite slow speed of 2.5 knots.
The submarine could dive up to 27.5 metres (90 ft) and could stay underwater for seven-and-a-half-hours.
On 23 December,
La Navegación Submarina
went bankrupt, having completely exhausted its funds.
The chief creditor called in his debt, and Monturiol was forced to surrender the Ictíneo II, which was his sole asset.

The creditor subsequently sold it on to a businessman, and the authorities, who taxed all ships, issued its new owner with a tax bill.

Rather than pay, he dismantled the entire submarine and sold it for scrap.

The ship's surface motor was removed to a textile factory; the viewports ended up as bathroom windows.
Older Texts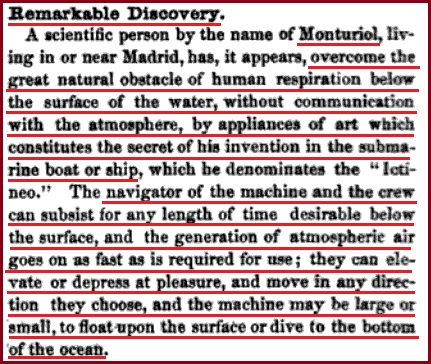 1862 Source
- Monturiol invented this special glass too? -
1875 Source
Read This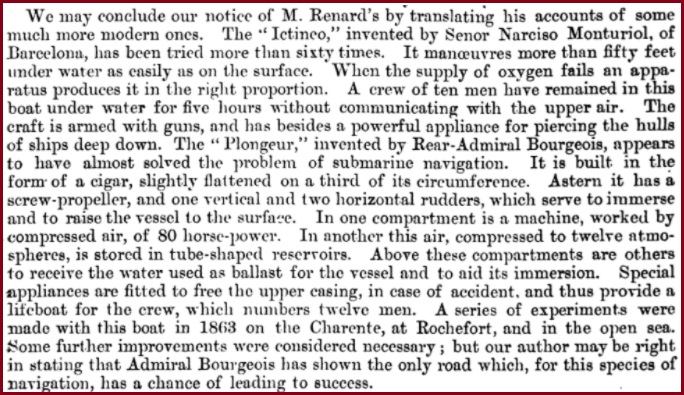 1878 Source
20,000 Leagues Under the Sea
​
The novel was originally serialized from March 1869 through June 1870 in Pierre-Jules Hetzel's fortnightly periodical, the
Magasin d'éducation et de récréation
. A deluxe octavo edition was published by Hetzel in November 1871. The book was widely acclaimed on its release and remains so; it is regarded as one of the premiere adventure novels and one of Verne's greatest works.
Additional older texts:
Link
---
KD:
The PTB is unbeatable. If they can publish stuff like this, and no questions are being asked, they are literally invinsible. I call BS on this narrative, but what good does it do?
Some public activist with no engineering education "invented" a bunch of stuff requiring some major technical schooling.
When did he invent those? Approximately 30 years prior to the "Great horse manure crisis of 1894".
What do you think we have here?