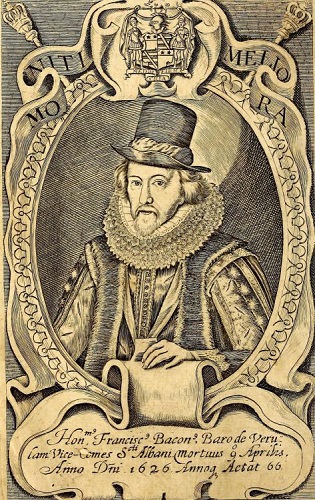 This is actually some pretty interesting reading. Given the date, may be there could be some "between the lines" info for an attentive reader.
New Atlantis
is an incomplete utopian novel by
Sir Francis Bacon
, published after Bacon's death in 1626. It appeared unheralded and tucked into the back of a longer work of natural history,
Sylva sylvarum
(forest of materials). In
New Atlantis
, Bacon portrayed a vision of the future of human discovery and knowledge, expressing his aspirations and ideals for humankind. The novel depicts the creation of a utopian land where "generosity and enlightenment, dignity and splendour, piety and public spirit" are the commonly held qualities of the inhabitants of the mythical Bensalem.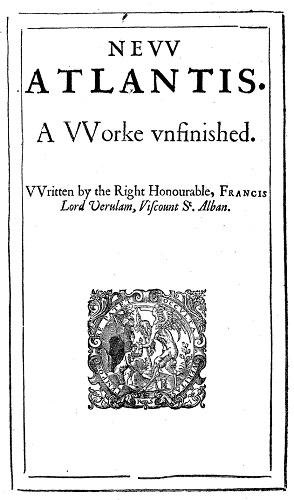 The novel depicts a mythical island, Bensalem, which is discovered by the crew of a European ship after they are lost in the Pacific Ocean somewhere west of Peru. The minimal plot serves the gradual unfolding of the island, its customs, but most importantly, its state-sponsored scientific institution,
Salomon's House
, "which house or college ... is the very eye of this kingdom."
Many aspects of the society and history of the island are described, such as the Christian religion – which is reported to have been born there as a copy of the Bible and a letter from the Apostle Saint Bartholomew arrived there miraculously, a few years after the Ascension of Jesus; a cultural feast in honour of the family institution, called "the Feast of the Family"; a college of sages, the Salomon's House, "the very eye of the kingdom", to which order "God of heaven and earth had vouchsafed the grace to know the works of Creation, and the secrets of them", as well as "to discern between divine miracles, works of nature, works of art, and impostures and illusions of all sorts"; and a series of instruments, process and methods of scientific research that were employed in the island by the Salomon's House.
---
Where to read online: