Messages

261
Reactions

1,417
First things first - if you've never visited this city I can't recommend it enough. It is absolutely gorgeous, and one could spend days getting lost in it, especially if you dig architecture. However, the combination of the city's history and architecture is a bit curious. I will start with a hypothesis.
Savannah, GA was not burned to the ground twice as history would say, the architecture that remains is evidence of a previous civilization. In the spirit of SH, we will go with Tartarians as the de-facto civilization.
Let's start with the history of the town. I'm gonna skip around a bit as I'm trying to focus on two periods of time - - late 1700s and early-mid 1800s.
Savannah was, by design, the first step in the creation of Georgia, which received its charter from King George II in April 1732, as the thirteenth and last of England's American colonies. In November 1732 Oglethorpe, with 114 colonists, sailed from England on the Anne. This first group of settlers landed at the site of the

planned town

, then known as Yamacraw Bluff, on the

Savannah River

approximately fifteen miles inland from the Atlantic Ocean, on February 12, 1733.

British forces captured Savannah in 1778 and reinstalled

James Wright

as colonial

governor

of Georgia. In October 1779 a combined force of Americans and

Frenchmen

, commanded by General Benjamin Lincoln and Count Charles Henri d'Estaing, attempted to retake Savannah from its British occupiers. The allied army sustained heavy casualties and was repulsed on the outskirts of Savannah by British defenders led by Colonel John Maitland and the Seventy-first Highlanders. From this encounter, regarded as one of the bloodiest battles of the

American Revolution

(1775-83), emerged two of Savannah's most notable military heroes, Sergeant William Jasper and Count

Casimir Pulaski

, both of whom were killed during the unsuccessful assault on the British lines.

Savannah fell to Union general William T. Sherman at the end of his army's

march to the sea

from

Atlanta

. On December 22, 1864, Sherman transmitted his famous telegram to U.S. president Abraham Lincoln in which he presented "as a Christmas gift, the City of Savannah with 150 heavy guns and plenty of ammunition; and also about 25,000 bales of cotton."
This is an extremely old city, compared to most in the USA. It is also claimed to be the first "planned" city in America - - it is built on a giant grid.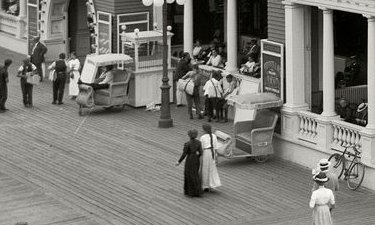 A History of Fires
1796​
Savannah has a wealth of 19th century architecture, but almost nothing survives from the 18th century. The reason is two major fires (in 1796 and 1820), both of which burned an enormous portion of the city.

Savannah's Great Fire of 1796 was one of the most devastating fires ever to have struck an American city at that time.

Only a few years earlier, Savannah and its people had emerged from the years of the Revolutionary War seemingly well poised to capitalize on its growing position as a shipping and mercantile center. Over a single night, most of its progress was lost.

As dusk fell in the early evening of Saturday November 26, around 6 or 7pm, a small fire broke out in the bakery of a Mr Gromet, located on present day

Ellis (then Market) Square.

Dawn broke on devastated city. Half a dozen men were dead, killed in their attempts to fight the blaze. Two thirds of the city had burned almost to the ground, the wood frames of the buildings entirely consumed and only the brick chimneys – several hundred of them – left behind.

A reported 229 houses, excluding outbuildings, had been destroyed, leaving 400 families homeless. 171 houses escaped the fire, but many of those fortunate not to lose their home still lost their livelihoods, their places of business and their tools or goods destroyed

By 1798, a census of Savannah found a city of 6226 people (2272 white, 3216 slave and 238 free black), living in 618 houses. There were additionally 415 kitchens, 228 outhouses, plus various shops and stores.
1820​
Sometime after 1 a.m., a fire broke out in a livery stable behind a boarding house in Savannah. The fire spread to Bay Street and then on the city market, where illegal kegs of gunpowder were stored. There was a massive explosion, resulting in the fire spreading throughout the city. By the next afternoon, 463 buildings had been burned to the ground, and two out of every three Savannah residents were homeless. The cause of the fire was never officially determined, though it was believed to have been arson.
This is the best info I could find on the web about this fire.
But wait, it gets worse.
On May 1820, the first the deaths from yellow fever were recorded. By December of that year, 666 Savannahians, over one-tenth of her population were dead. Although 1820 is associated with the Year of the Yellow Fever, more than 4000 people had died from the fever from 1807 to 1820. Nine more epidemics would follow. In 1856, 560 people died and in 1876, another 1,066 Savannahians died from yellow fever.
It wouldn't be a juicy topic if 666 didn't show up at least once!
The Architecture​
Savannah was founded in 1733, and in a short 30 years starting in 1796 it lost basically all its buildings and homes, and most of its population to fire or disease. Certainly plausible, worse things have certainly happened although it does seem like particularly bad luck. However, I can't help but get this nagging feeling that this story doesn't square with the architecture. I'm going to leave the commentary on each individual building for now, try to imagine all of this being built in the ashes of two major fires and an epidemic.
I will also add that I had a hard time tracking down the dates in which these structures were built, for the most part. Perhaps someone with local knowledge could fill us in, or perhaps there is a book on this city which goes into better detail. That being said, its not like I would take these dates at face value anyway.
One impression I am left with is the sheer amount of differing architectural styles that are found here. According to architects you can find examples of Federal, Georgian, Gothic Revival, Greek revival, Italianate, Regency, Romanesque Revival and 2nd French Empire. It is honestly hard for me to believe that all of these buildings were conceived and built post-1820.
This is a difficult topic, as unlike some of the other major city fires that have been discussed here there is no photographic evidence of the aftermath. Moreover, most of these structures also pre-date photography which makes it very difficult to track down construction photos. Unless this history is all by design to throw people off the trail of the true history of this town.
Here is another curiosity: according to historical sources, Gen. Sherman spared the city of Savannah from his "March to the Sea" in which he was leaving every city he went through razed to the ground. The story goes that he was so stunned by its beauty that he felt that it was worth sparing. This was in 1864. So you're telling me that between 1820 and 1864 a population decimated by fires and yellow fever managed to build these impressive works?
A post script:
I can find almost no evidence of a mudflood anywhere in this city. This could be related to its location near the ocean, where flooding and hurricanes could have washed mud back into the sea.